Body-weight exercises help improve bone density
Are you aware your spine, wrists and hips are the bones most vulnerable to fracturing? Recent statistics indicate more than 700,000 spinal fractures and 300,000 hip fractures occur annually in the United States. Hence, the medical community's concern for increasing bone density in the populace. Unfortunately, the doctors' prescribed drug remedies for bone-loss have nasty side-effects — gastrointestinal distress and femur fractures.
On the other hand, a regular yoga practice has proven to increase bone density while its side effects include better posture and balance, enhanced coordination and range of motion, greater strength and reduced levels of anxiety. Common sense would choose yoga over medication, and given yoga's mainstream popularity, one has to agree common sense is prevailing.
 Because weight-bearing activities build bone mass and yoga places more pressure on bone than gravity, more doctors are recommending yoga to their patients. The science behind greater bone density notes "by opposing one group of muscles against another, it stimulates osteocytes, the bone-making cells."  So says, Dr. Loren Fishman who conducted a decade-long study where participants (average age 68) did a 12-minute yoga sequence daily or every other day. Prior to the study, those participating reported 109 fractures.
The post-study results reported by Fishman showed not only increased bone density but "with more than 90,000 hours of yoga practised largely by people with osteoporosis or osteopenia, there have been no reported or X-ray detected fractures or serious injuries of any kind related to the practice of yoga in any of the 741 participants."
And if that doesn't move you toward a regular yoga practice, know that its postural and meditation practices help balance the neuroendocrine system, increasing our ability to manage stress and thereby reducing the production of bone-depleting cortisol. The deep, gentle breath practices emphasized in yoga rid the body of such bone-eating acids and may even be responsible for "turning on" health-promoting beneficial genes.
In the following three inversion postures, we emphasize the use of hands, wrists, arms and shoulders in lifting our body weight. However, all yoga poses fundamentally work to build bone mass through muscle strength and flexibility in order to preserve the health of the spine, which keeps us upright and protects us from falling.
Action: Balance body weight evenly across the four corners of your hands — index finger mounds, baby finger mounds, inner and outer heels of palms. For more advanced practitioners, lengthen from the outer edges of your shoulder blades down your arms and into the baby finger side of your hands; lift from the thumb and index finger side of your hands up your arms into the inner edges of your shoulder blades.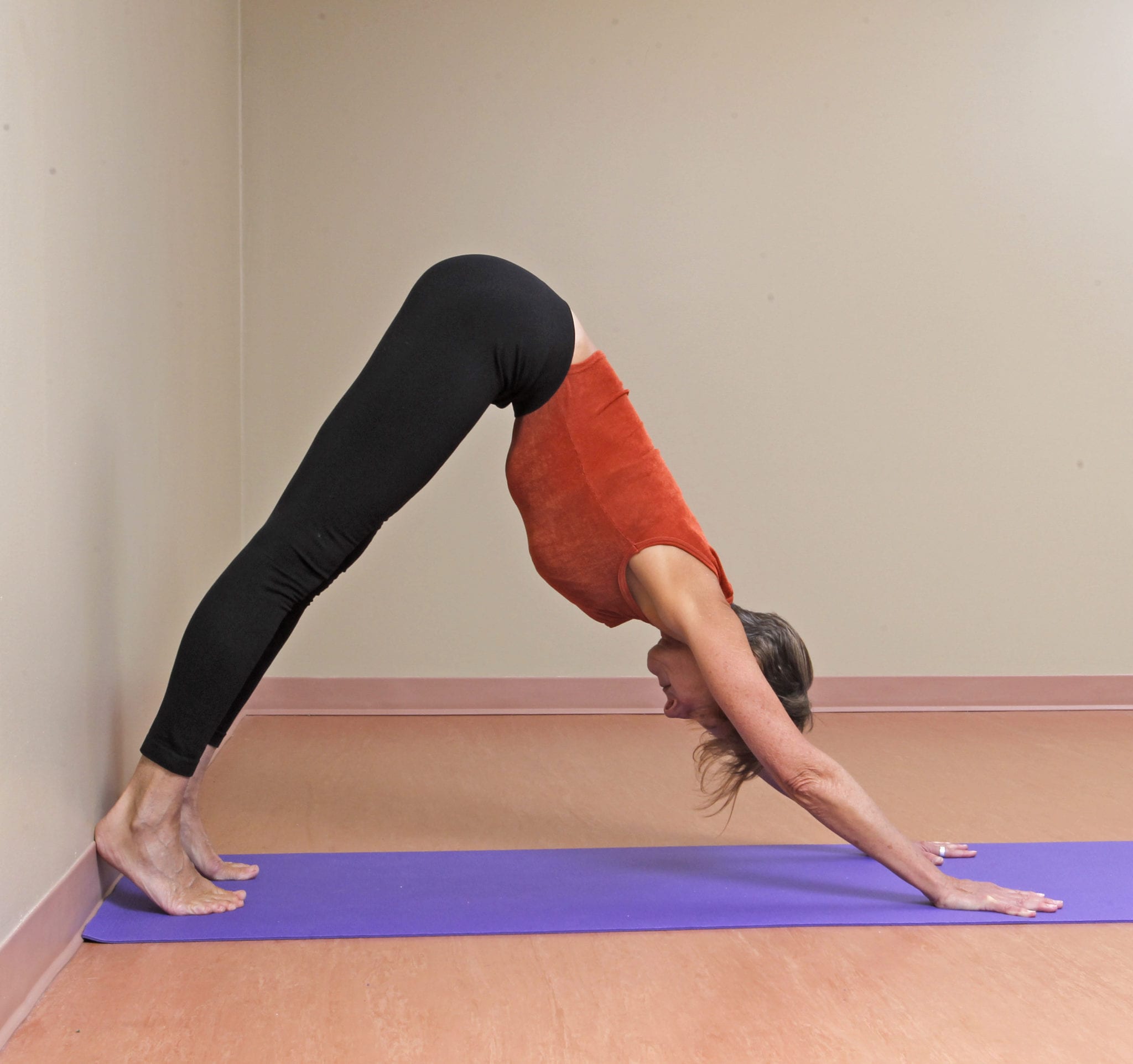 ADHO MUKHA SVANASANA (Downward-Facing Dog)
From an all-fours position, lift your pelvis up and straighten your legs. Rest your heels either on the wall or the floor. Find the even balance of weight into the four corners of your hands. Hold for five to 10 breaths.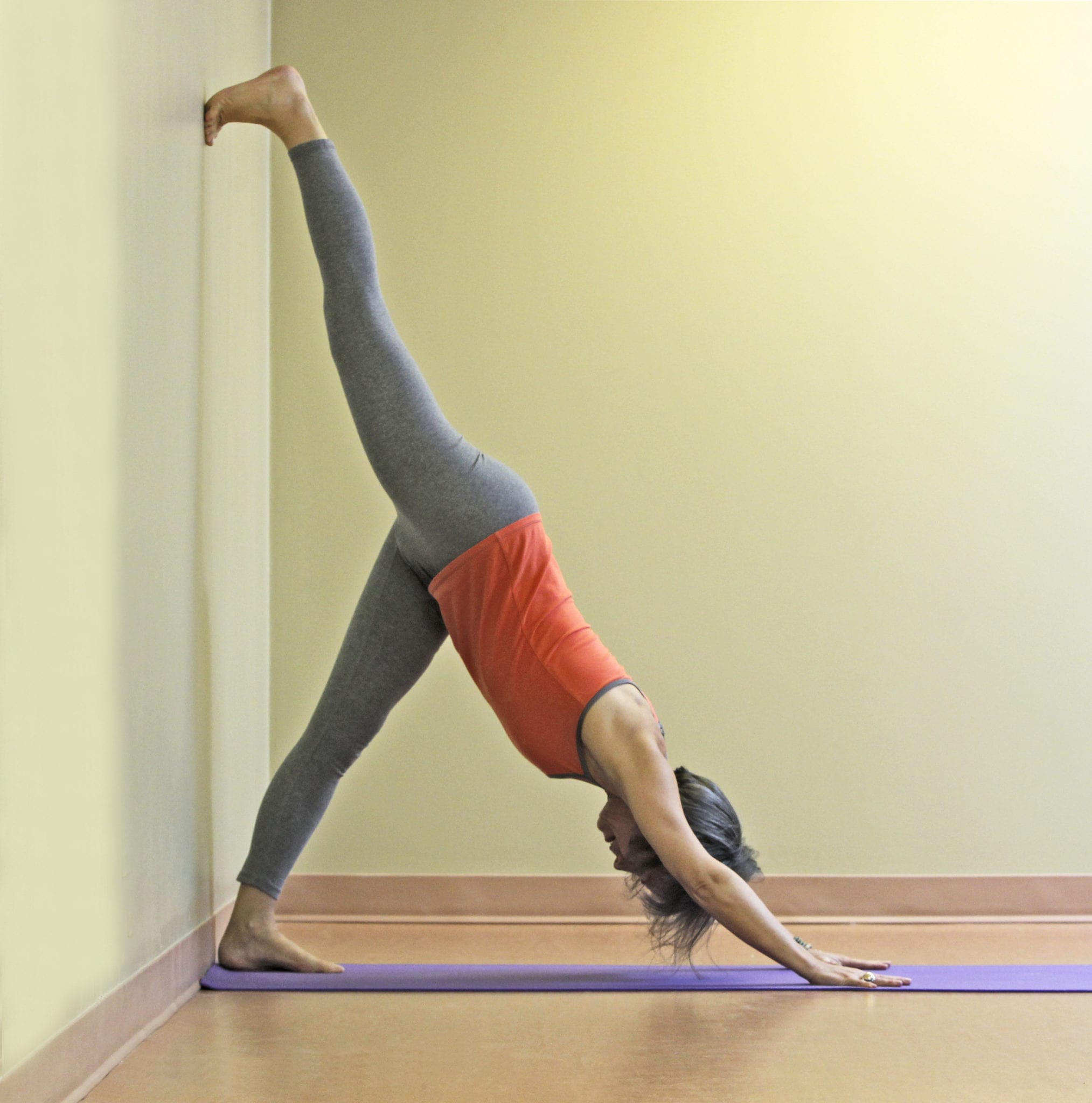 EKA PADA ADHO MUKHA SVANASANA (One-Legged Downward-Facing Dog)
Take Downward-Facing Dog. Heels may rest on the wall or on the floor. Bend one knee and lift that leg up, resting your toe mounds into the wall. Be as far from the wall as necessary in order to straighten both legs. Step down, rest for a few breaths in Balasana (Child's Pose), then repeat on other side.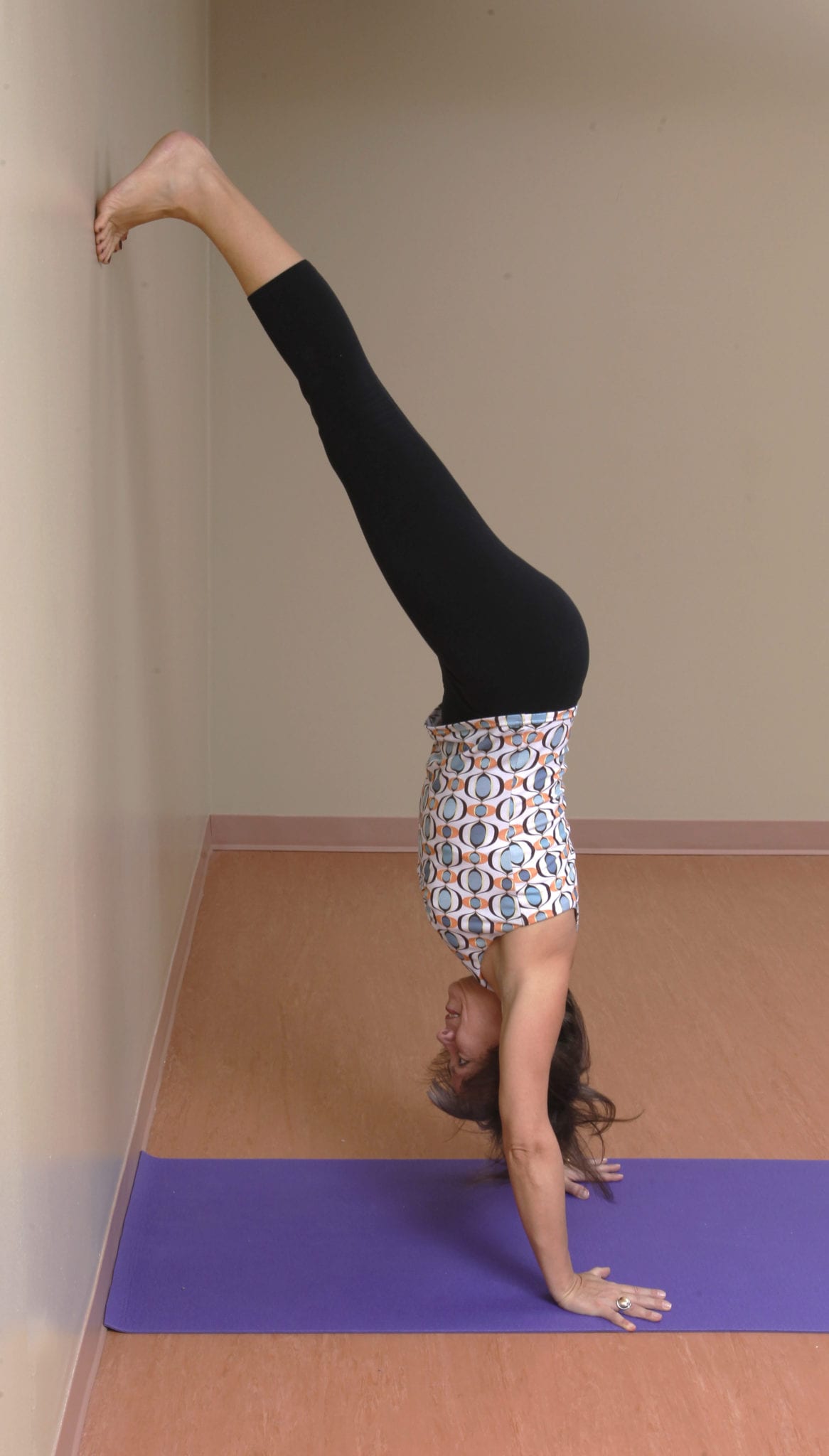 ADHO MUKHA VRKSASANA  (Downward-Facing Tree)
From the all-fours position, lift into a narrow Downward Dog. Step one foot up the wall at a time. Lengthen through the legs into your heels, and find the action in the hands and arms. Hold for five to 10 breaths. To release from the pose, step one foot at a time to the floor.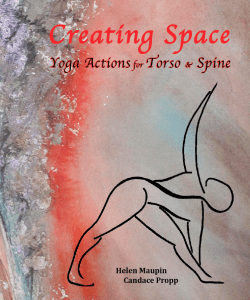 Winnipeggers Helen Maupin (www.righttojoy.com) and Candace Propp (www.natureofcontentment.com) are authors of the Creating Space: Yoga Actions book series. For more information, refer to Creating Space:  Yoga Actions for Torso & Spine. Candace and Helen are 500-hour certified teachers. For yoga teacher training with them and Stacy Schroder go to www.sereneyogastudio.com.