For program pricing and additional information, email [email protected]
Right to Joy's transformational programs invite you on a voyage of discovery to tame fear and uncover creative potential, trigger inspiration, memory, and imagination, and create from your own deep well of personal wisdom.
These personal development programs are for individuals and organizations seeking to enhance performance and harmony both in the workplace and at home.  Research has continually shown that increased concentration, calm and balance, all products of higher self-awareness, greatly impact well-being, creativity and productivity.
Our first transformational program was offered in 1998.  We invite you to share in these programs within an environment of encouragement and safety.
Yoga Class Schedule:  In-studio & Online
Wednesday Experienced Beginner (September to June) — 5:30 to 6:30 pm
Sunday Intermediate (September to June) — 11:00 am to 12:30 pm
Yoga Actions 200-hour Teacher Training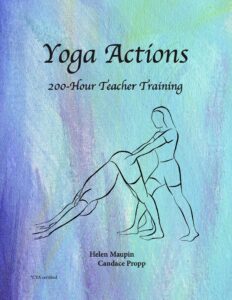 Yoga Actions Teaching Training through SYS was well-conceived, well-delivered and deeply insightful. The training was masterfully crafted with great respect for classical Indian yoga and modern understanding and application of yoga actions (skeletal, muscular and breath) in asana. This two-year training program served, in many ways, to deepen my practice both on the mat and in life. The facilitators welcomed all of us, embraced our gifts and supported our challenges. In turn, we created a community that continues to flourish.  In gratitude, Rita
Yoga Actions 300-hour Advanced Teacher Training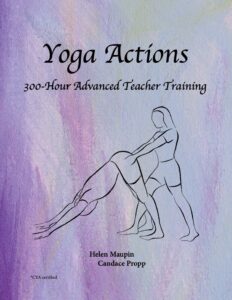 You can find the descriptions of the workshops that form the backbone of this Advanced Teacher Training program by clicking on the link above or on Workshops.
A Sample of Other Programs:
Sensational Yoga — Moving From Doing to Being
Mindful Meditation —  Awaken – Breathe – Create

Creating Space — Yoga Actions to Deepen Your Practice
A Write to Joy – Inspiration to Transformation
A Mythic Write – Inspiration to Integration
A Written Life — Autobiographical Sketches
Transformative Writing
Write Here, Right Now — From Awareness to Inspiration