Life, Leadership, Career, Spirituality
I am a certified coach specializing in Life, Career, Leadership and Spirituality coaching. My SPICE coaching model is results oriented and holistic in its approach to attaining a healthy balance across all aspects of your life—mind, body and spirit. I abide by the International Coach Federation (ICF) code of ethics and core competencies, and I also hold a Masters of Arts (Psychology) degree.
With trust and integrity, my coaching has —
shifted negative behaviour into desirable outcomes
implemented gap analysis and action planning (assess/act/adapt)
clarified and executed performance goals (results-centred leadership)
enhanced self-awareness and self-responsibility
increased social-awareness and responsibility
transformed the whole person (SPICE–life and career transitions)
developed and mentored the leadership of self-managed, high-performance work teams
developed writing skills and processes (creative and technical)
navigated the rediscovery of passion, purpose and potential
increased organizational knowledge, creativity and productivity
facilitated the adoption of a new management style and culture
shifted competitive interactions into collaborative relationships
What is Transformational Coaching?
Coaching begins with self-awareness. With self-awareness, you come to know who you are and to build a solid inner foundation from which you then come to know life. As a Life Coach, I typically work with you over a three- to six-month timeframe to clarify your vision and to establish strategies and action plans for achieving what you want. Through listening, observing and utilizing your existing strengths, customized solutions emerge and are applied to meet your specified needs.

You will find my coaching book, From Now to WOW: Step-by-Step, An Invitation to Transformation, a useful tool. You can also download a free copy of Chapter 1.
Why do it?
When you want to achieve mastery — whether athletic, business or personal — a powerful alliance with a coach produces exceptional results. Everyone is creative and resourceful. A coaching relationship purposefully moves you to authenticity and actualization.
What can you expect?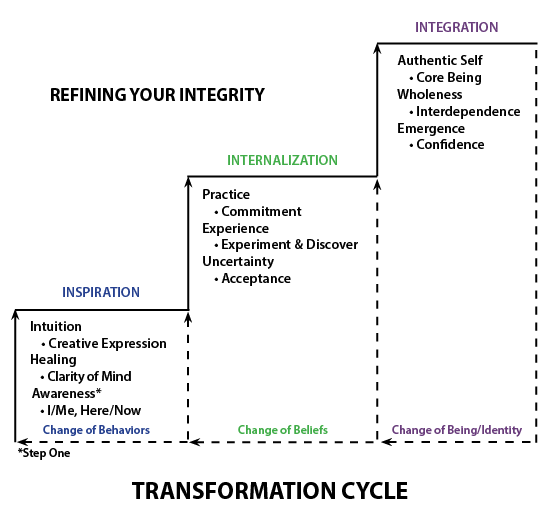 In the process of refining your integrity, below are a sample of the results accrued from your experience and actions:
Positive encouragement and feedback
Development of new perspectives, skills and habits
Clearer thinking and decision making
Enhanced emotional control and healthier relationships
Increased confidence, creativity and commitment in realizing potentialities
Greater satisfaction and joy in living and working
How is it done?
Transformational Coaching Model

1. Start from what is no longer working (ways of being):
conflicts
failure to achieve goals
crisis of competence/confidence
2. Listen to and test interpretations (beliefs):
life patterns
perceptions
assumptions
3. Use data to shift perspectives & behaviours (transformation):
personal assessment
archival
Look for these skills from your Coach:
Building trust and rapport
Listening
Observing
Questioning
Providing feedback
Summarizing and committing to next steps
One-on-one growth-oriented coaching can take place via FaceTime, Skype, Zoom or in person for those living in or close to Winnipeg, MB.
For a free 30-minute coaching consult, contact me via email: [email protected] or by phone: 204-899-9154
To ensure finances are not a limitation, I offer a fee range from $100-$150/hourly session. Other payment options can be explored as well.
Pre-payment is required by direct deposit or PayPal.
NOTE: LOOK FOR OUR AFFORDABLE GROUP COACHING PROGRAM COMING SOON!