Overlooked adductors key to strength and flexibility
Renowned yogi B. K. S. Iyengar, infamously claimed the adductors to be the laziest muscles in the body. When you think adductors, think inner thigh muscles — five muscles attached, at one end, along the length of your inner thigh bones and, at the other end, connected to the outer edges of the pubic bone.  Consequently, adductors play an important role in moving our legs and stabilizing our pelvic region.
For the most part, adductors function in two capacities:  firstly, to draw our legs together (contracting in arm balances, inversions and many standing poses); secondly, to open or move them apart (stretching or expanding in poses such as Upavistha Konasana and Hanumanasana).
If we do not use our adductors regularly, we lose strength and flexibility along the inner leg, inner ankle and inner foot, which are our weight-bearing structures. Evidence of weak or lazy adductors shows up in our body as flabby inner thighs, ankle pronation and tight, contracted outer hips. Instead of carrying the body's weight on the inside of the leg, many people default to using the outer hips and outer edges of the feet, which are designed for balance, not weight.  Constant holding up of the body's weight overuses the outer hips.
This overuse, in concert with the under-used adductors, exacerbates bladder, bowel and sexual dysfunction.  Symptoms of such dysfunction include intense, frequent or painful urination; intense bowel urges or constipation; and painful or premature ejaculation. These are all good reasons to move our adductor muscles so as not to lose their health benefits.
Use the following yoga action and poses to pump up your adductors and create the ease needed to sit comfortably on the floor for playtime with your children, grandchildren and pets.
Action:  Lengthen along the adductor muscles from the inner knees up to the inner groin. For more advanced practitioners, lengthen and lift the adductors and then firm the muscles to the inner thigh bone.
Start in an all fours position. As you begin to lengthen your left leg forward and your right leg back, place support under the top of your left thigh bone or your left sit bone. Find the action. Hold for 3 to 5 breaths. To come out, gently slide your front leg in toward your torso. Then slide your back leg in until you can find your way into all fours once more.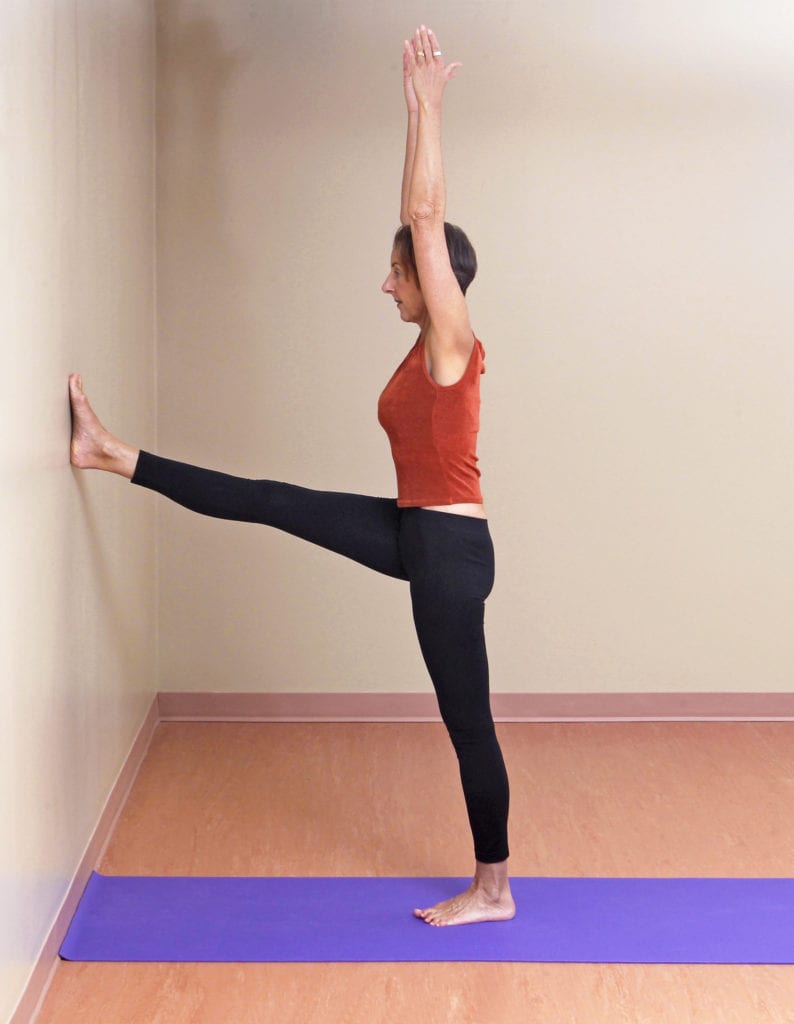 UTTHITA HASTA PADANGUSTHASANA I (Extended Hamstring Stretch pose I)
Begin in Tadasana (Mountain pose). Bring your weight into your left leg and lift your right leg placing your foot onto the wall. Find the action in both legs. On your next inhale, lift your arms. Hold for 5 to 10 breaths. Step down and repeat on the other side.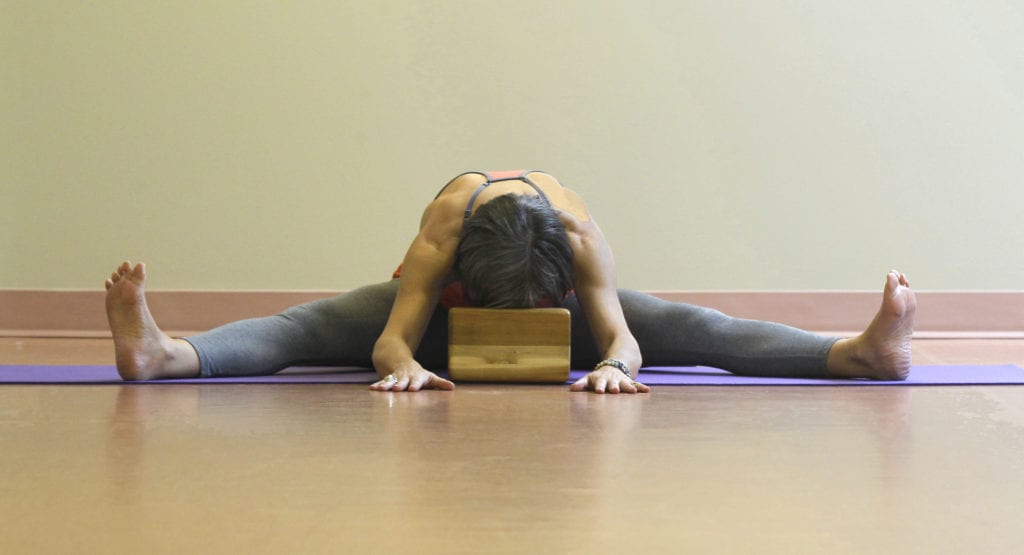 ADHO MUKHA UPAVISTHA KONASANA (Wide-Angle Seated Forward Bend pose)
Sit with your feet apart and your legs straight. You may need to sit on the height of a blanket(s) or block(s). Find the adductor action. Begin to fold forward at the hip creases. Hold for 10 to 15 breaths.
To discover more actions for healthy movement and stability, see Creating Space: Yoga Actions for Legs & Knees available in print or e-book.
Winnipeggers Helen Maupin (www.righttojoy.com) and Candace Propp (www.natureofcontentment.ca) are authors of the Creating Space: Yoga Actions book series. Candace and Helen are 500-hour certified yoga teachers. For yoga teacher training with them and Stacy Schroder go to www.sereneyogastudio.com.