An antidote for stress
In today's world of 24/7 interconnectedness, information overload is a primary stress trigger for most people. Regardless of our employment — mechanic, writer, yoga teacher — we are considered knowledge workers due the portion of our workday spent on digital devices texting, emailing, Google-searching and interacting.
The amount of information available at our fingertips is expanding exponentially every few years, and with it so is our internal stress. So, how do we provide ourselves relief from all these external distractions and their internal negative consequences?
As most stress-reduction experts will tell you, the key is to master our ability to stay calm and relaxed no matter what confronts us. Simple advice but not easily implemented during times of seeming crisis. In yoga, we learn to strengthen our relaxation response by withdrawing our senses (all 11 of them) from the distractions of our outer world and then resting in our inner stillness. We call this practice of regaining control over our senses Pratyahara. The many senses we are attempting to master are outlined below.
• Five senses of perception—  sight, sound, smell, taste and touch.
• Five senses of action — speech (tongue), sensory apprehension (hands), locomotion (feet), excretion (bowels), generation (genitals).
• The mind — our computer processor (sifting, sorting, memory, programming) that coordinates the other 10 as a whole.
If we are not mindful of all 11 senses, we are easily distracted and thus controlled by them in any number of ways — our eyes are attracted to "shiny bits," our ears to gossip or someone else's conversation, our thoughts to obsessive desires, our speech to judgment of self and others, our fear to avoidance, and so on. Consciously withdrawing our senses from external and internal distractions, thereby regaining control over them, is facilitated by simply redirecting our awareness to our ingoing and outgoing breath. Other useful techniques such as head wraps, eye pillows and earplugs bring greater awareness to the withdrawal of our senses. Silent asana retreats also help develop Pratyahara, as do specific asanas — Karnapidasana, Kurmasana, Balasana and Savasana.
When we accomplish this state of Pratyahara, we feel as though we are at the bottom of a well. We register, but do not react to, the outer world. In other words, we are in the world, but not of it. The more we move our awareness inside, away from being controlled by our outer experiences, the sharper our senses become and the less need we feel for excessive sensory distractions in the form of TV, food, substances, work, sex, shopping, etc. Freedom from excessive and obsessive desires frees our energy to be channelled into creative healthy activities. In this Pratyahara state of non-reactivity, we are not withdrawing from life but rather from reacting impulsively to it.
Use the yoga action and three asanas below to help you enter your inner stillness, reduce your anxiety/stress and increase your response-ability.
Actions: Close your eyes and let your eyeballs relax to the back of their sockets. Focus your attention on the rhythm of your breath. Hold each pose below for three to five minutes.
For more advanced practitioners, in addition to the actions above, soften your inner ear canals and let your sense of hearing drop inward.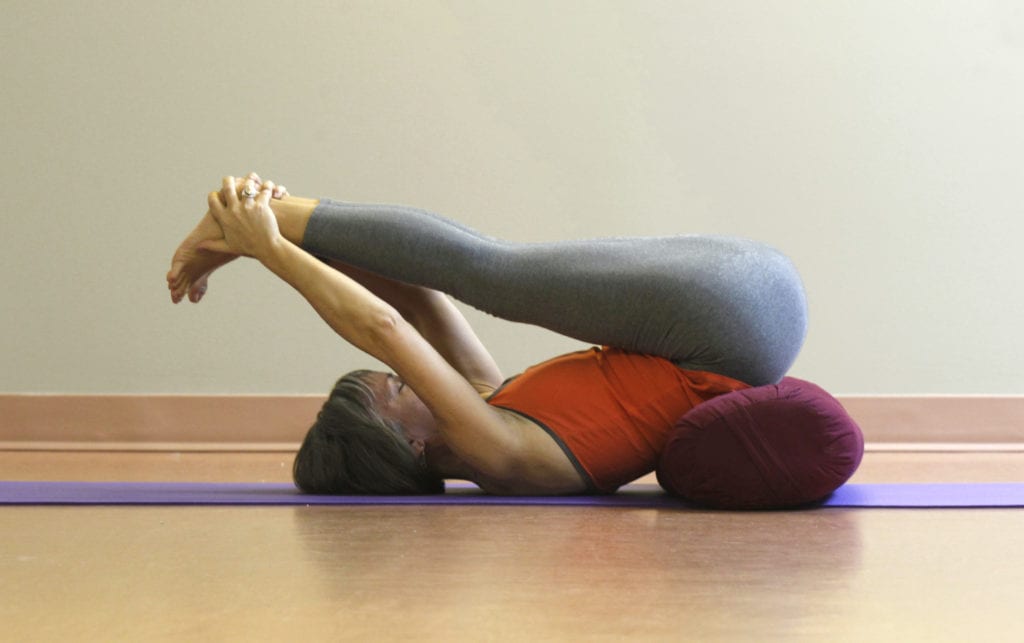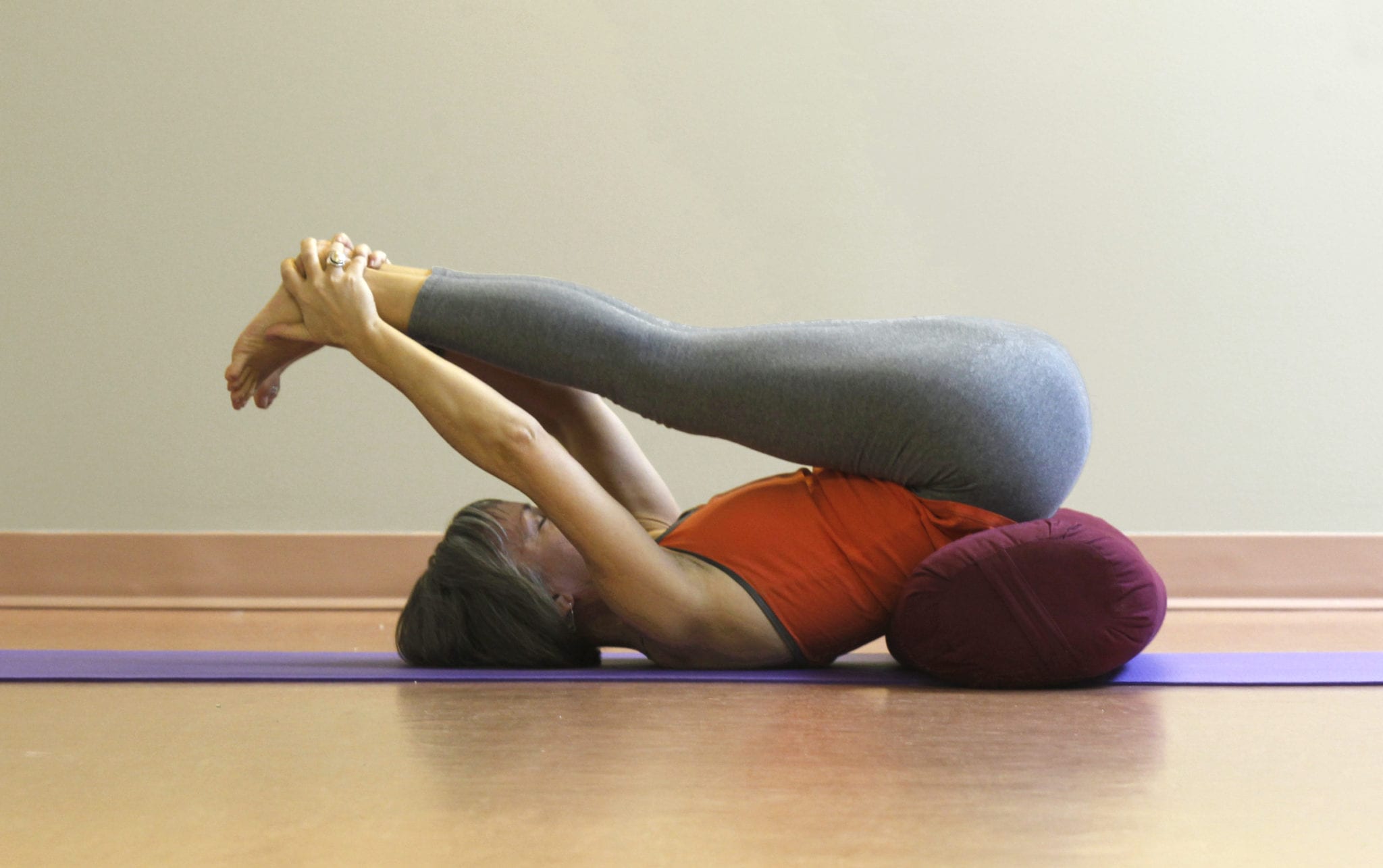 SUPTA PASCHIMOTTANASANA  (Supported Lying Down Intense Forward Bending Pose)
Sit on a bolster. Keep your knees bent and feet on the floor as you lower your back to the floor. Bring your knees towards your chest. Take hold of your feet or place a belt over your toe mounds and straighten your legs. Find the actions while you hold the pose.
UTTANASANA (Standing Forward Bending Pose)
Stand with your feet mat width apart and heels eight to 10 inches from the wall. Rest your sit bones at the wall. On an exhalation, bend forward and rest your forehead onto support.  Find the actions while you hold the pose.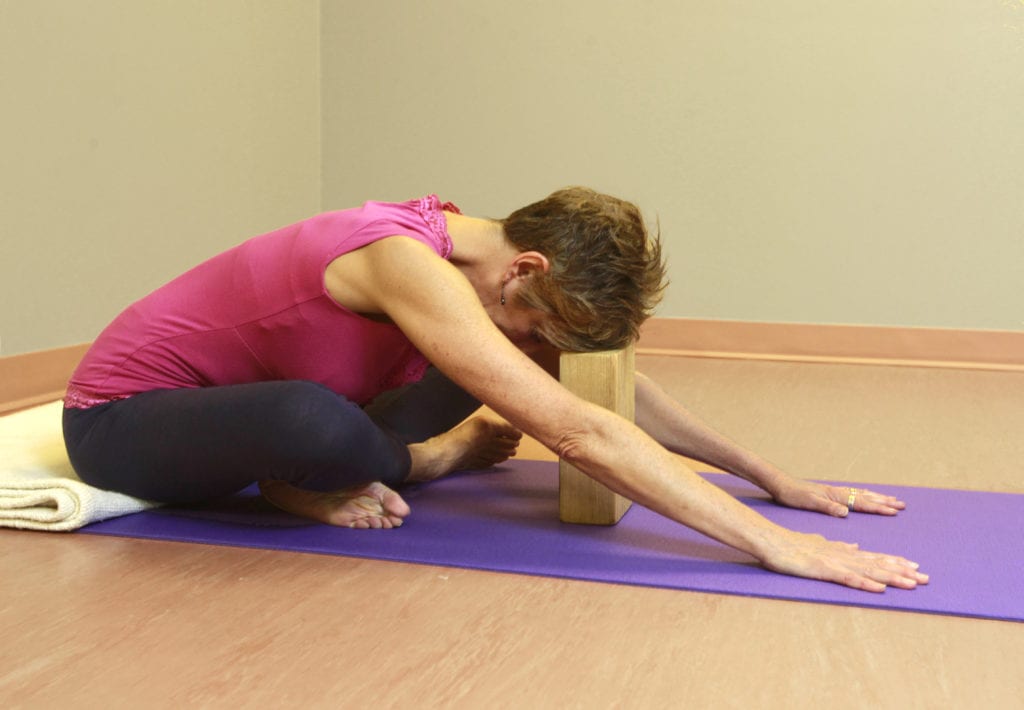 ADHO MUKHA SUKHASANA (Forward Bending Cross-legged Pose)
Sit with your legs stretched straight out in front. Cross your right ankle over your left and draw your heels towards your pelvis as your knees bend to the sides. Release your forehead to a support if it does not reach the floor. Find the actions. Hold the pose. Come up, change the crossing of the legs and repeat.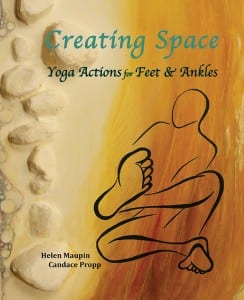 Winnipeggers Helen Maupin (www.righttojoy.com) and Candace Propp (www.natureofcontentment.com) are 500-hour certified yoga teachers and authors of the Creating Space: Yoga Actions book series. To purchase print or ebooks, visit their websites. For yoga teacher training with them and Stacy Schroder go to www.sereneyogastudio.com.