Your spine's strength and flexibility depend on it
In yoga practices, as well as physical training programs, we often hear our teachers refer to the importance of a toned core without really understanding what this means. Most people assume the abdominal muscles constitute our core. However, the body's core starts at the respiratory diaphragm with its circumference as the torso — front, back and sides — and extends into the pelvic floor.
All in all, it's a large area to tone with many muscle groups, organs and bones involved. Even our postural habits influence the tone of our core — swaybacked (under-toned) or rounded forward (over-toned). What we are seeking with a toned core is to move away from these postural extremes into a balanced experience of effortless effort in which our spine is both strong and long.
A strong, flexible core ensures a strong, flexible spine, particularly in our lumbar or lower back. Two main muscle groups affect the spine — extensors and flexors. Attached to the back spine are the extensors, which enable us to stand up and lift objects. In front of the spine are the flexors — including the abdominal muscles — which enable us to bend forward and stabilize the arch of the lower back and the lumbar vertebrae. These larger vertebrae (L1 to L5) are less mobile than the thoracic (mid- and upper back) and cervical (neck) portions of the spine. The lumbar spine's main function is to bear the weight of the body, and it provides this stability by lengthening.
Traditionally, fitness programs crunch the abdominal muscles with the goal to build core strength. However, abdominal crunches do not strengthen or lengthen the core. Our abs are meant more for breathing and moving than for spinal stabilization.
To encourage the much-needed balance between stability (strength) and flexibility (length) in our lumbar spine, yoga instead incorporates contraction backbending. These backbends engage muscles much closer than the abs to the front and back of the spine — the psoas and transversus abdominis, and the quadratus lumborum and multifidi, respectively. The three poses here not only contract the back and engage the core, but also stretch and squeeze the kidneys, which receive a flush of fresh blood and oxygen when we release from backbending postures.
Action:  Draw your front hip bones down toward your thigh bones and firm the muscles around your navel toward your spine and up toward your heart (psoas engagement).  Feel the length in your lumbar spine. For more advanced practitioners, also firm your lower back muscles into your lumbar spine to hold the length (quadratus lumborum engagement).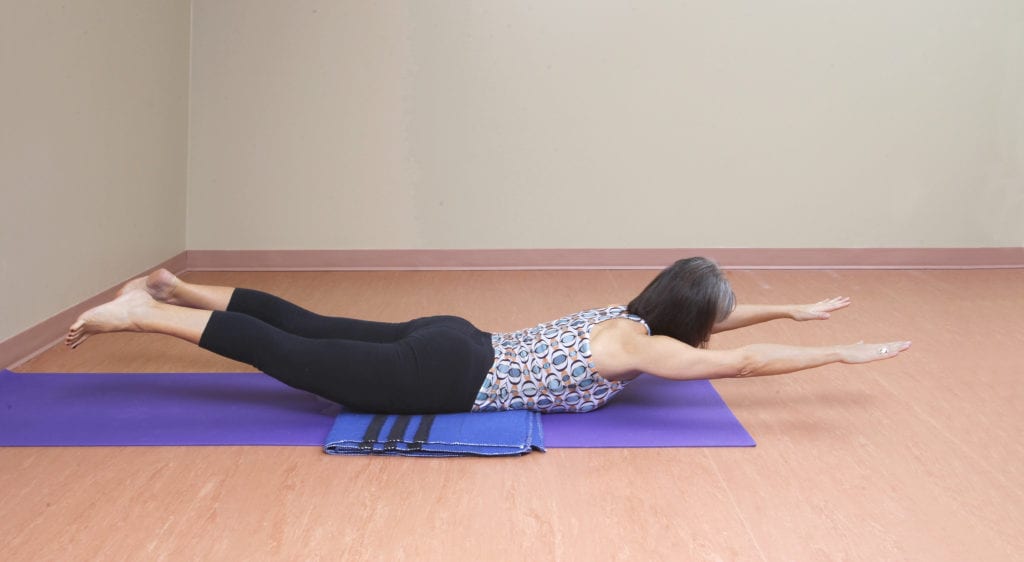 SALABHASANA (Locust Pose)
Begin by lying on your front body. Stretch your arms out in front (keep them alongside your body, reaching toward your feet, if you're new to the pose). Find and maintain the actions as you lift your legs and torso away from the floor. To keep the back of the neck long,
gaze
at the floor. Hold for one to three breaths. Release and rest.
 BHUJANGASANA (Cobra Pose)
Begin by lying on your front body. Place your hands alongside your ears. Find and maintain the actions as you press into your hands, straighten your arms, and lift your torso. Keep your pubic bone and thighs on the floor. (To do this, you may need to start with your hands forward of your head.) Hold for five to 10 breaths. Release and rest.
DHANURASANA (Bow Pose)
Begin by lying on your front body. Bend both knees and take hold of your ankles. Keep the legs as parallel to each other as possible. Find and maintain the actions as you lift your thighs and torso away from the floor. Hold for one to three breaths. Release and rest.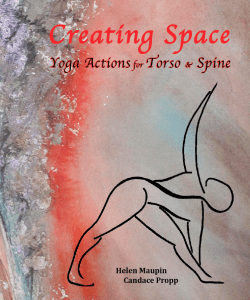 Winnipeggers Helen Maupin ( http://www.righttojoy.com) and Candace Propp (http://www.natureofcontentment.com) are authors of the Creating Space:  Yoga Actions book series and 500-hour certified yoga teachers.  For yoga teacher training with them and Stacy Schroder go to http://www.sereneyogastudio.com.