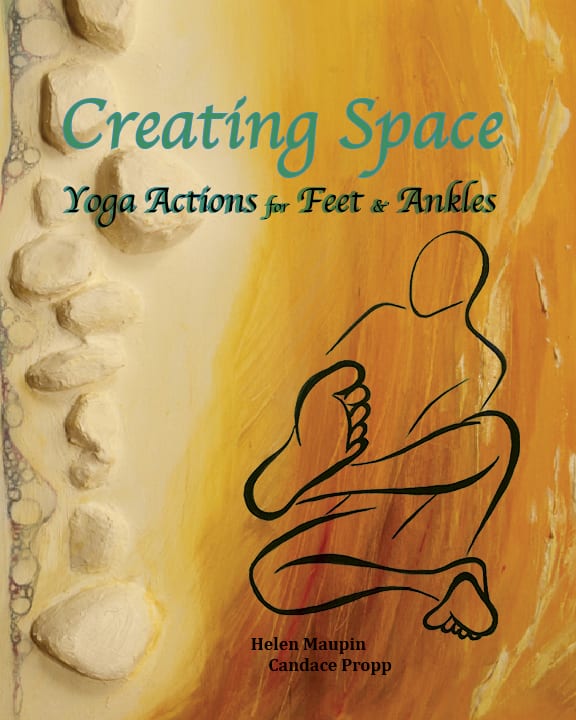 Not everyone can do all yoga poses, but everyone can do all yoga actions.
Yoga Actions for Feet & Ankles is the first in a five-volume series of e-books emphasizing primary actions for such areas in our bodies as — Legs and Knees, Pelvis and Psoas (Hips and Groins), Spine and Rib Cage, Arms and Shoulders.  Within every volume, each action is displayed in a two-page layout with the first page describing the action and visually demonstrating the experience through a Pre Pose and a five-pose Peak sequence to further expand your experience.  Finally, we follow each sequence with Plus Poses to further develop the action and Post Poses to fully relax the body and integrate the asana experience. 
As a starting point, we suggest you read the action on the first page and apply it using the Pre Pose.  You may not immediately feel the action in your body, but continue using it for the sequence of Peak Poses as well as the Plus Poses. In our own personal experience of yoga actions, it may take two or three poses or a full practice before you awaken the area of emphasis. Gaining patience and personal commitment are two significant rewards emerging from the many wonders of a yoga practice.
As we both can attest, the Iyengar tradition of using props protects the body from injury while allowing a deeper expression of the posture.  Propping the body establishes correct alignment and form while teaching the practitioner to trust support in order to release emotional holding.  We recognize that not all actions will speak to all people.  Our bodies are unique representations of our life experiences, therefore, use the actions and sequences that support your transformation goals.  No one knows your body, mind and spirit better than you so let your inner wisdom guide your choices.
As you view the photographic images of each pose you may notice a difference in our physical expressions of the same posture.  In reality, most people come to the yoga mat with either a "plant" or "stone" body.  As Candace can attest, those with a plant-like body are more flexible and loose in their joints.  A benefit of such natural flexibility is a greater ease and depth achieved in the postures.  However, without the necessary muscular strength to support proper bone alignment, this body type can be vulnerable to joint injury because the sensory clues when overextending are very subtle.  On the other hand, Helen came to yoga with a stiffer, stone-like body.  The stronger, tighter muscles of this body type provide significant sensory signals when moving too deeply into a posture.  The key to avoiding injury for both types is to balance strength with flexibility.  Typically, this requires those of you with plant bodies to build your strength and those of you with stone bodies to increase your flexibility.
Whether in your home, office or wherever you and your computer travel, we thank you for joining us on our transformational journey into the joy of yoga.  May this connection between us seed even greater compassion and spread peace, love and joy around the world.
Namaste,
Helen & Candace
Published:
March 14, 2014
Excerpt:
Connection            Compassion           Community
If you are reading these words, then like us, your intuition drew you to discover the transformational gifts inherent in the practice of yoga.  Several years ago, when yoga was not a mainstream wellness offering, a friend suggested to family members that we had joined a cult.  At the time, Western fear of Eastern philosophies was rampant.  Today, many on this planet are empowered through yoga's teachings and practices to face fear and connect to the confident, creative loving being within each of us.  As we now know, when we focus our awareness on compassion, the Law of Attraction draws compassionate souls to us.
READ MORE
From within our community of compassion, we are blessed by teachers and practitioners who "paid forward" their shared wisdom and experience of this once solely oral tradition.  We trust the universe accurately guided us in archiving our learning and hope, in some small way, we continue to plant the seeds of connection, compassion and community.
Our approach within these pages is not to teach you how to do each asana (yoga pose) but rather enable you to dig deeper into your inner experience and awareness.  If we so choose, yoga awakens us to every aspect of our being — spiritual, physical, intellectual, communal and emotional (SPICE).  By applying these offerings of muscular, skeletal, organic and breath actions, you will experience transformation from the inside out and the outside in.  The beauty of each described action is you can use it in any pose to experience the benefits of both the pose and the action.  Strengthening and aligning our 'container' establishes the solid foundation we need to understand and integrate the remaining seven limbs of yoga.
COLLAPSE
Reviews:
Jan Debenham

on

Yoga Centre Winnipeg

wrote:
"Candace and Helen have combined their talents to produce a book that is both challenging and methodical — a rare treat. Their own personal practices shine through with the inclusion of beautiful and simple photographic illustrations.  As an eBook and print book, it is a helpful and convenient resource that both yoga practitioners and teachers will want to return to often for guidance."