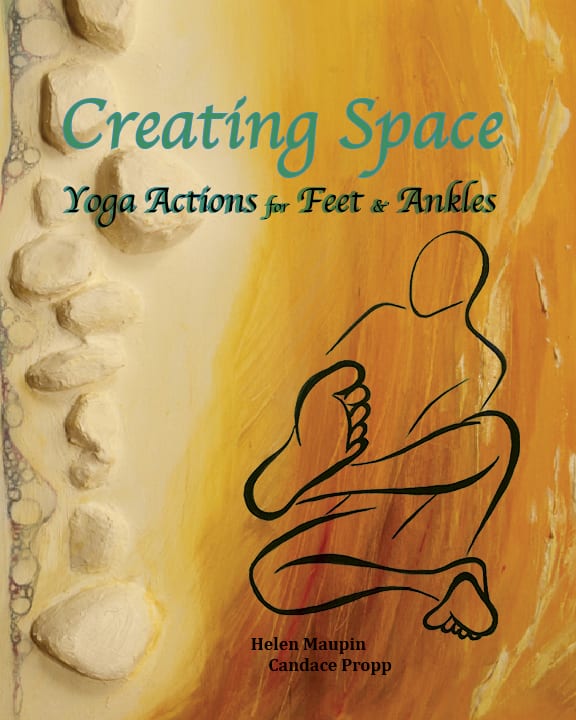 Not everyone can do all yoga poses, but everyone can do all yoga actions.
Yoga Actions for Feet & Ankles is the first in a six-volume series of e-books emphasizing primary actions for such areas in our bodies as — Legs and Knees, Pelvis and Psoas (Hips and Groins), Spine and Rib Cage, Arms and Shoulders.
Our feet and ankles root and ground us from our early attempts to stand and walk to our later more complex movements involving our whole body. The more we connect to the earth through our feet and ankles, the stronger our knees and hips become and our spine lengthens and strengthens. Ligaments running from our toes to our ankle joints connect to our legs and continue upward. Yoga asanas and actions move and strengthen all the bones and tissues of feet and ankles, bound too long in shoes.  Thus, keeping them pliable and healthy.
Healthy feet and ankles enable us to "stand on our own two feet" providing us with an outward sense of balance and stability and an inward strength of self-awareness and confidence.
Reviews:
Jan Debenham

wrote:
Candace and Helen have combined their talents to produce a book that is both challenging and methodical — a rare treat. Their own personal practices shine through with the inclusion of beautiful and simple photographic illustrations.  As an eBook it is a helpful and convenient resource that both yoga practitioners and teachers will want to return to often for guidance.
Shauna Ellerby

wrote:
Candace and Helen have put together a yoga book that is both comprehensive and inviting. The clear photos, and an easy to use format allow readers to experience detailed instructions in a simple way. Students with a curiosity to explore the subtle and profound depths of yoga will love this book.
Patty Lacosse

wrote:
Creating Space: Yoga Actions for Feet & Ankles is a treasure chest filled with a bounty of focused yoga actions.  The book has a playful sense that inspires yoga practitioners to explore how each pose feels using different actions. Candace and Helen's loving dedication to their yoga practice and to the niyama of svadhyaya, self-study, is reflected in the book's carefully chosen instructions, the fluid sequencing and the beautiful images. As such, as a yoga teacher's reference, it provides a unique practitioner's resource to traditional yoga actions, breath instruction and asana propping.
About Yoga Actions
Within every volume, each action is displayed in a two-page layout with the first page describing the action and visually demonstrating the experience through a Pre Pose and a five-pose Peak sequence to further expand your experience.  Finally, we follow each sequence with Plus Poses to further develop the action and Post Poses to fully relax the body and integrate the asana experience. 
As a starting point, we suggest you read the action on the first page and apply it using the Pre Pose.  You may not immediately feel the action in your body, but continue using it for the sequence of Peak Poses as well as the Plus Poses. In our own personal experience of yoga actions, it may take two or three poses or a full practice before you awaken the area of emphasis. Gaining patience and personal commitment are two significant rewards emerging from the many wonders of a yoga practice.
As we both can attest, the Iyengar tradition of using props protects the body from injury while allowing a deeper expression of the posture.  Propping the body establishes correct alignment and form while teaching the practitioner to trust support in order to release emotional holding.  We recognize that not all actions will speak to all people.  Our bodies are unique representations of our life experiences, therefore, use the actions and sequences that support your transformation goals.  No one knows your body, mind and spirit better than you so let your inner wisdom guide your choices.
As you view the photographic images of each pose you may notice a difference in our physical expressions of the same posture.  In reality, most people come to the yoga mat with either a "plant" or "stone" body.  As Candace can attest, those with a plant-like body are more flexible and loose in their joints.  A benefit of such natural flexibility is a greater ease and depth achieved in the postures.  However, without the necessary muscular strength to support proper bone alignment, this body type can be vulnerable to joint injury because the sensory clues when overextending are very subtle.  On the other hand, Helen came to yoga with a stiffer, stone-like body.  The stronger, tighter muscles of this body type provide significant sensory signals when moving too deeply into a posture.  The key to avoiding injury for both types is to balance strength with flexibility.  Typically, this requires those of you with plant bodies to build your strength and those of you with stone bodies to increase your flexibility.
Whether in your home, office or wherever you and your computer travel, we thank you for joining us on our transformational journey into the joy of yoga.  May this connection between us seed even greater compassion and spread peace, love and joy around the world.
Namaste,
Helen & Candace
About the Authors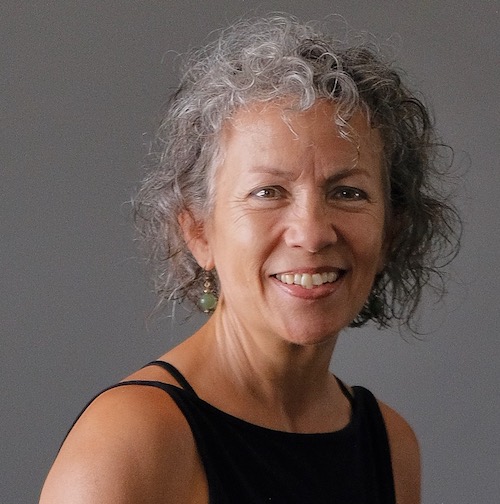 Helen Maupin
M.A., RYT 500
Helen is passionate about transforming fear into love — from her, for her, for all.  She expresses her commitment to transformation through writing poetry, self-awareness and yoga books, co-designing organizations into adaptive enterprises and deepening her daily meditation and yoga practices.
Helen maintains her daily yoga practice and her Yoga Actions Teacher Training programs deeply enrich her transformational journey and provide a much-loved spiritual community.
For a listing of Helen's weekly Right to Joy blogs, Free Press articles, awareness and writing programs or other books, visit www.righttojoy.com.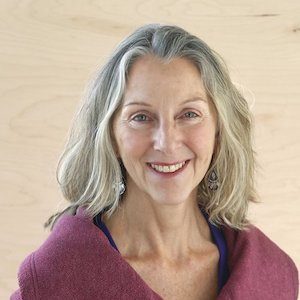 Candace loves to create, be it in the art studio or the asana room. As an artist, Candace's passion for all that yoga offers her is creatively depicted in her art. Conversely, as a yoga instructor, her ability to see the many possibilities held within our bodies gets translated into her imaginative yoga lessons and sequences enabling her students to also enjoy yoga's gifts.
As a dedicated yoga practitioner and teacher, Candace has accrued over 500 hours of primary and advanced accredited teacher training through Yoga Centre Winnipeg and other sources.
To view Candace's artwork visit: www.natureofcontentment.ca.