Providing Strength and Balance to Ankles Key to Mobility
Who among us hasn't suffered an ankle injury? Spraining an ankle is one of the most common physical injuries, particularly during childhood or athletic activities. The reason being is the size of this joint relative to the amount of body weight and physical demand it supports. The ankle joint is actually a hinge held to the leg and foot by strong bands of ligaments.
When we suffer a sprain, typically the outer ankle ligaments are twisted, stretched and even torn due to the full force of our body weight ending up on the outside of the overturned foot. In the case of a minor ankle sprain (twisting or turning), we recommend the RICE treatment:
REST your ankle for a day or two by keeping your weight off it;
ICE to reduce swelling (3 to 4 times daily for 10 to 15 minutes);
COMPRESS with a bandage/wrap to minimize swelling; and
ELEVATE your ankle higher than your body to drain swelling into the bloodstream.
Of course, your ankle's recuperation and rehabilitation do not end with RICE. Because the outer ligaments were overstretched, they weakened and are now prone to repeated twists, turnovers and sprains. It is advisable to begin exercising and strengthening a sprained ankle within two to three days of the injury to ward off chronic ankle instability. If you have sprained an ankle, you know how easily it is to "go over" on that same ankle. Repetitive giving way of the outer ankle or chronic ankle instability is likely due to damaged proprioceptive nerves — small nerve endings in the ankle joint and ligaments.
These (nerve) endings are very important, as they tell your brain where your ankle is and what position it is in. Your brain relies on this information to control the muscles which move and protect your ankle. If these nerve endings are not working properly, your brain does not get reliable information and the muscles around your ankle may… "give way", often with minor stresses… and repeated ankle sprains. — British Orthopaedic Foot & Ankle Society
If the proprioceptive nerves are damaged, they will need to be retrained via physiotherapy. For ankle rehabilitation and health, many physiotherapists recommend the strengthening and stretching actions found in yoga's standing poses. Working with the three pictured standing poses will give you a sense of increased energy and stability. Adding the yoga actions while you are in each pose will focus your mind and improve your overall balance as well as any imbalance between your inner and outer ankles. Over-pronation or excessive supination account for ankle imbalances existing in more than 75 percent of the population. Unfortunately, many people are completely unaware that their ankles are not in balance. The attention to alignment and detail in the yoga action pictured creates both awareness and space while improving balance within and between the ankles.
Action:  Draw an imaginary line from your outer heel up to your inner ankle; draw another line from your inner heel to your outer ankle. Make these two lines equal in length. For more advanced practitioners, lift the inner arch of your feet and continue that lift up your inner legs into your pelvis.

TADASANA with leg lift (Mountain pose variation)
Stand in mountain pose and find the diagonal action in both feet. Transfer your body weight into your left foot. Secure the action in your left foot while you lift your right foot off the floor into a bent-knee balanced position. Hold for three to five breaths and repeat on other side.

VIRABHADRASANA I (Warrior pose I)
Take a wide stance facing the long edge of your mat with your right outer heel into the wall. Turn your left leg out 90 degrees to face the short end of your mat. Find the diagonal action in both ankles. Exhale, bend into your left knee. Inhale and raise your arms. Hold for five to 10 breaths while you find the action one more time. Repeat on the other side.

ARDHA CHANDRASANA (Half Moon pose)
Begin standing sideways to the wall and a leg's length away. Bend your left knee and find the action in your left ankle. Place your right foot into the wall as you straighten both legs. Find the diagonal action in both ankles. Hold for five to 10 breaths. To come out of the pose, bend both knees and step down. Repeat on the other side.

DWI PADA PITHAM (Wedge pose)
Begin on your back with your knees bent and your feet slightly less than hip distance apart. Toes point forward. Find the diagonal action in both ankles. Press into your feet and arms and lift your pelvis upward. Hold for five to 10 breaths while you find the action one more time. Maintaining the ankle action, release your pelvis to floor on an exhale.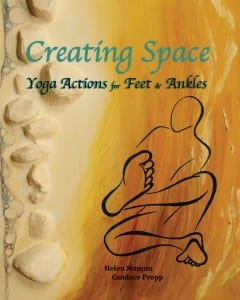 Winnipeggers Helen Maupin (www.righttojoy.com) and Candace Propp (www.natureofcontentment.com) are 500-hour certified yoga teachers and authors of the Creating Space: Yoga Actions book series. To purchase these print or ebooks, visit here. For yoga teacher training with them and Stacy Schroder, register at www.sereneyogastudio.com.