The inverted V pose is yoga's most famous for a reason
Of the many shapes seen in a yoga class, probably the most famous is the inverted V of downward-facing dog or Adho Mukha Svanasana. Adho Mukha Svanasana serves many purposes in a yoga practice — assessment, transition, resting, inversion, strengthening and rejuvenating.
Arguably, the pose's popularity in the yoga and fitness worlds is due to its diagnostic capabilities. When a person takes Adho Mukha Svanasana (AMS), a yoga teacher can readily see the practitioner's physical limitations — short hamstrings, rounded spine, tight shoulders, uneven weight distribution between the hands and feet, etc. Each of these limitations can then be readily addressed by designing yoga sequences to bring forth the individual's needed length, alignment and/or strength.
Consider these many benefits of AMS, and you will understand why its popularity does not wane:
increases circulation to the chest and brain;
builds core strength (abdominal, chest and back muscles);
opens and lengthens the shoulders, back and spine;
promotes ease in the mind and body;
relieves stress and mild depression;
helps prevent and ease osteoporosis;
improves digestion;
relieves headache, insomnia, back pain and fatigue.
Of course, the proof of AMS's efficacy is in your own felt experience of the pose. Over the next week, make the sequence of poses and the yoga action outlined below your daily yoga routine. After these seven days of practice, ask yourself, "Has this 15-minute daily commitment made a difference in my overall well-being?"
Action:  Lengthen down the skin and muscles of the outer armpits and outer arms into the baby-finger side of the palm. Lengthen up from the web of the index fingers and thumb mounds into the inner armpits and along the spine to the sit bones. For more advanced practitioners, also lift the upper arm bone (humerus) into the shoulder socket.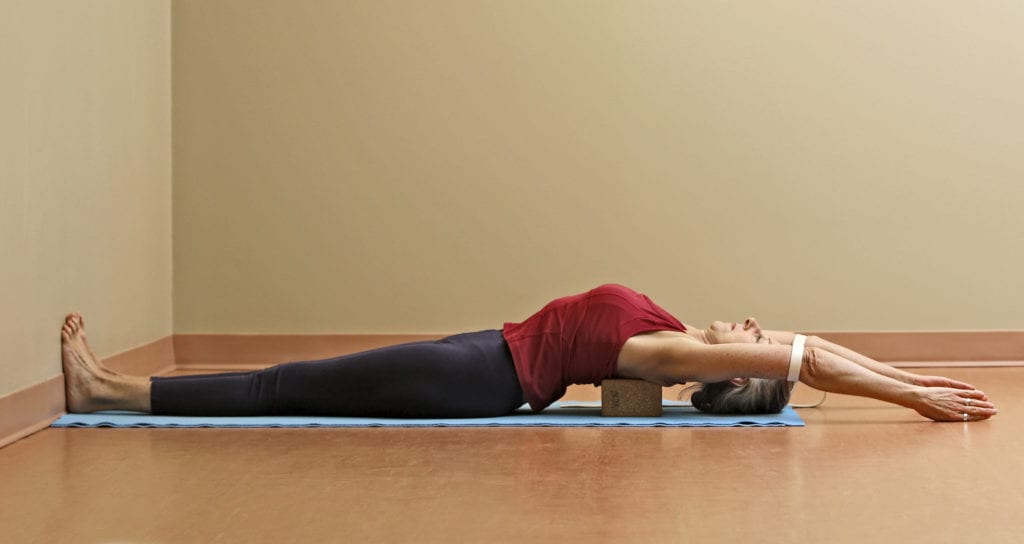 SALAMBA MATSYASANA (Supported Fish Pose)
Lie down with your feet into the wall and your shoulder blades resting on a horizontal block. Make a shoulder-width loop in your belt for around your upper arms just below your elbows. Inhale, bring your arms overhead and find the action. Hold for five to 10 breaths. To sit up, release your arms and press your hands into the floor, or roll to one side.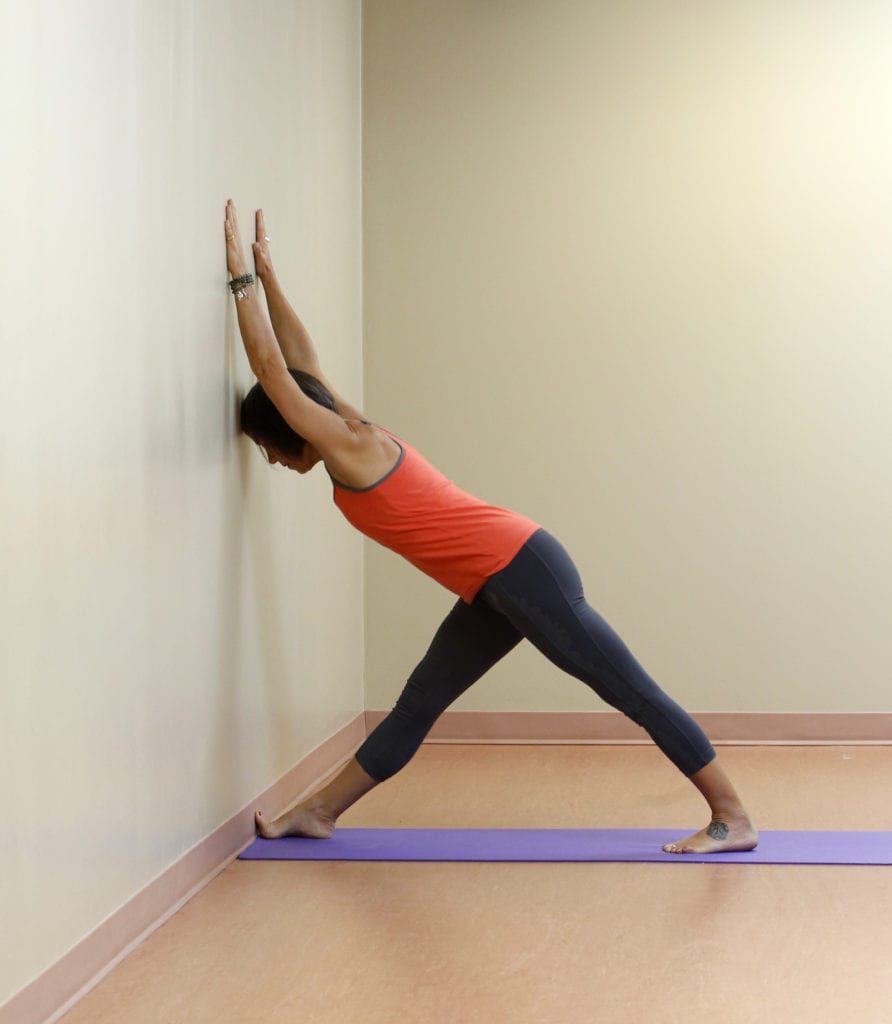 PARSVOTTANASANA variation (Intense Side-extension Pose)
Begin by facing the wall in Tadasana. Step your right foot forward with toes up the wall and toe mounds on the floor. Step your left foot back approximately three feet. Turn your left leg out slightly (10 o'clock). Rotate both front hips toward the wall and fold forward stretching your arms up the wall. If you are able, rest your head against the wall. Find the action. Hold for five to 10 breaths, then repeat on the other side.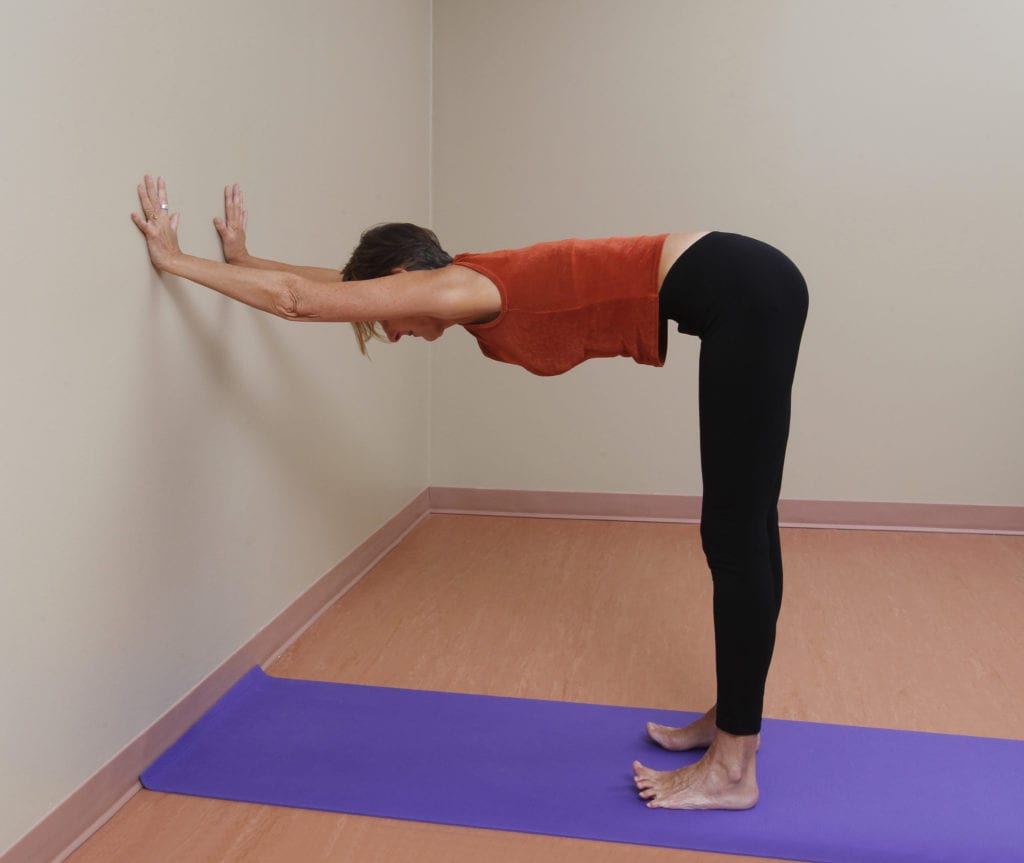 WALL STRETCH
Begin close to the wall in Tadasana. Place your hands on the wall at shoulder height. Inhale, and on your next exhale, press into your hands as you fold at your hip creases and step your feet back. Outer hips stack over outer knees and outer ankles. Find the action. Hold for five to 10 breaths. On an inhale, walk back to the wall, rest your forehead on the wall and release your arms alongside your body. Stay until your blood pressure normalizes.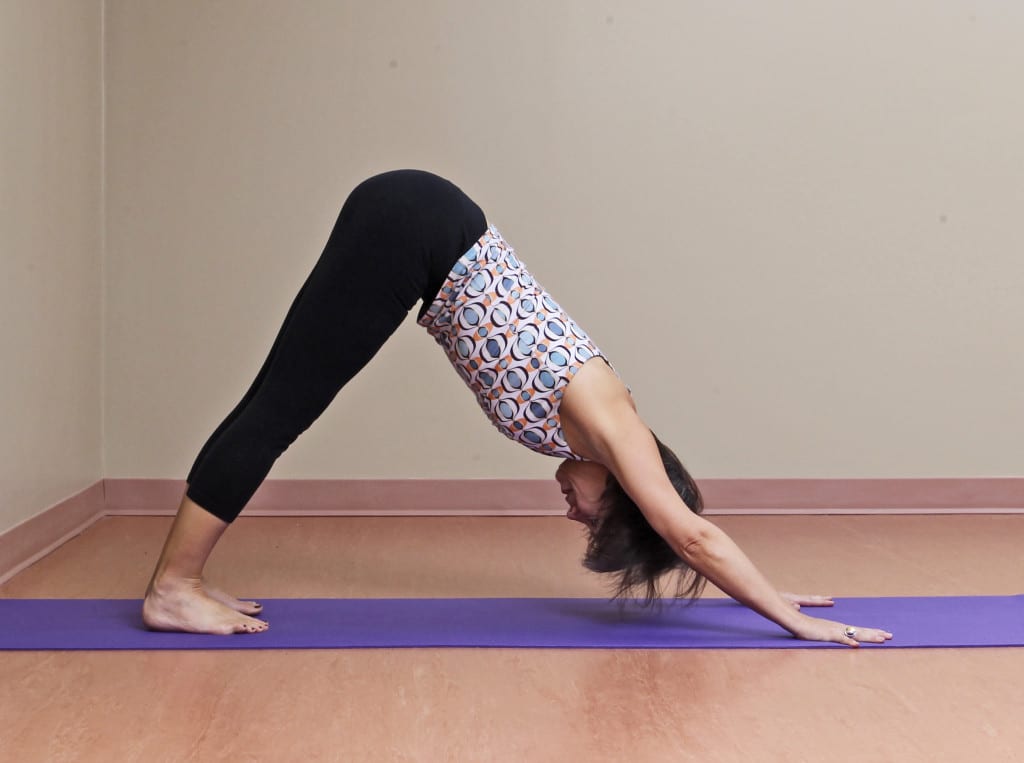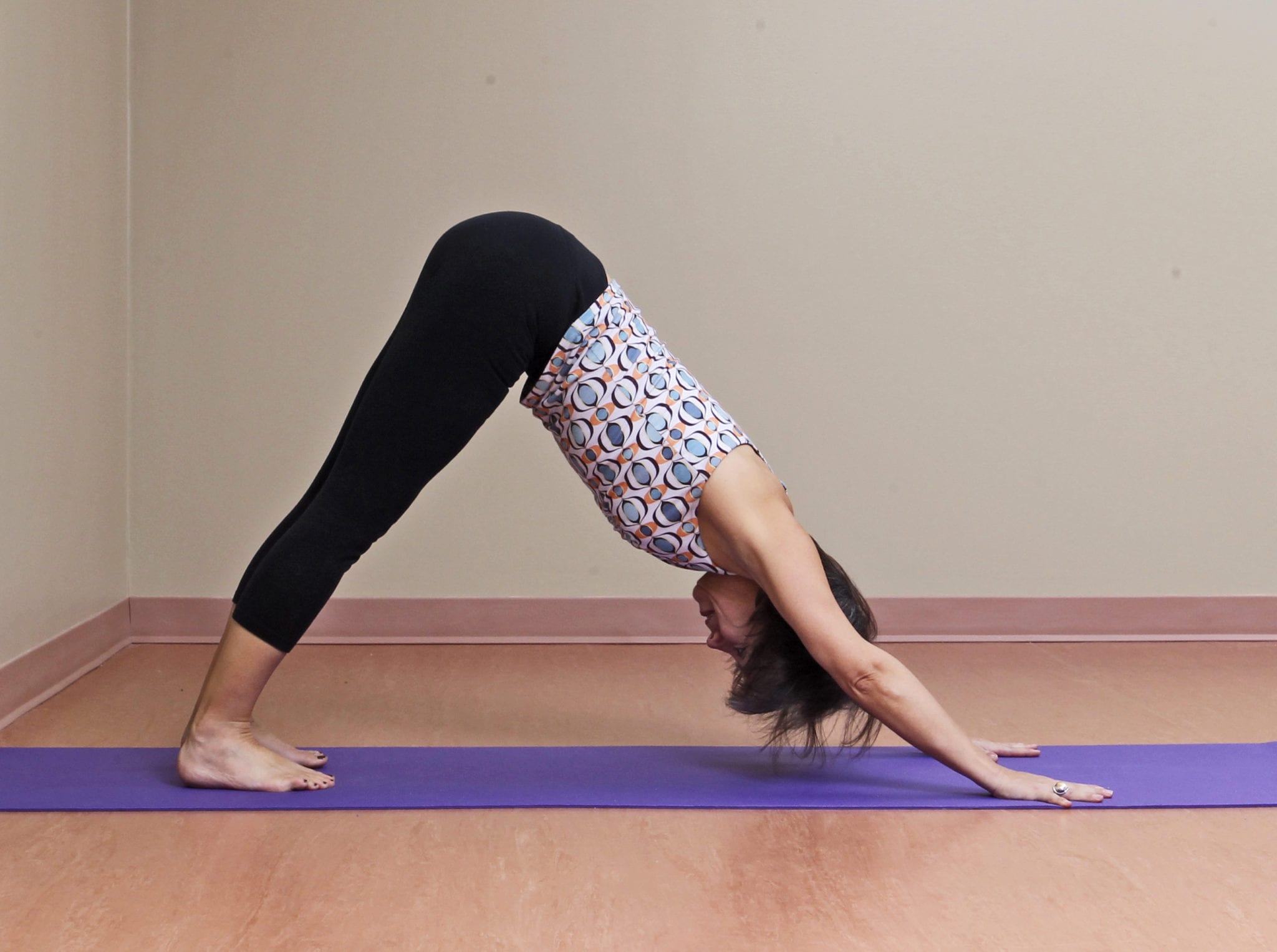 ADHO MUKHA SVANASANA (Downward-facing Dog Pose)
Start in a hands and knees position (table-top) on the mat. Wrists are under or slightly in front of your armpits and knees are under the hips. Inhale and lengthen the spine as you press into your hands. On the exhale, curl your toes under, press into your hands and toes to lift your hips up and straighten your legs and arms. If your heels do not fully descend to the mat, move closer to the wall and rest them into the wall. Find the action. Hold for five to 10 breaths.
Winnipeggers Helen Maupin (www.righttojoy.com) and Candace Propp (www.natureofcontentment.com) are 500-hour certified yoga teachers and authors of the Creating Space: Yoga Actions book series. To purchase these print or ebooks, visit here. For yoga teacher training with them and Stacy Schroder register at www.sereneyogastudio.com.