First comes inspiration, a vision of possibility, then follows action.  I have been married to this practice since I dreamt about it in 1998—inspiration » internalization » integration—the transformation process.  Of course, inspiration seems easiest and most enjoyable.  Living through self-doubt and worry and reframing them into trust constitutes the dark night of the soul (internalizing).
Like clouds cluttering up the sky, these negative emotions create barriers in the mind, which become stumbling blocks on the road of Life.  Could there be anything seemingly easier—and at the same time exceedingly more difficult—than clearing our minds of the negative so the next connection (inspiration) can show up.  The image and poem below capture my experience.
By Human Design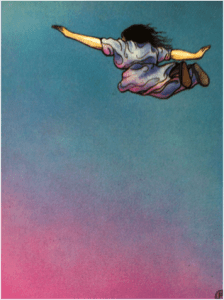 My spirit always dances.
Only my heart and head bring me down to earth
into the cloudy illusions of day-to-day stuff.
I won't call it reality.  It doesn't feel real to me.
I can't seem to touch this heaviness invading my being.
I wish for the lightness of Celebration's dance to sweep me up and . . .
And what?  Words fail me.  I can't hear or feel the words.
If You are transmitting, You will need to talk louder, please!
January 2001