Every week, I gather together a circle of meditators and writers for the purposes of personal transformation and creative expression.  Each person chooses an inspirational image (something that speaks to them).  We then meditate to connect to our creative voice, mind map on our inspirational choice and write a story or poem on our experience of the image.  The only rules for writing are "I/me, here/now."
Using only this process, I have written two books of poetry.  The poem below, Keys to The Soul, emerged from this small-group meditation, writing and sharing experience.
What comes to mind for you when you look at this image?  Mind map your thoughts, feelings, memories or what ever else comes forth.  Allow your intuition to tell you when you are ready to begin writing your story or poem about these keys.  And don't forget to email it to us so we can share in your writing.
Keys to The Soul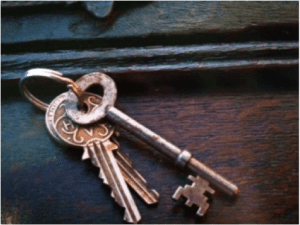 When did I first learn to lock things away?
inside boxes?  inside me?
There lies the answer to suffering,
but which key will open those doors?
Does my skeleton hold tight
these mysteries of the past?
Ancients say stone and bone
contain the wisdom of the ages.
My bones whisper secrets
in a not-yet familiar tongue.
Learning this foreign discourse is weary work
for ears still deaf to nuance.
A pattern, ancient as the journey of my own soul, unravels.
Mere fragments come visible.
Like an archeologist, I gently brush away dust
while I await image to take shape.
Helen Maupin
22 March 2011