So many of us carry repressed and trapped emotions within multiple areas of our bodies, without even knowing it.  In fact, we can go for years, even decades, completely oblivious to the blocked energy our muscles are holding on to. This repressed energy is responsible for countless ailments and chronic health conditions that cause us great suffering.    Aletheia Luna
If I had only known this when I was in my 30s, I could have saved myself from a lot of suffering due to tight, tense muscles. Oh well, better aware and awake now than not at all. For all of our benefit, muscle tension is caused by one or all of the following three sources:
Social conditioning. From infancy to adulthood, most humans are in pursuit of love. This pursuit of pleasure and subsequent avoidance of pain finds us adopting limiting social beliefs — tears are for sissies; if I don't take as big a share of the market as I can, there will be none left over for me; peace is not possible; etc.
Trauma and psychological tension. Physical and/or emotional trauma may range from violence and rape to childhood abandonment and war. Many people do not consciously deal with their trauma and thus are vulnerable to mental illnesses such as anxiety, depression, chronic anger and fear, PTSD, etc. All of which contribute to a host of physical diseases — cancers, asthma, fibromyalgia, digestive disorders, heart failure, etc.
Environmental stressors and habits. Sedentary lifestyles and careers minimize opportunities to use our muscles in physical activities and thus to literally express tension and anxiety out our pores. In addition, sitting all day leads to poor posture and erratic sleep patterns. Combine any of these with eating mostly processed food and ingesting environmental pollution, drugs or overindulging in alcohol and you have a formula for ill health. Then, of course, add in a pandemic such as COVID 19, and you may see once mastered negative behaviours or 'old demons' surface from within.
As we each adapt to our new normal experience of living safely amidst the uncertainty of COVID 19, releasing accumulated muscle tension can be a life-sustaining experience. Over the next several weeks, I will provide a yoga sequence specifically focused on those areas in our body most vulnerable to muscle tension — shoulders, neck, upper/middle and lower back, stomach, inner and outer thighs, and buttocks.
This week, we will focus on our shoulders, which store our unresolved burdens and sense of responsibilities. Do you recall the images of Atlas hoisting the world upon his shoulders? His knees are buckling from the weight of his burden. Similarly, many of us unconsciously or consciously claim responsibility for others' pain and find ourselves suffering from chronic shoulder muscle tension.
If this is your 'hiding place' for tension, then work with the 60-minute sequence below to gently and compassionately ease yourself back to a more relaxed and ease-filled state.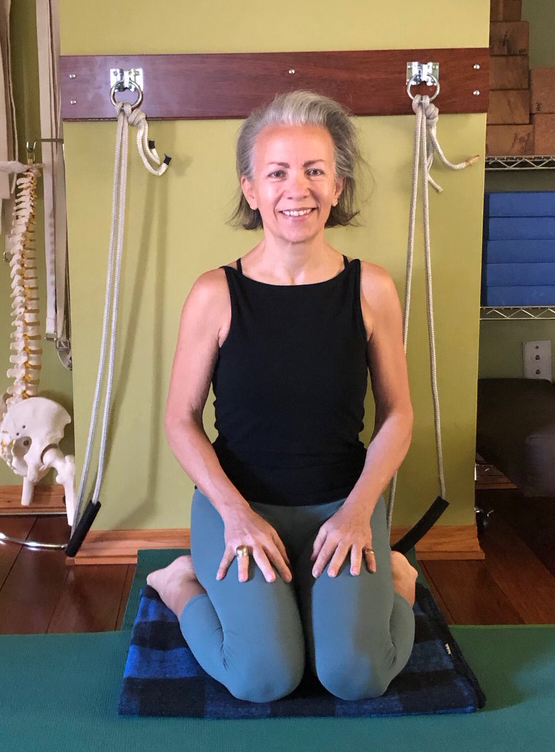 VIRASANA (5 minutes)
– close your eyes and practise the yoga actions listed below.
Yoga Actions:
1. INHALE into your back floating ribs (bottom of back rib cage).
2. Notice how the floating ribs expand away from either side of the thoracic spine (mid-back).
3. Notice if your lumbar spine (mid to low-back) lengthens down to your sacrum and tailbone.
In each of the following poses, continue to work with the subtle breath action and notice the impacts in your body.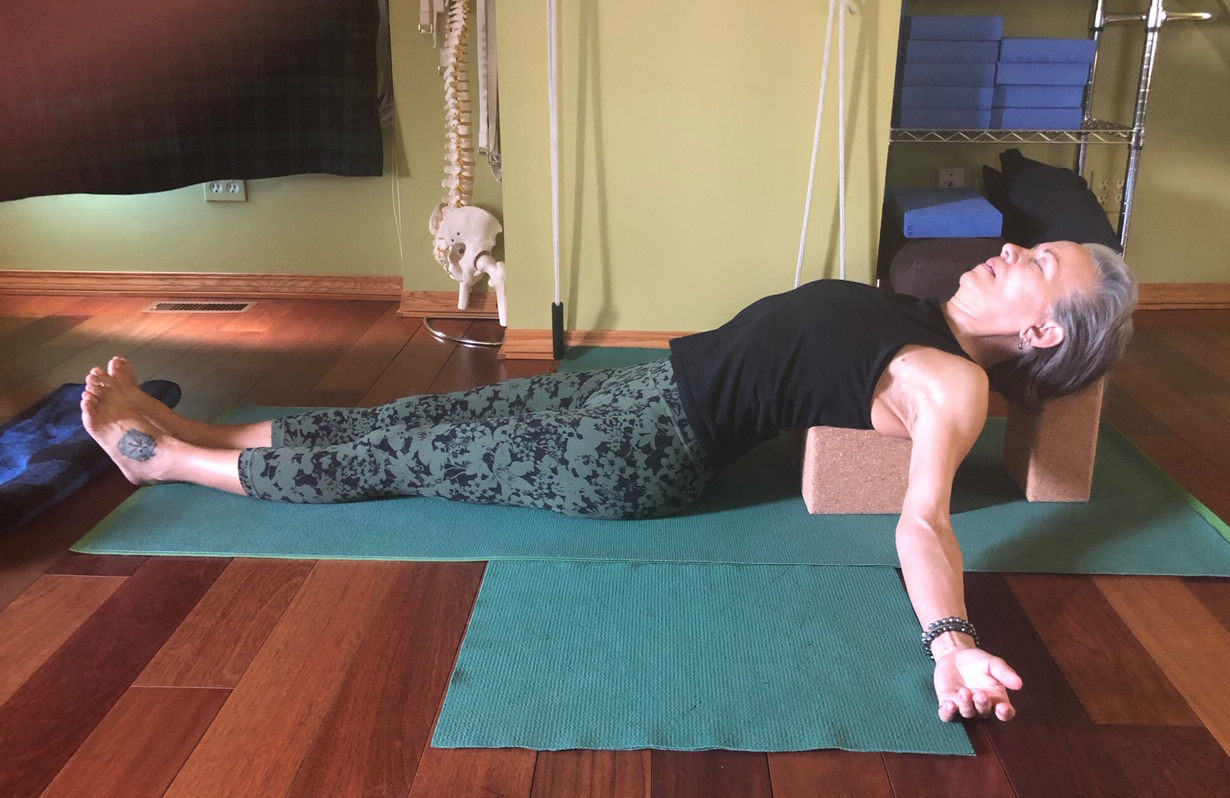 BHISHMASANA (3-5 minutes)

– double blocks (medium or high height) under thoracic spine
– single high block under head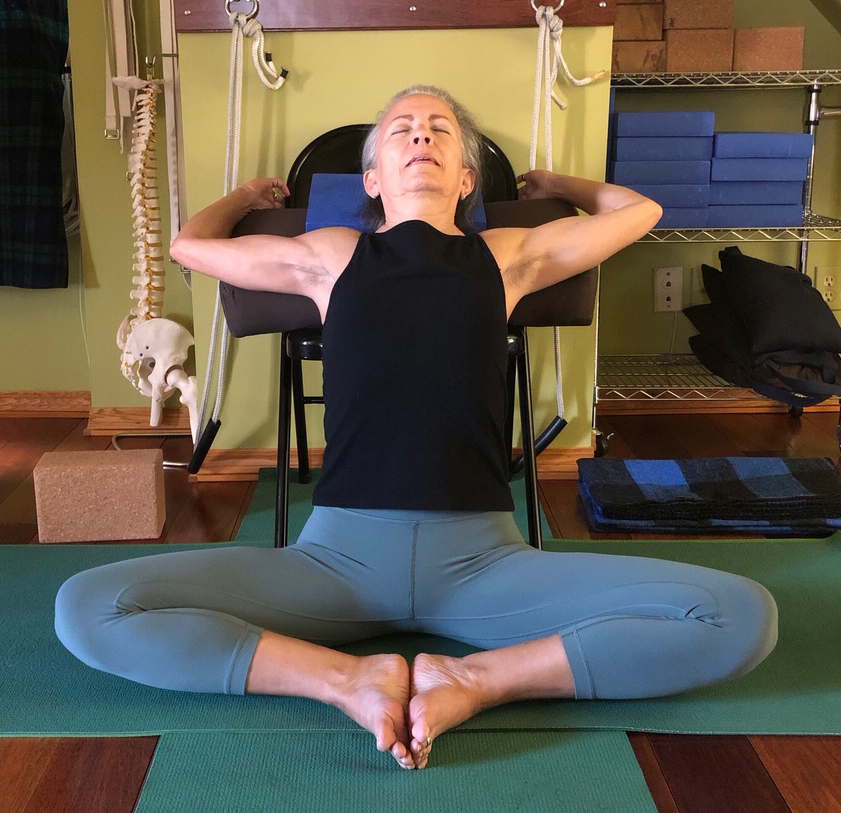 CHAIR CHEST OPENER with BADDHA KONASANA legs (3-5 minutes)
– bolster & foam block on chair seat for arms & head support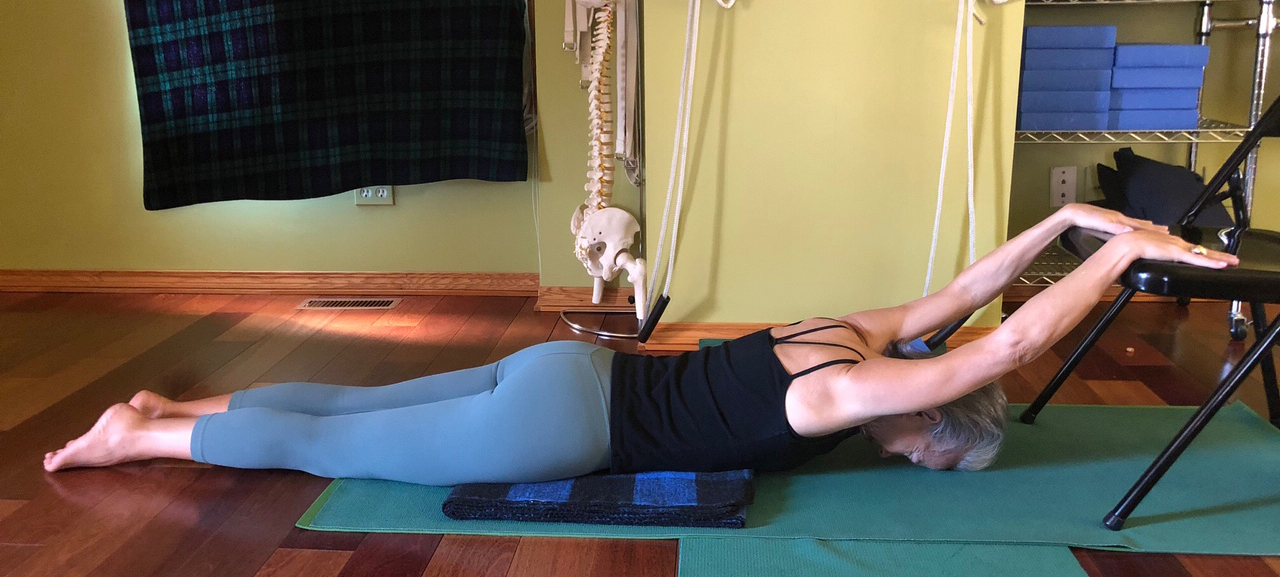 CHAIR ARMPIT OPENER (3-5 minutes)
– may also rest head on block or foam support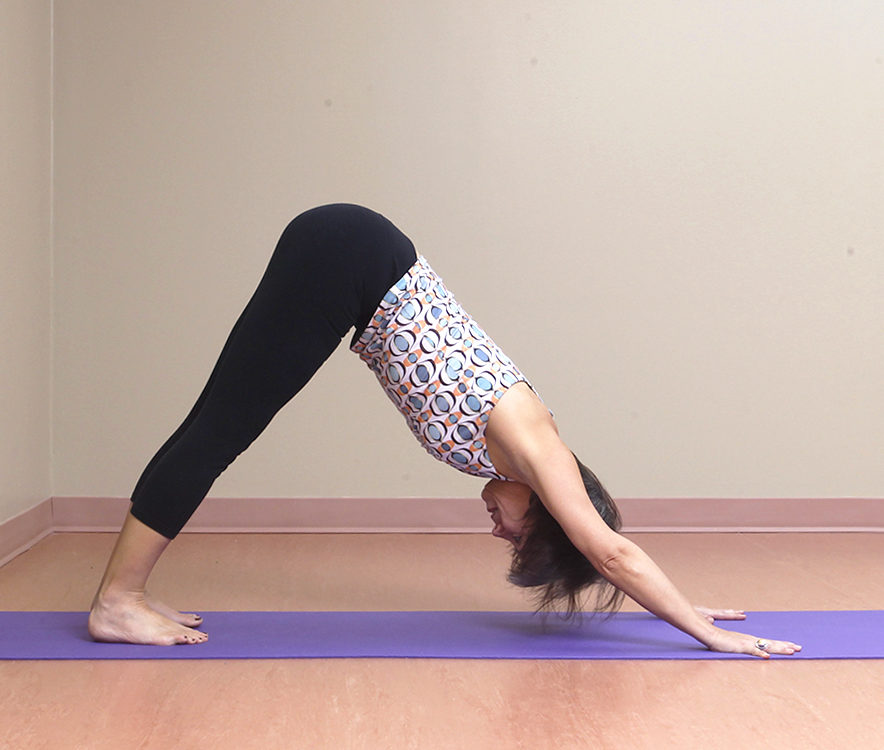 ADHO MUKHA SVANASANA (10 Breaths)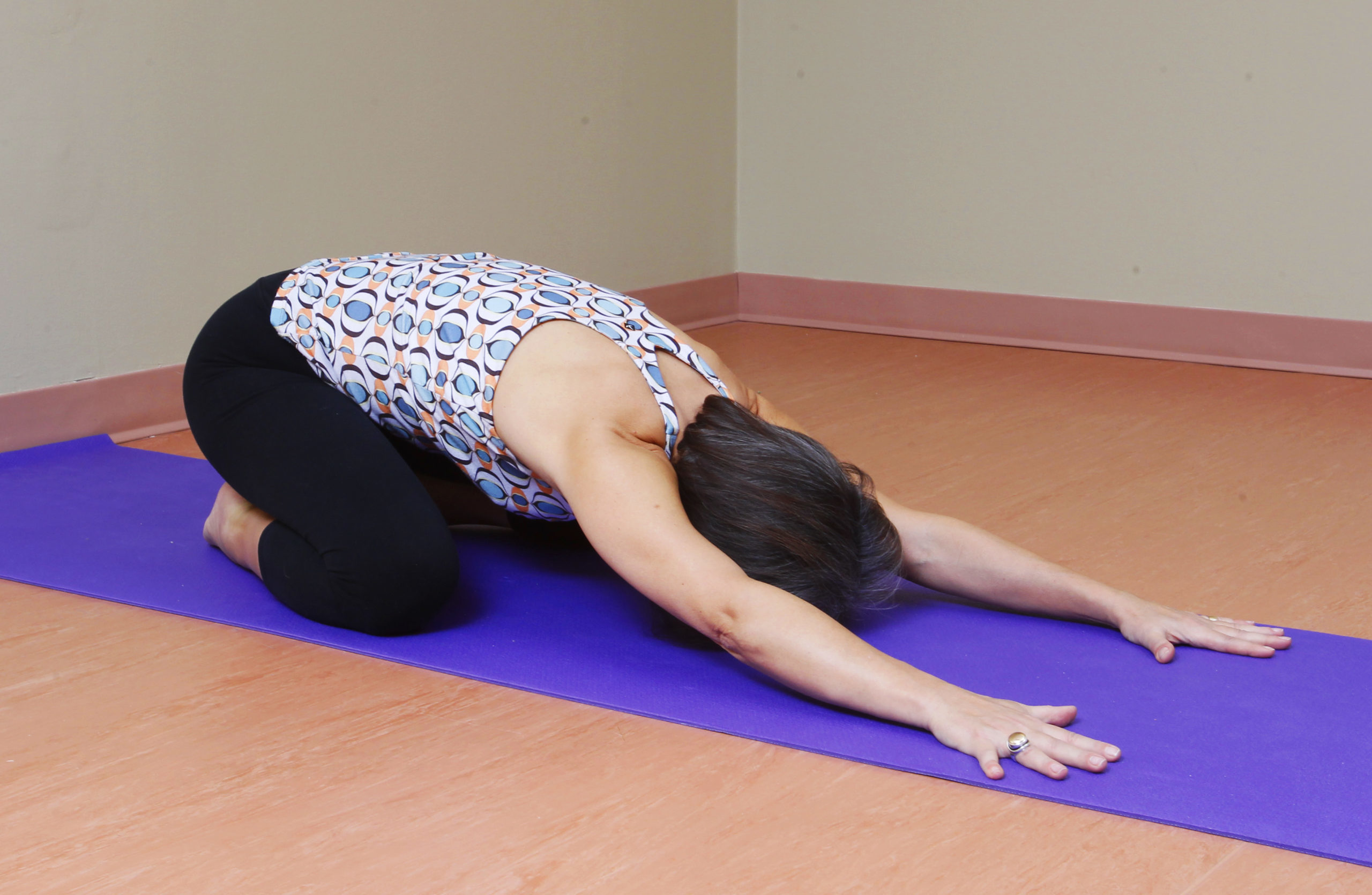 BALASANA to release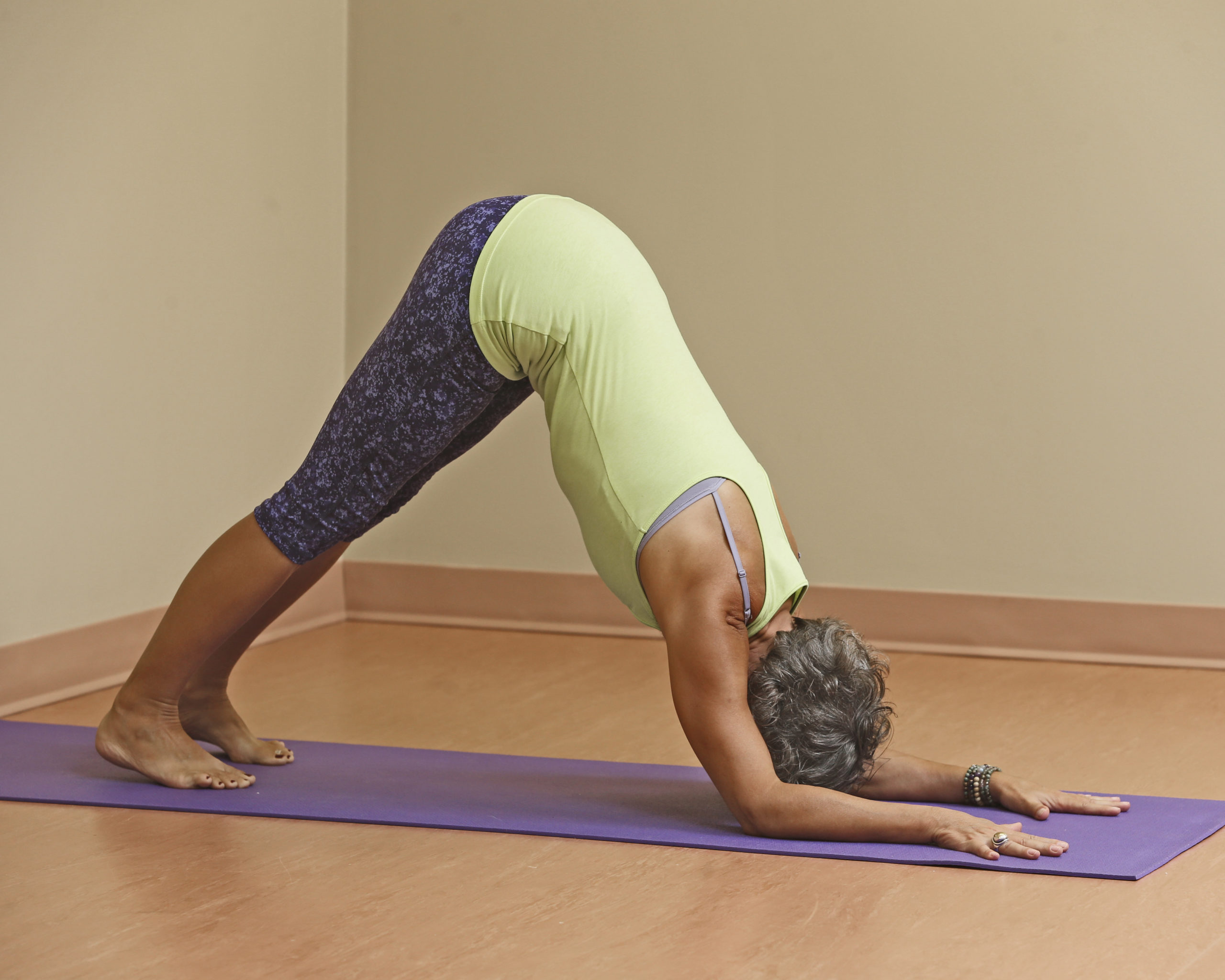 PINCHA DOG (10 Breaths)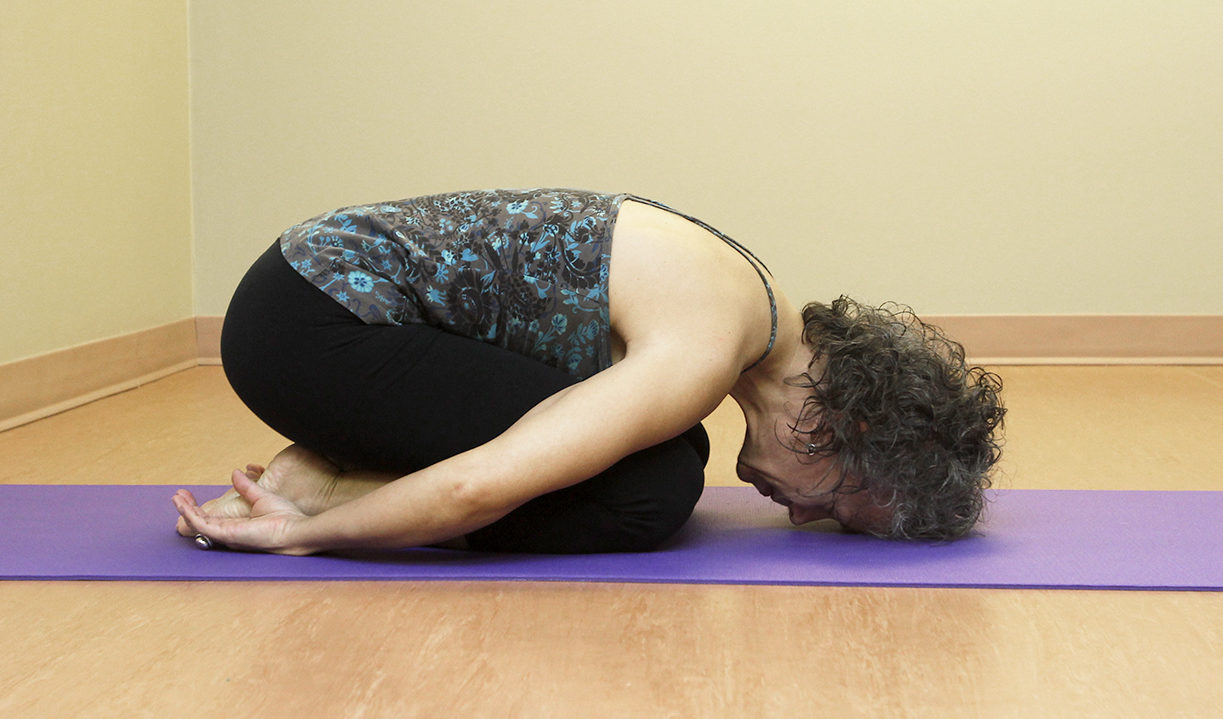 BALASANA to release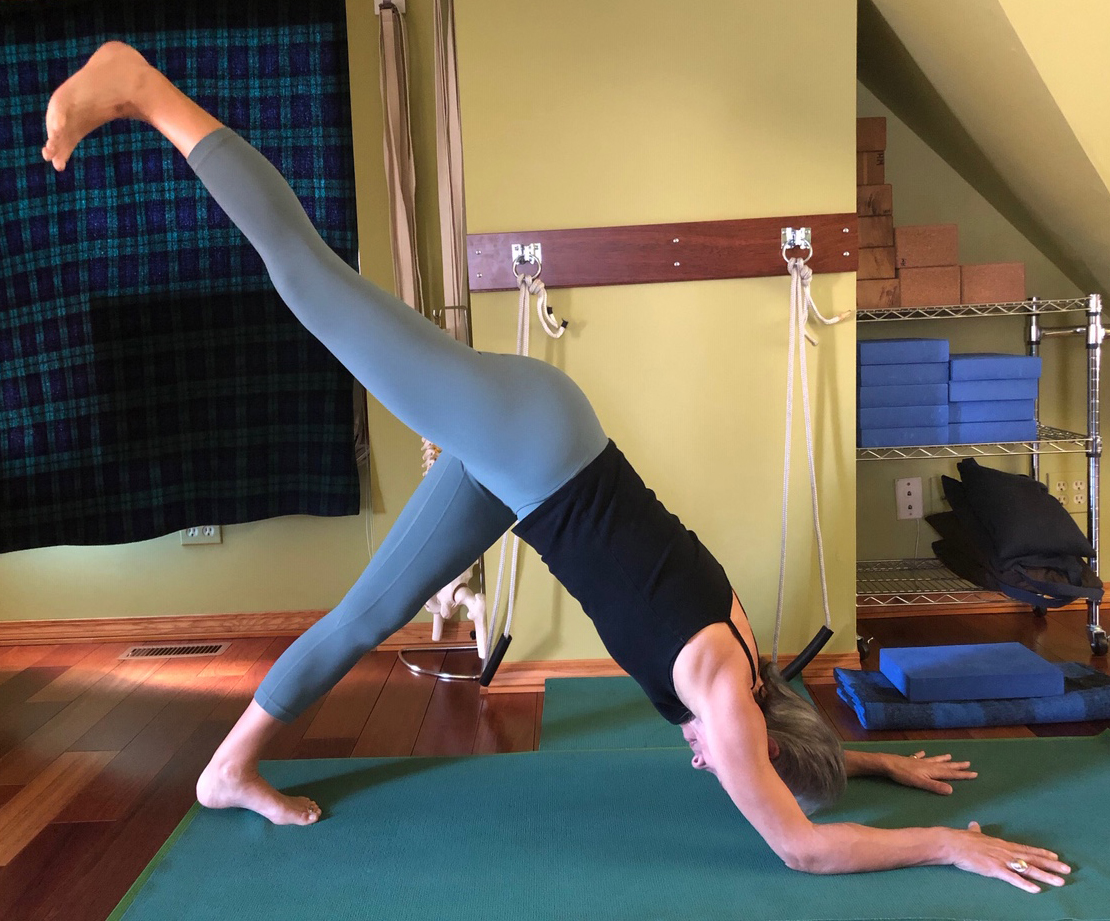 EKA PADA PINCHA DOG (5 Breaths ea)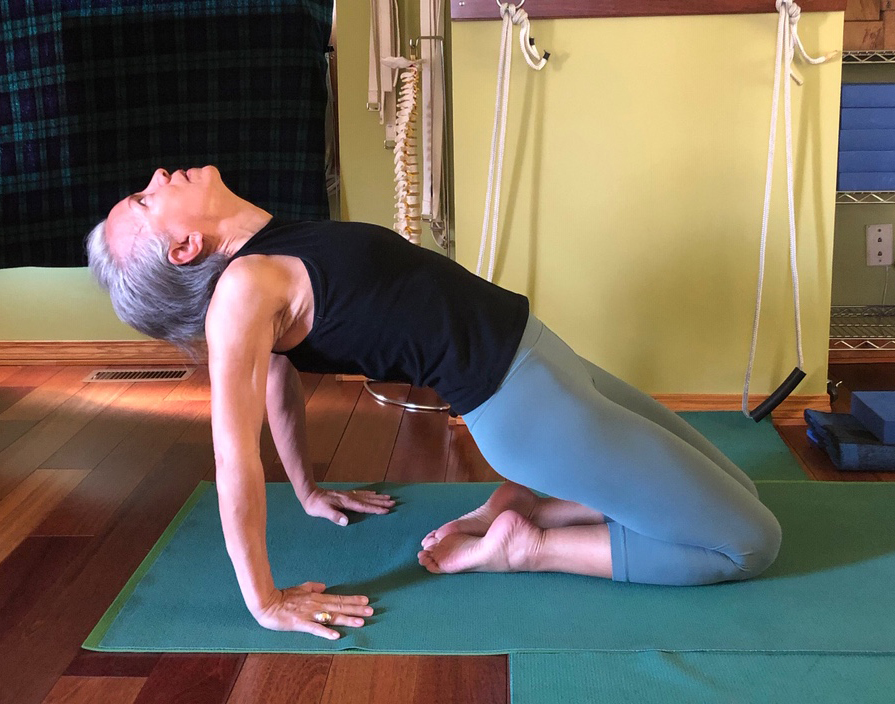 PURVOTTANASANA:
1) on shins (3 reps)

2) Dandasana to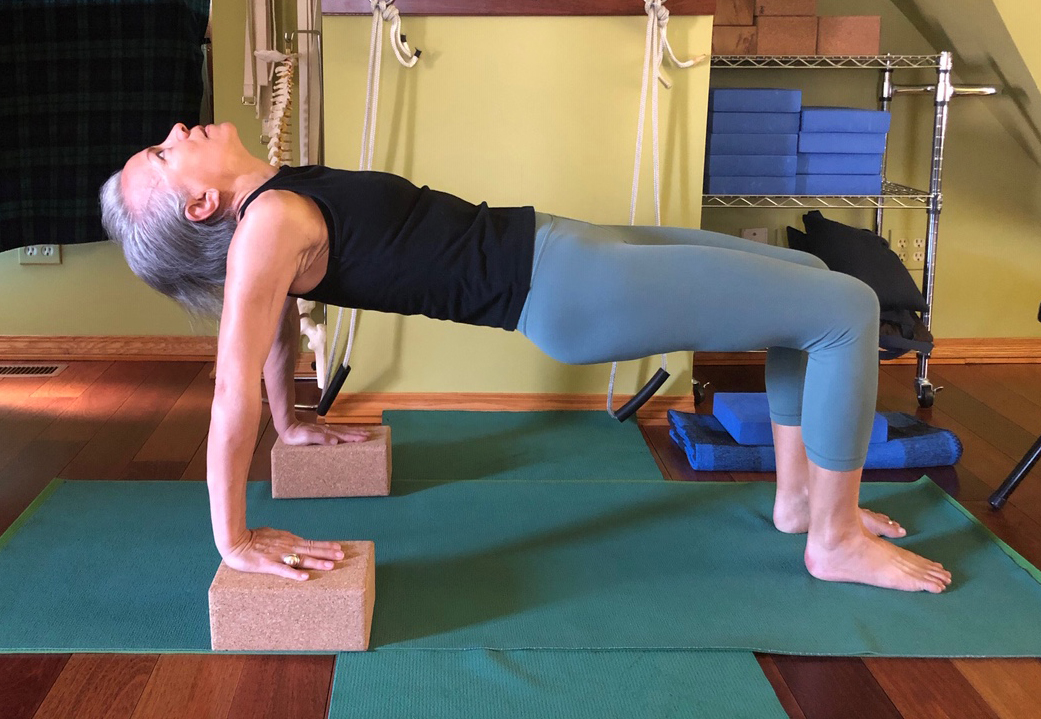 3) Tabletop (3 reps)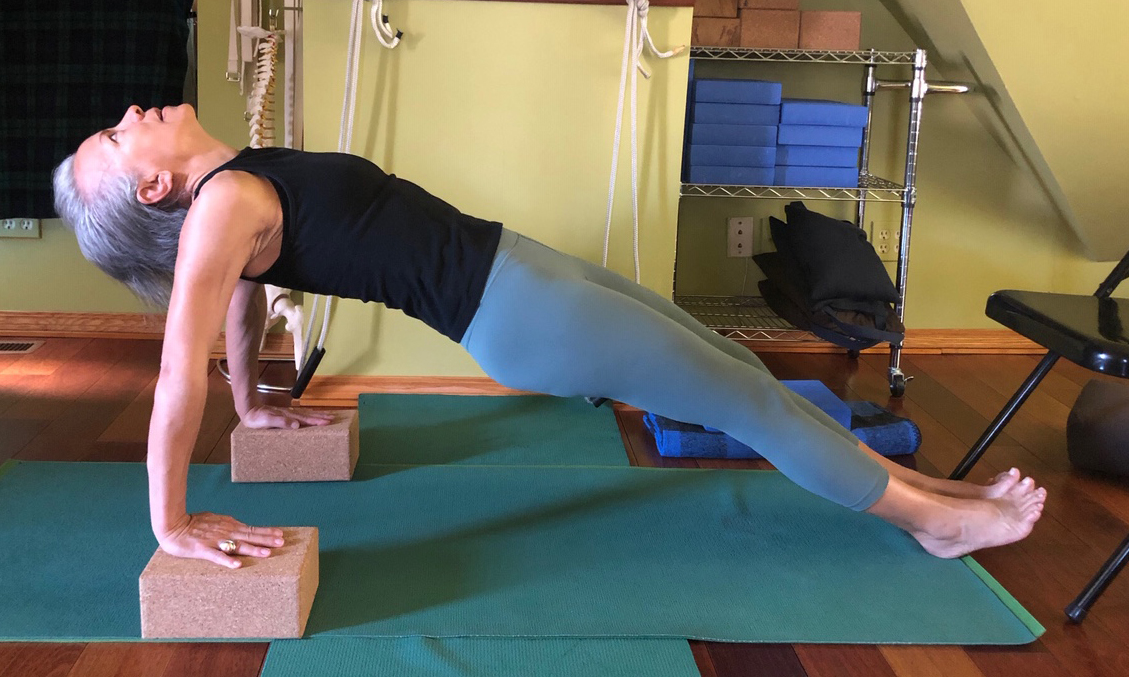 4) Full Pose (5 Breaths)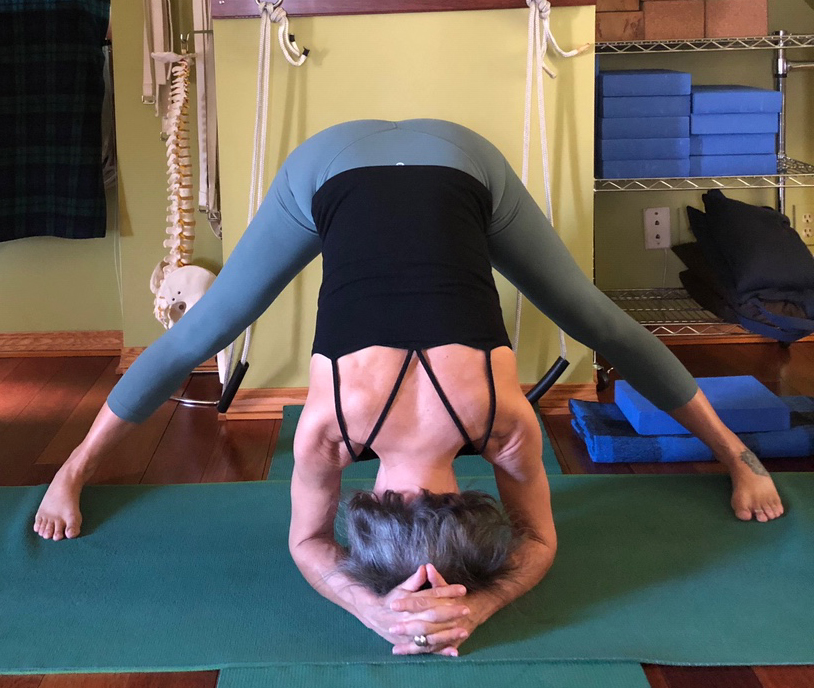 PRASARITA PADOTTANASANA (5-10 Breaths)
to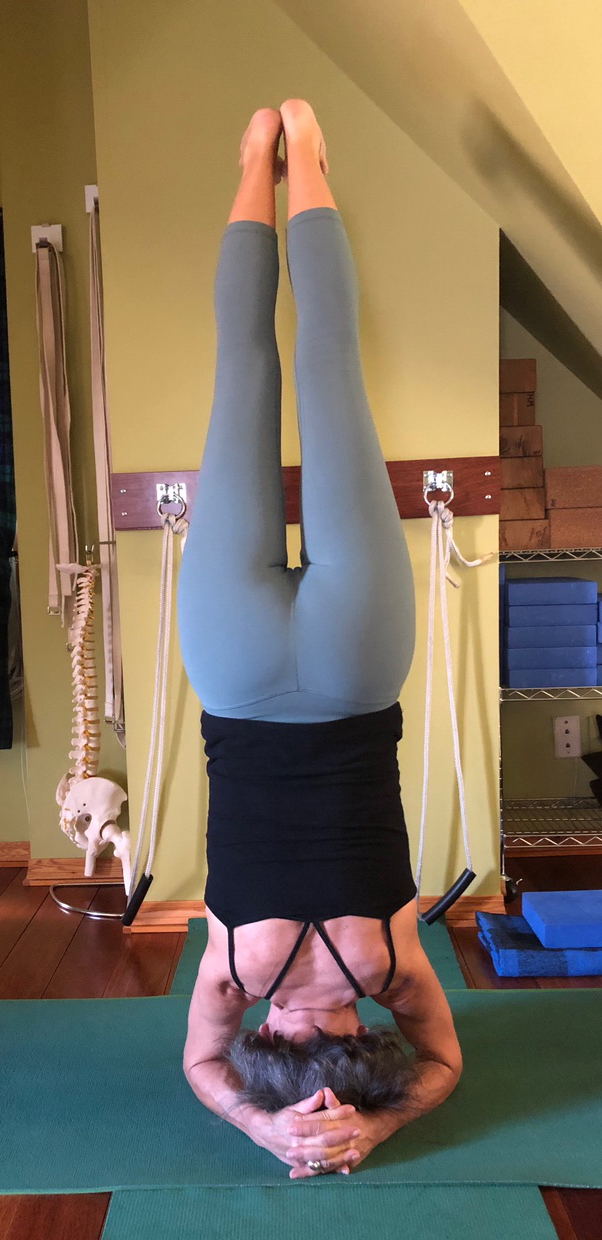 SIRSASANA (10-20 Breaths)
SALAMBA URDHVA DHANURASANA (3-5 minutes)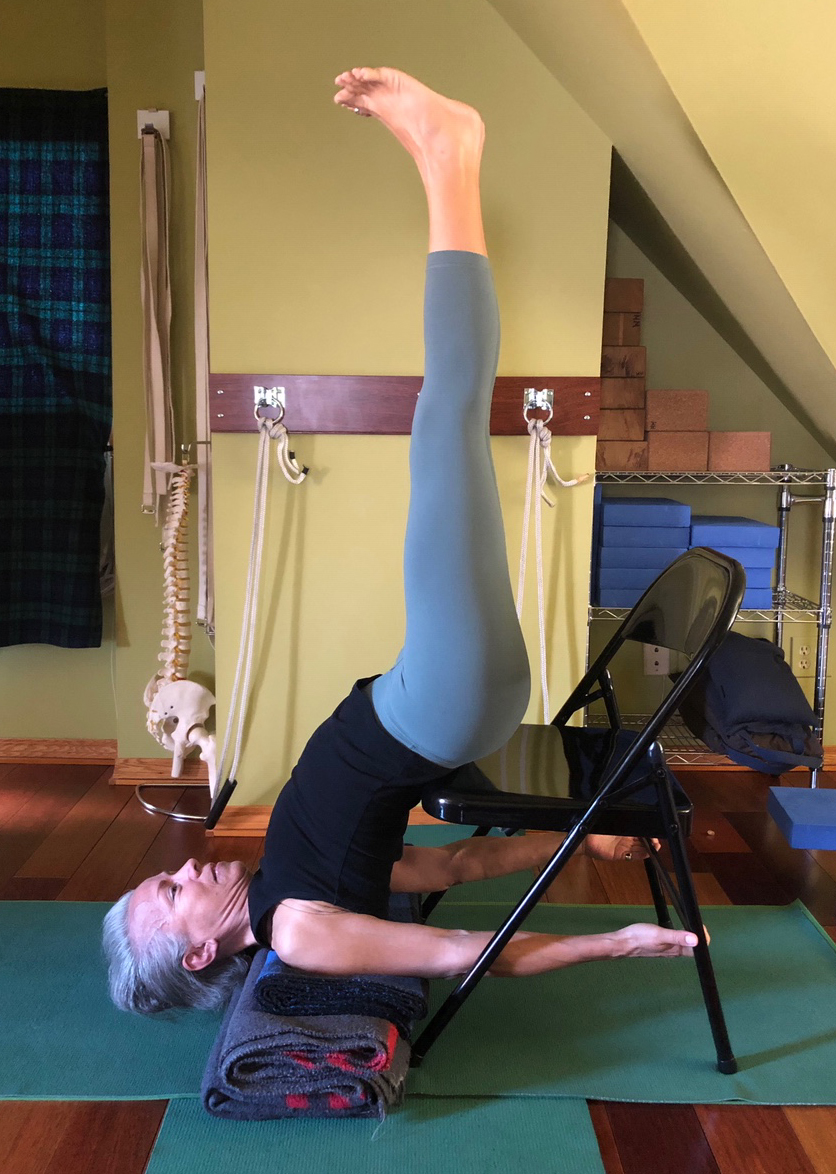 SALAMBA SARVANGASANA (3-5 minutes)
– chair & 3 or 4 blankets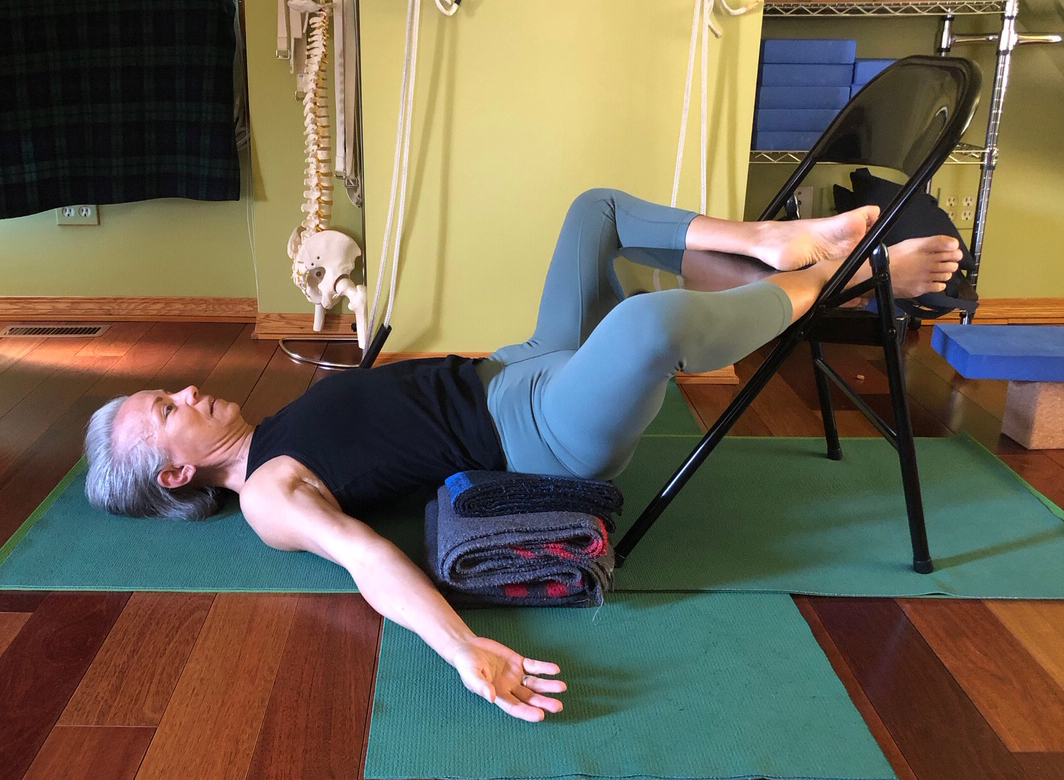 SUPTA BADDHA KONASANA to release
– front of ankles on chair joints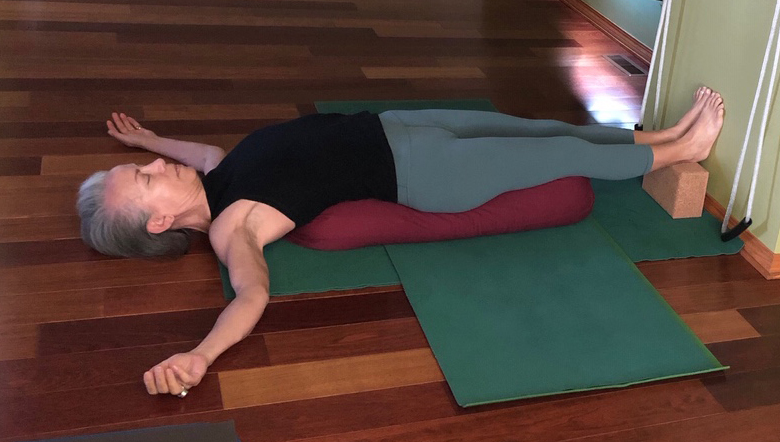 SALAMBA SETU BANDHA SARVANGASANA (3-5 minutes)
– heels on block; torso on bolster; shoulders on floor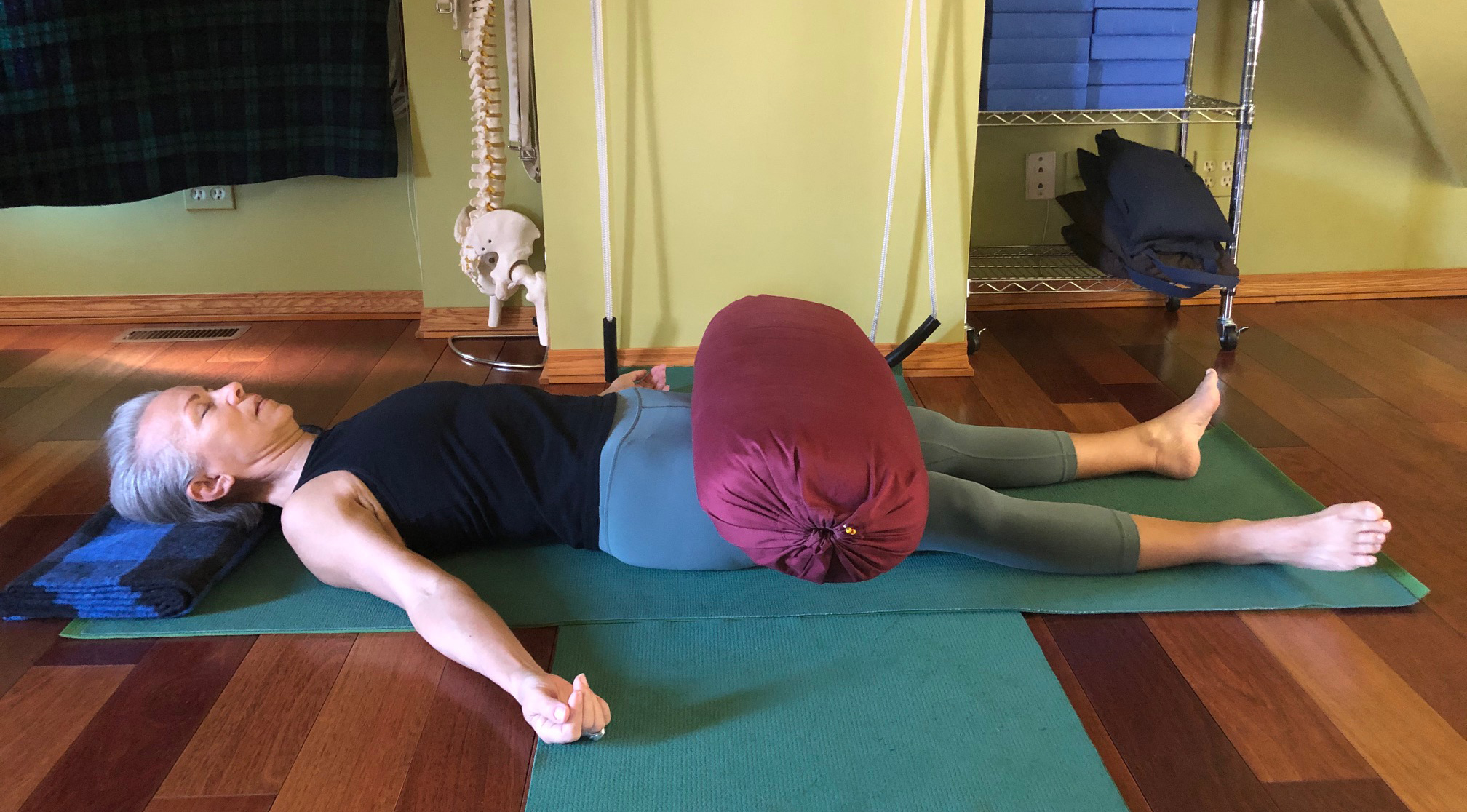 SAVASANA (5-10 minutes)
– bolster under knees or across upper thighs or across front pelvis