For the past five weeks, I offered mini inversion sequences as a means of alleviating depression and anxiety through overcoming fear. The result in the body and mind is a greater sense of calm. Believe it or not, when practised consistently inversions such as Sirsasana (headstand), Sarvangasana (shoulder stand) and Virparita Karani (Legs up the Wall) are indeed calming once we overcome our initial angst.
So many of us spend 24/7 in our fight/flight/freeze response (Sympathetic Nervous System) rarely getting the rest and rejuvenation we need. Those inversions where our head is in contact with the earth or with a support block induce a sense of calm and balance. This means our Parasympathetic Nervous System (rest and digest) is engaged, and we have restored the delicate balance within our entire nervous system. All three of the previously mentioned inversions, when done before bedtime, can result in better sleep.
On the other hand, more energetic and active inversions like Adho Mukha Vrksasana (handstand) and Pincha Mayurasana (Forearm Balance) invigorate both the body and the brain by moving more oxygen and blood into the brain. Of course, any inversion that positions the heels above the heart and head also offers the benefit of increased mental functioning.
The following sequence and yoga actions provide the opportunity for you to strengthen your shoulders and open yourself to experiencing the many benefits of inverting. Begin your practice seated quietly in Virasana for 3 to 5 minutes while you practise the yoga actions below. Then, take these yoga actions into each of the subsequent poses.
YOGA ACTIONS:
1. Continue this yoga action that you learned in Part IV — With your awareness, sense the Rectus Abdominis muscle from its attachment at the centre of the pubic bone all the way up to the Xiphoid Process (bottom of the breast bone).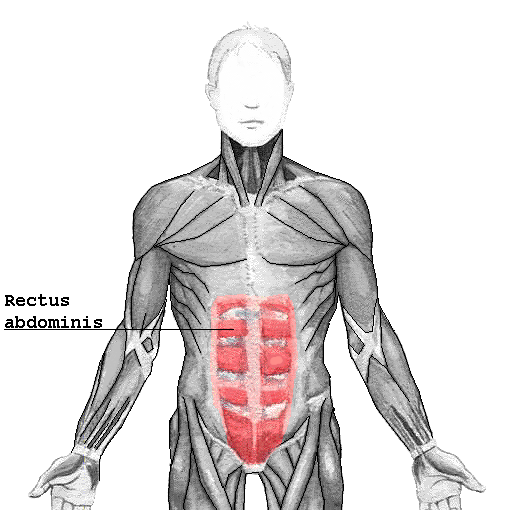 2. At the centre of the pubic bone, soften the Rectus Abdominis muscle letting it drop into the body. Notice the energetic lift up the Rectus Abdominus into the upper back and the broadening between the inner shoulder blades.
3. Take the INHALED breath into the space between the upper inner shoulder blades and feel them broaden away from the thoracic spine.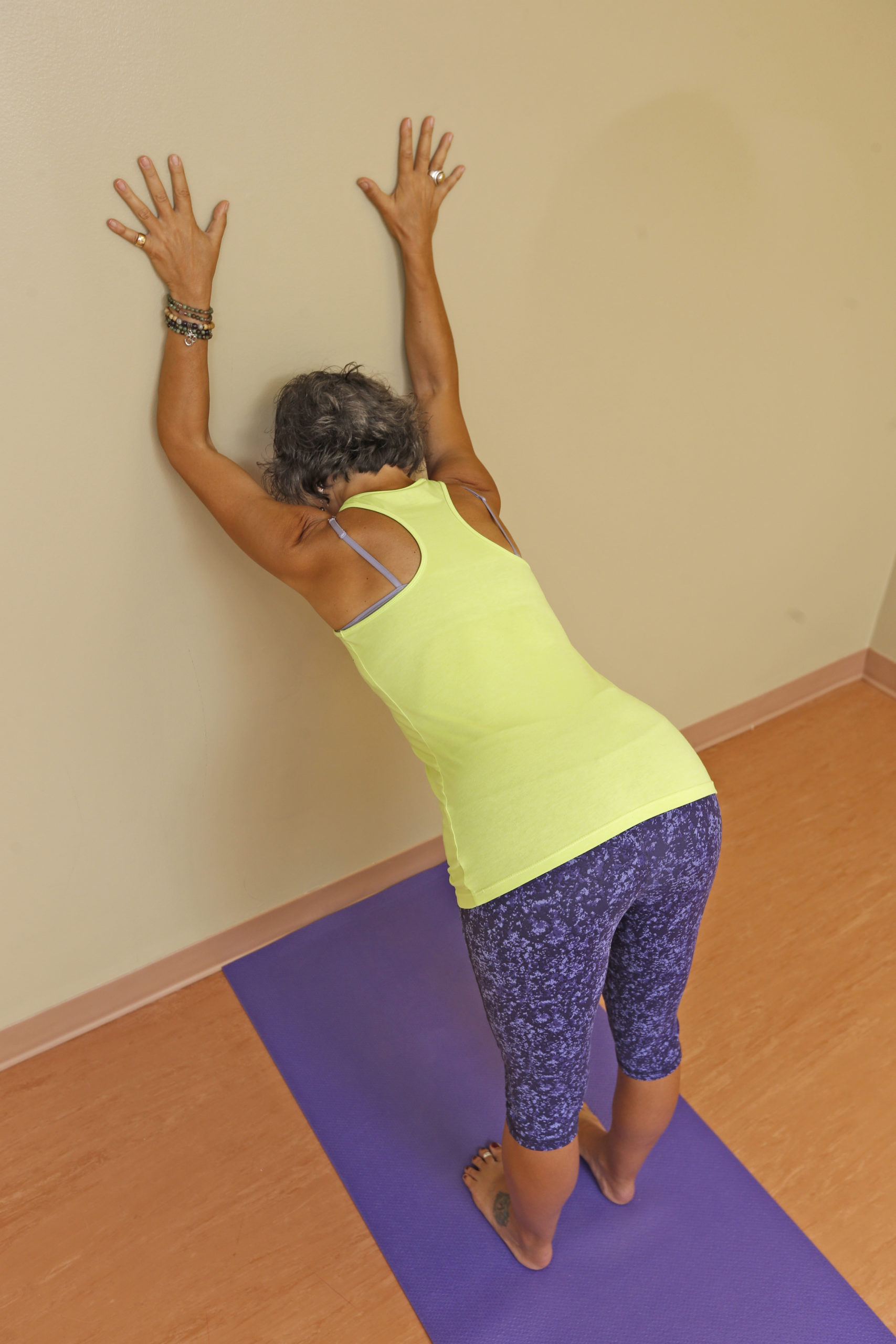 PINCHA WALL STRETCH 2 Reps @ 10 Breaths each
– forearms and palms press hips away from head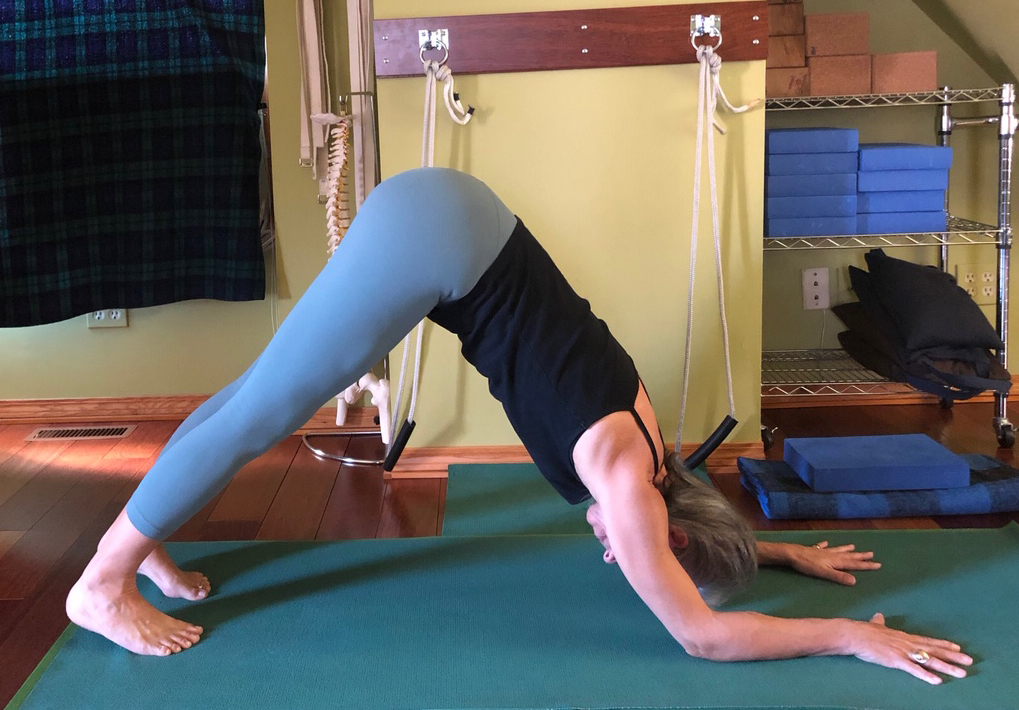 PINCHA ADHO MUKHA SVANASANA (Forearm Down Dog) 10 Bs ea
to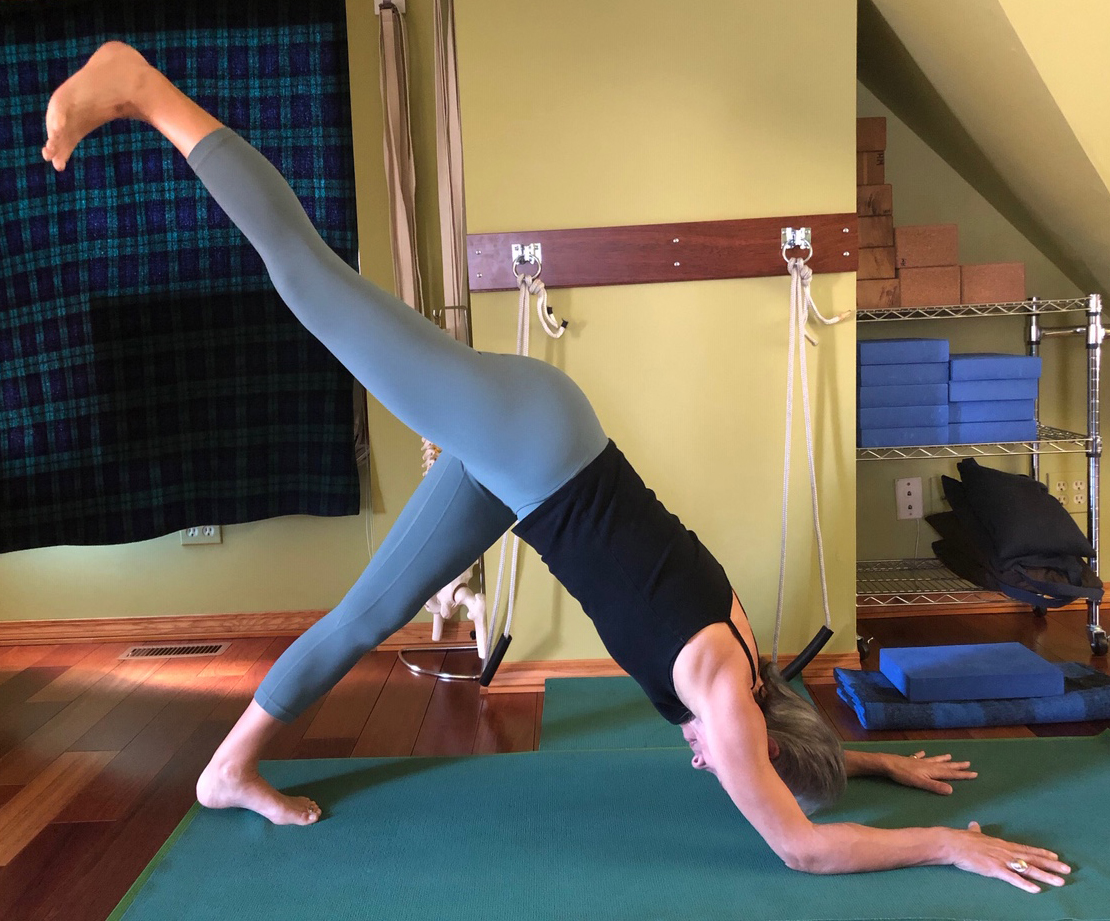 EKA PADA PINCHA ADHO MUKHA SVANASANA (One-legged) 10 Bs ea
– Repeat leg lift on left side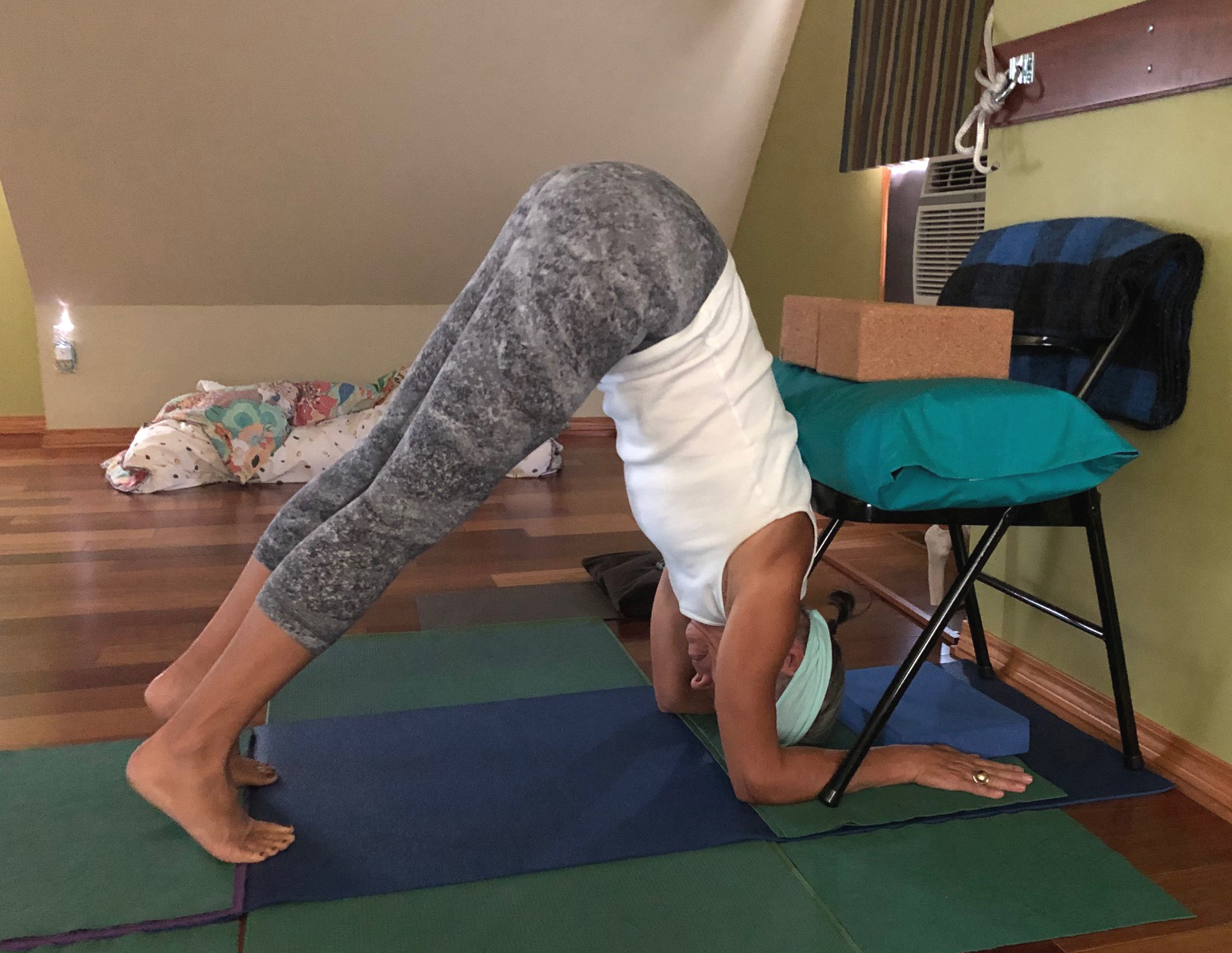 SALAMBA PINCHA MAYURASANA PREP
– place weight on chair seat to keep chair stable; walk back ribs into front of chair
to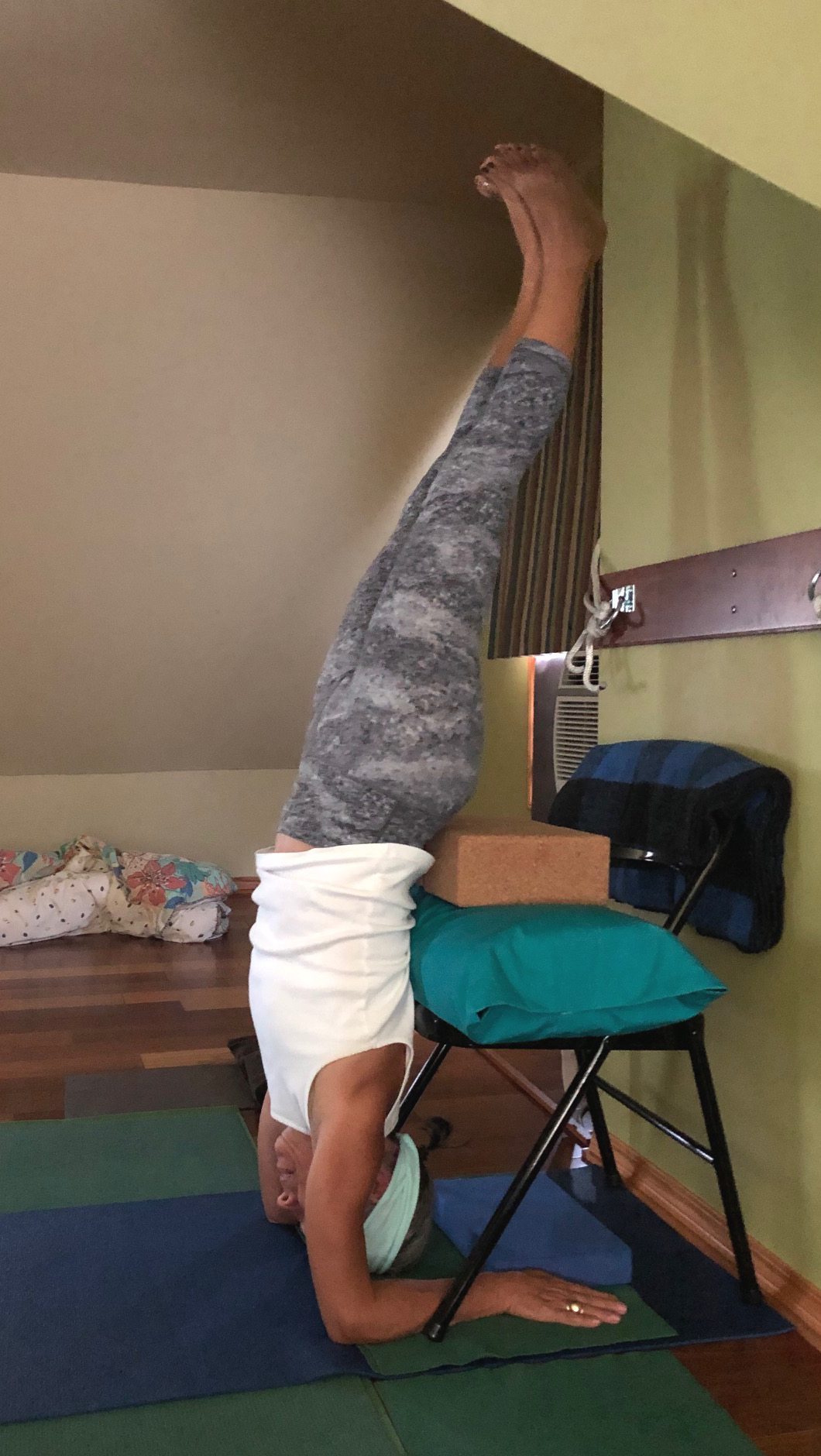 SALAMBA PINCHA MAYURASANA 2 Reps @ 5-10 Bs ea
– one-legged kick up into chair-supported Pincha Mayurasana

SALAMBA EKA PADA PINCHA MAYURASANA 5-10 Bs ea
– kick up briefly into PM, then bend R foot to chair back or seat
– come down and rest, then bend L foot to chair back or seat

to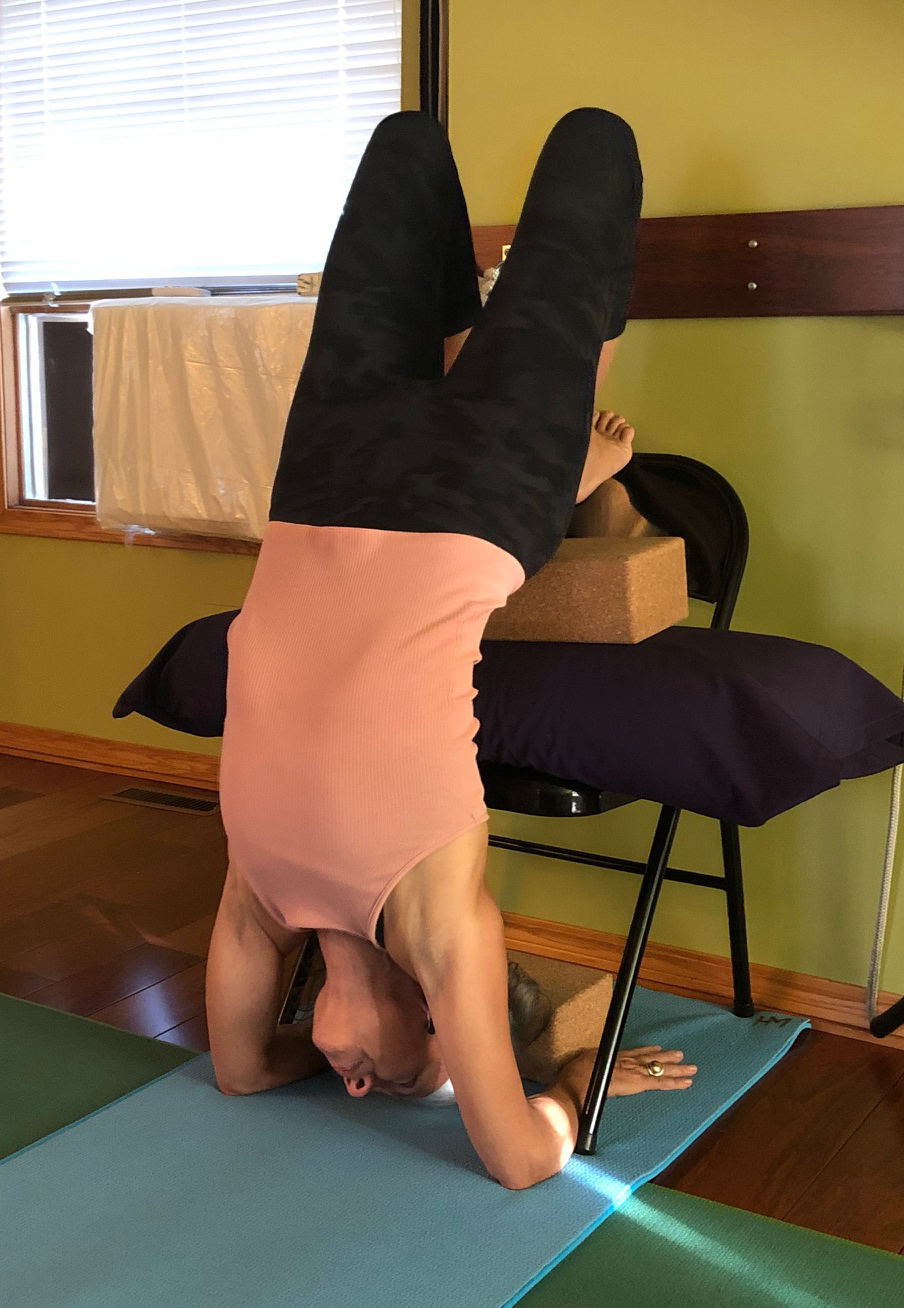 SALAMBA DROP-OVER 5-10 Bs ea
– bend both legs bringing both feet to chair back or seat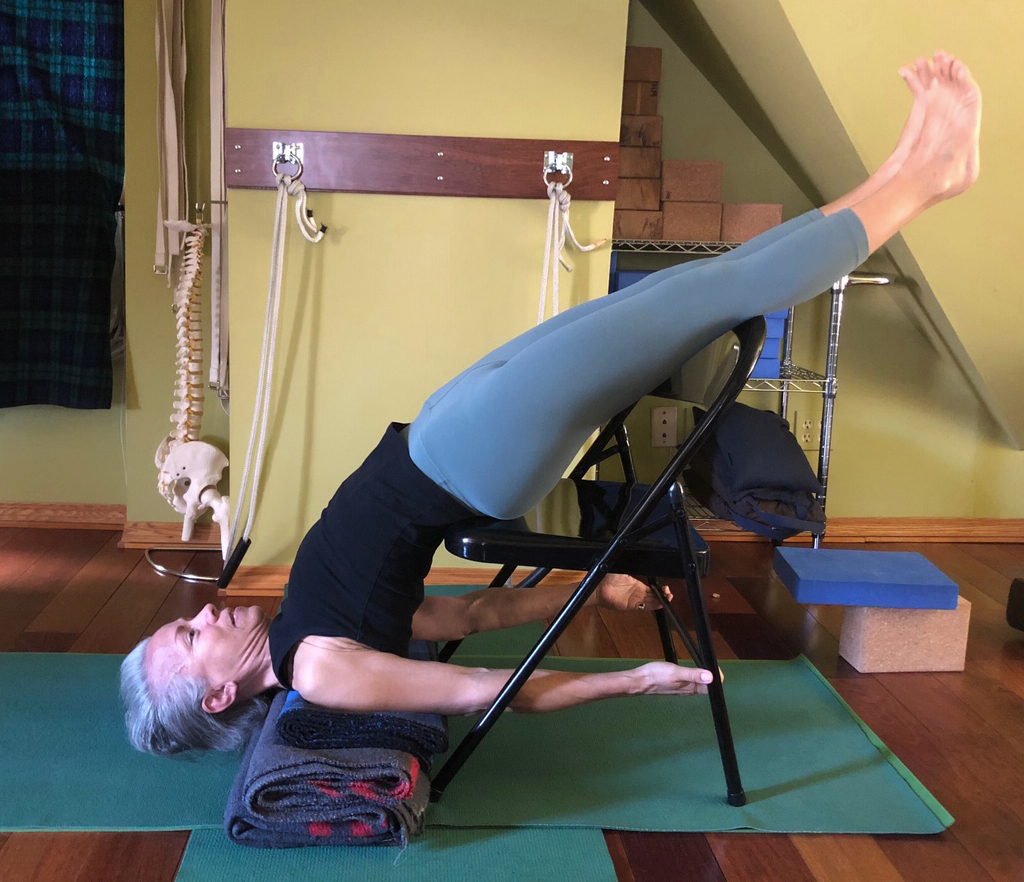 CHAIR SARVANGASANA (Shoulder Stand) 30-50 Bs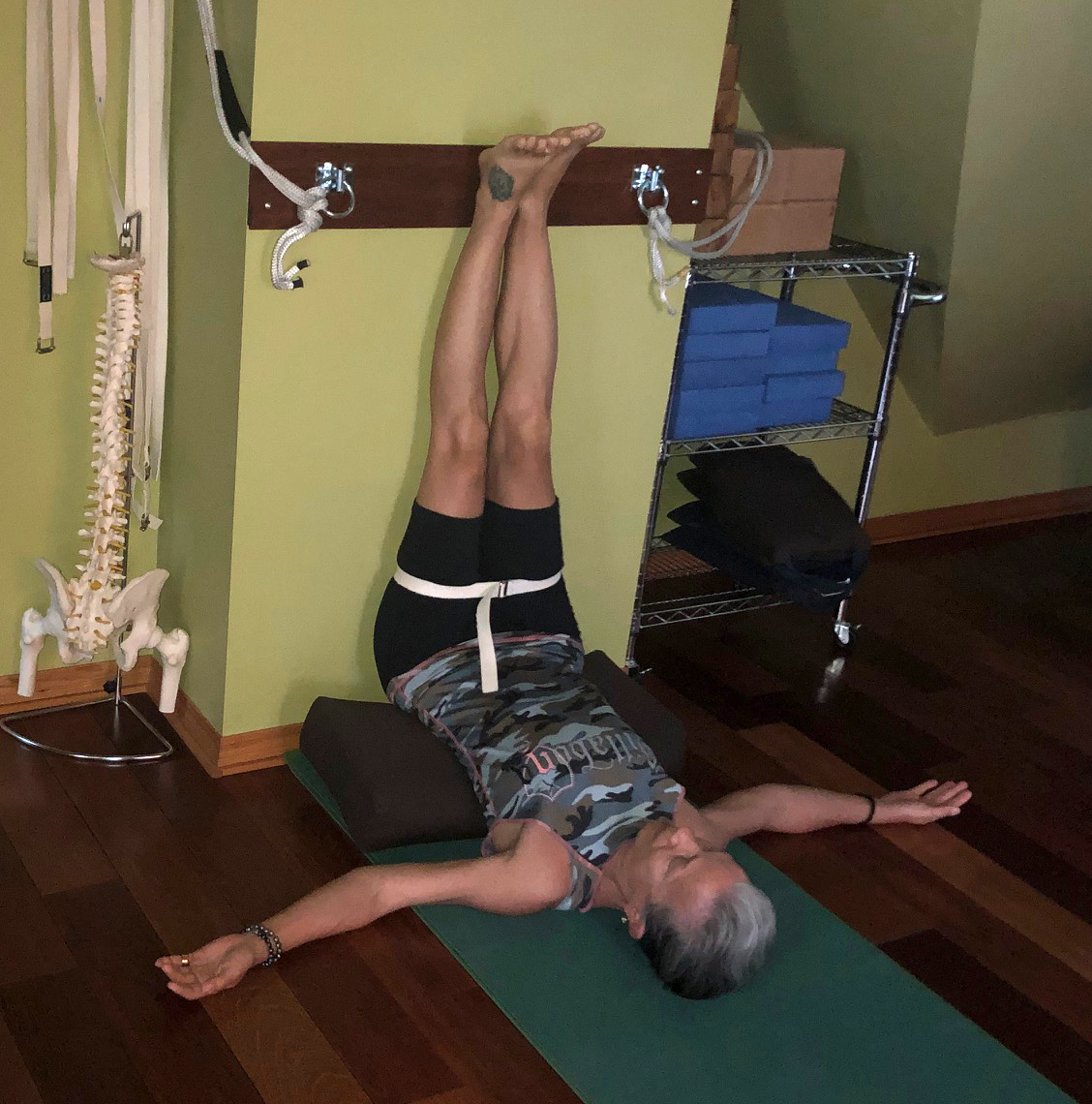 VIPARITA KARANI (Legs Up Wall) &/or SAVASANA (Corpse) 5-10 minutes
May calm-abiding and clear-seeing be with us in each moment. Namaste.