When we drop our head below our heart, as in yoga inversions, we flip our perspective through a physical act. Turning ourselves upside down teaches us that our predictable reactions to the outside world are not the only way. In addition, many of yoga's inverted poses require learning how to balance on one or two limbs and balance is an inside job.
Yoga is not a work-out it is a work-in. And this is the point of spiritual practice; to make us teachable; to open up our hearts and focus our awareness so that we can know what we already know and be who we already are. Rolf Gates
No one is born with anxiety or depression. These are learned "coping" mechanisms rooted in low self-esteem and insecurity. All of which leaves us with a feeling of being unable to stand on our own two feet let alone two hands. With a regular practice that includes inversions, bone density is greatly increased. When we feel physically strong in our bodies, an inner strengthening is also underway.
As whole beings, we are programmed to find balance in body, mind and spirit. The adage "as within, so without" implies a strong correlation between our outer and inner experiences. So, boosting your bone density is another way of boosting your self-esteem.
Trying flipping your perspective, with the inversion sequence demonstrated below. You may want to sit quietly in Virasana (Hero) for 3 to 5 minutes while you practice each of the yoga actions. Then, continue to internalize these yoga actions in each of the following poses.
YOGA ACTIONS:
1. If you wish, continue the yoga actions you learned in Part III, and/or
2. With your awareness, sense the Rectus Abdominis muscle from its attachment at the centre of the pubic bone all the way up to the Xiphoid Process (bottom of the breast bone).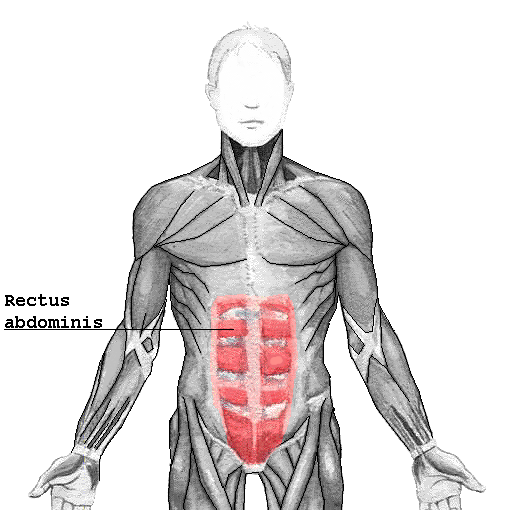 3. At the centre of the pubic bone, soften the Rectus Abdominis muscle letting it drop into the body. Notice the energetic lift up the Rectus Abdominus into the upper back and the broadening between the inner shoulder blades.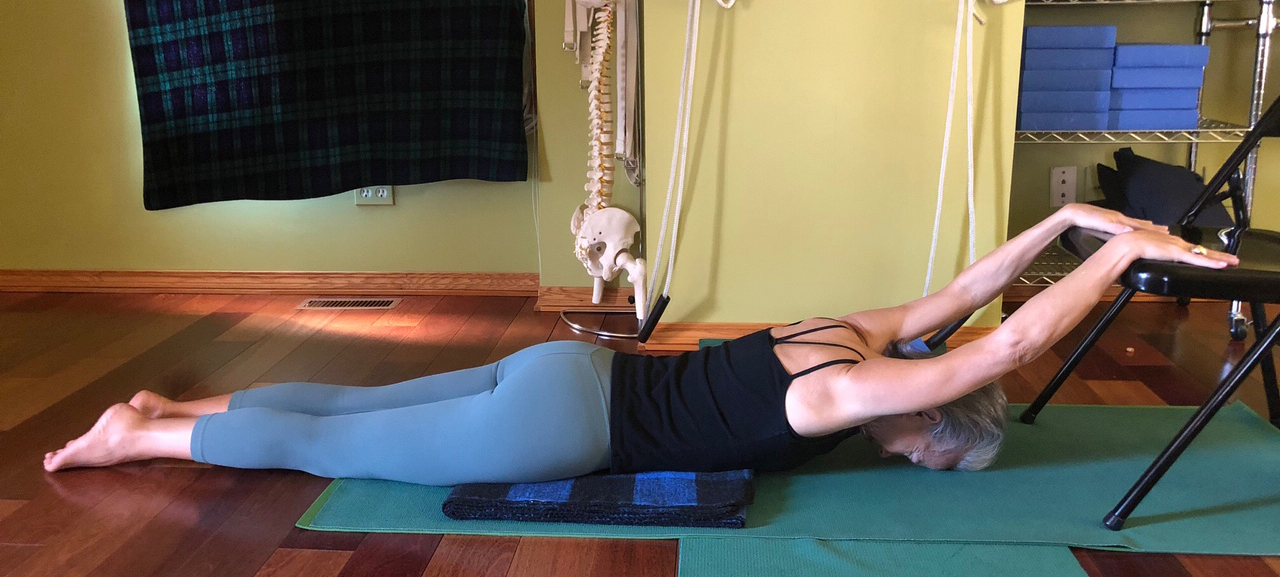 ARMPIT/SHOULDER OPENER 30 – 40 Breaths
– release forehead to mat or brick support
– gently release arms to floor and rest for 1 minute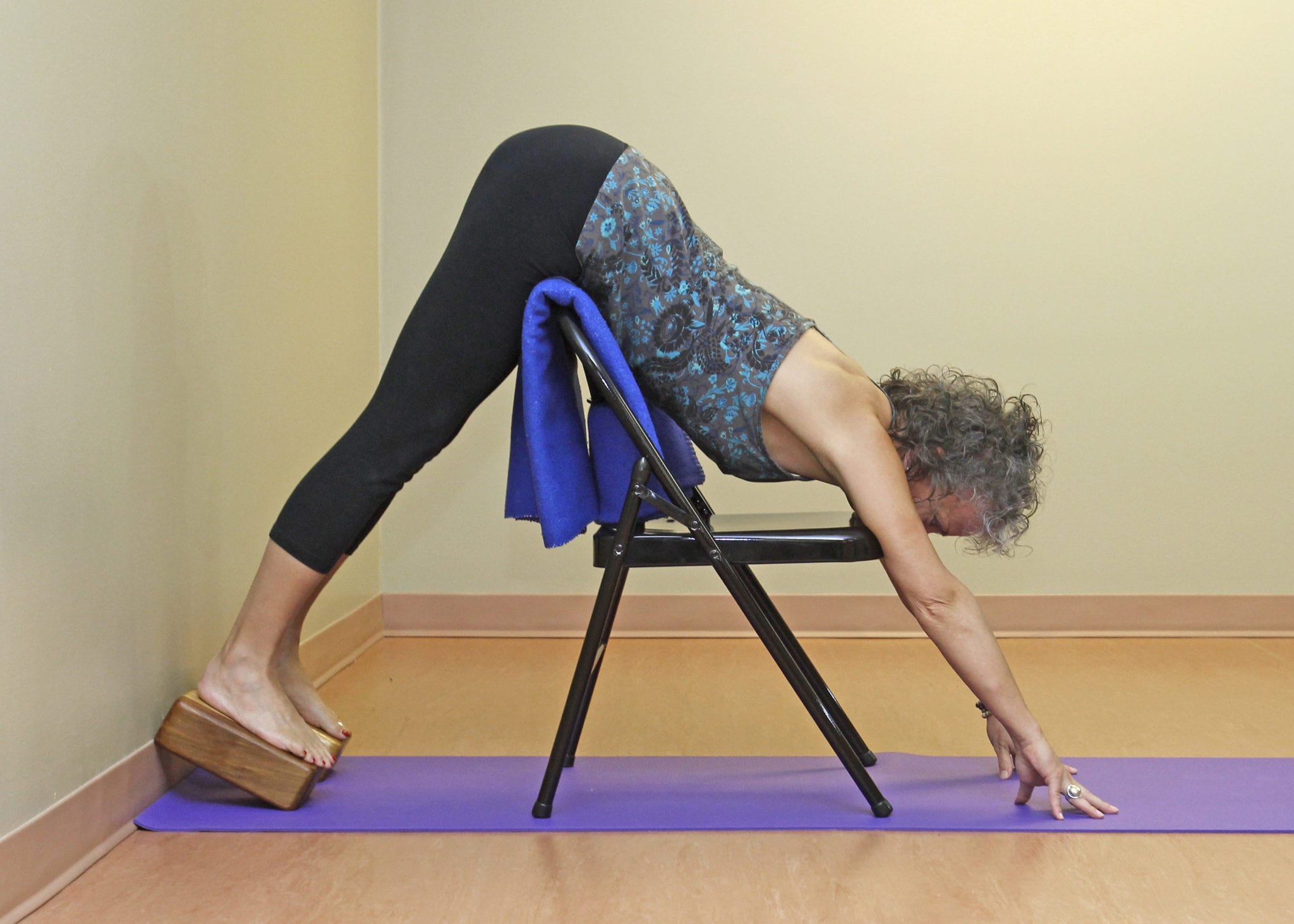 SALAMBA ADHO MUKHA SVANASANA (Downward Dog) 30 – 50 Bs
– feet on blocks; chair back into upper-mid thighs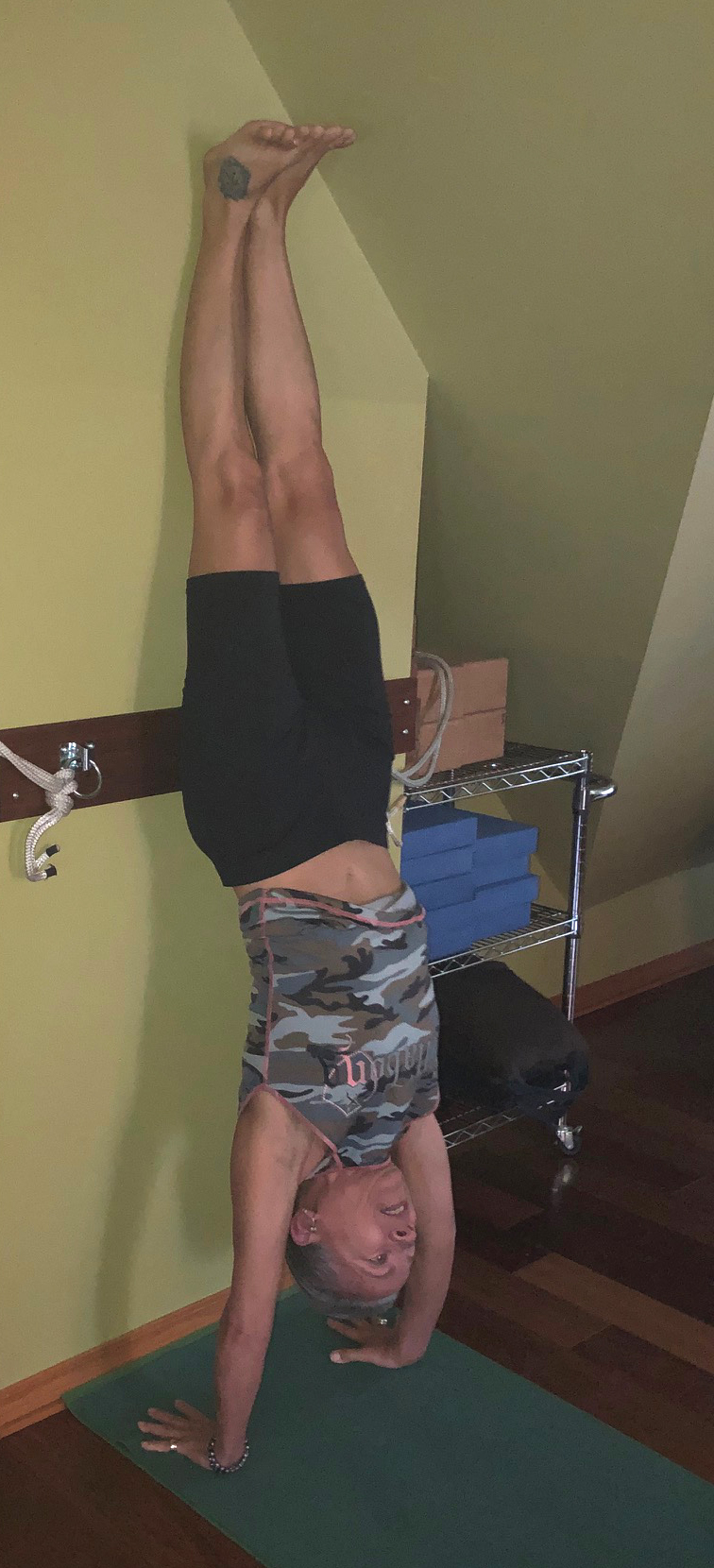 ADHO MUKHA VRKSASANA (Handstand) 2 REPS @ 5 – 10 Bs ea
– kick up with Right leg, hold for 5 Bs
– release into Uttanasana (Standing Forward Fold) for 5 Bs
– kick up with Left leg, hold for 5 Bs
– release into Balasana (Child Pose) for 5 Bs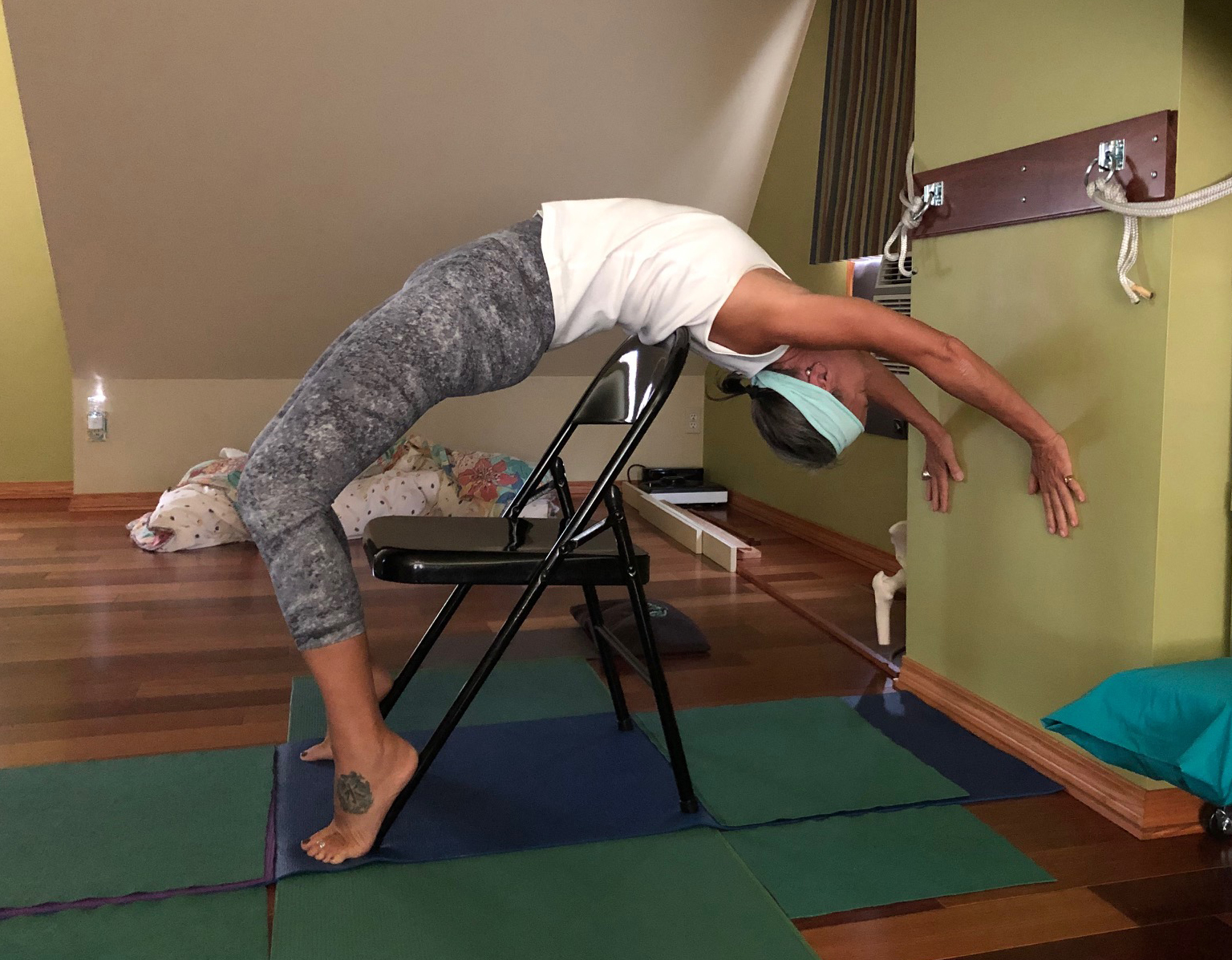 SALAMBA URDHVA DHANURASANA 10 – 30 Bs
– toe mounds press into floor; heels press into chair legs
– upper chair back supports space between upper shoulder blades
– hands walk down wall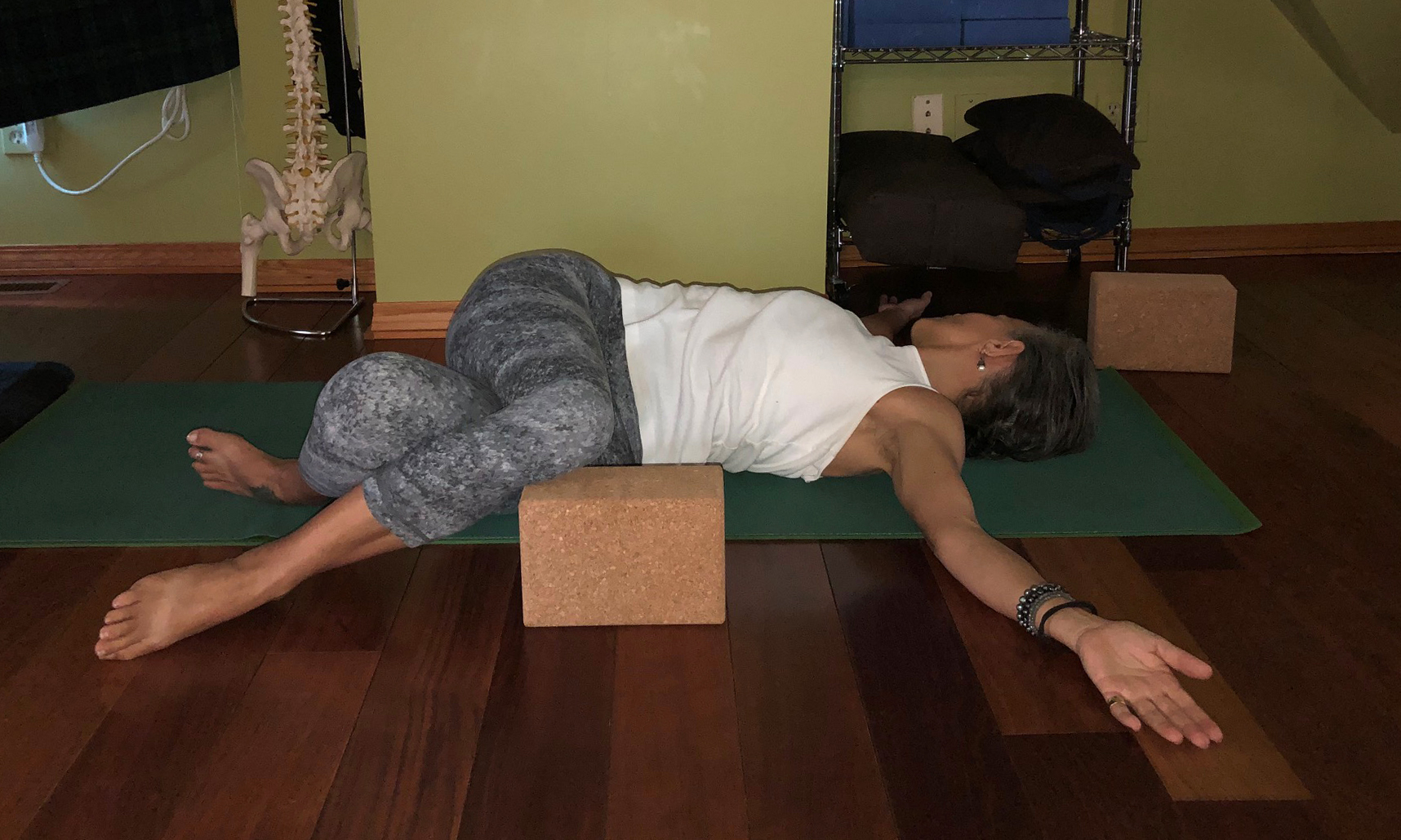 ARDHA JATHARA PARIVARTANASANA 30 Bs each side
– arms in T position; wrap Right thigh over Left
– release bent legs to L; keep both shoulders on floor; turn head to R
– place support under knee if shoulders lift off floor
– repeat to other side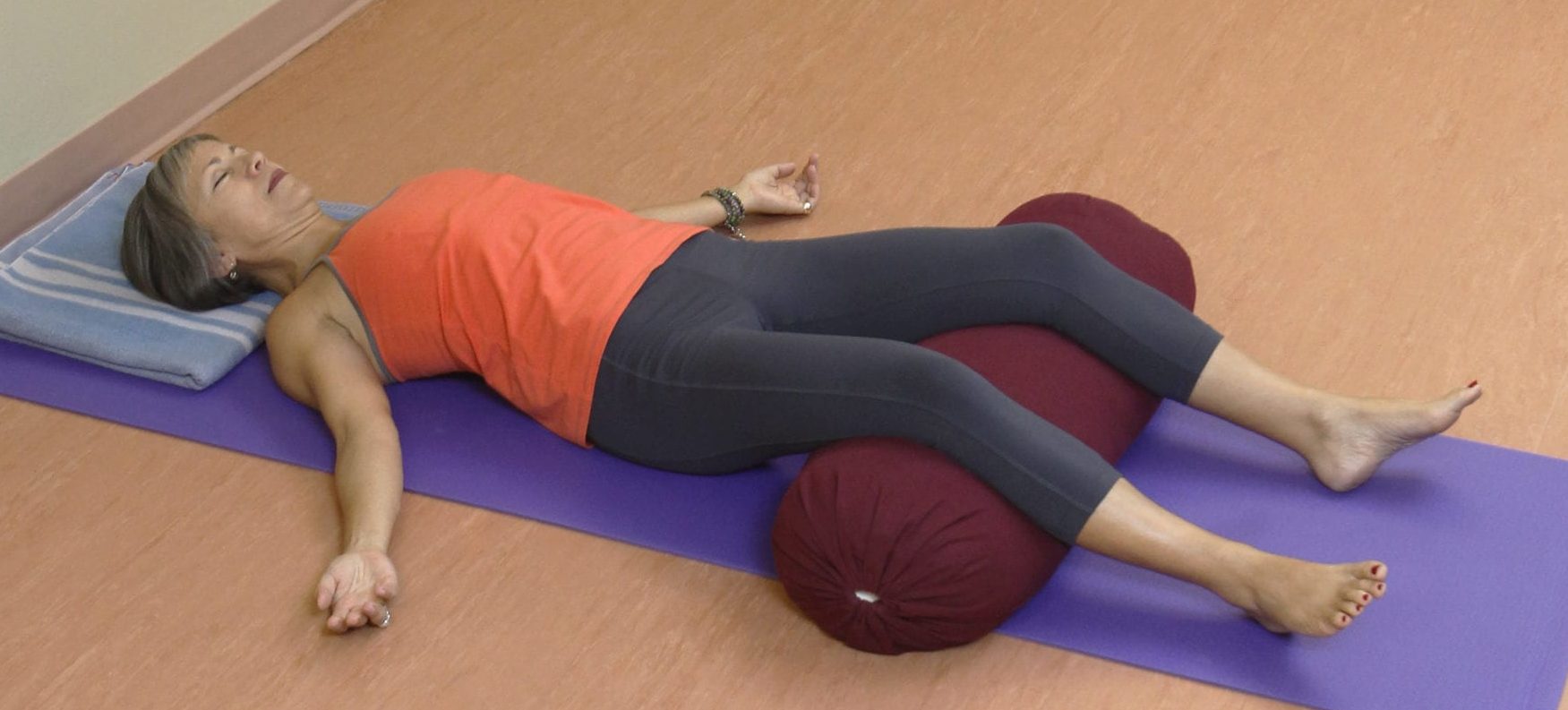 SAVASANA (Corpse) 5 – 10 minutes
– bolster under the knees
May we know the blissful balance of mind-body-spirit integration. Namaste.
IF YOU ARE LOOKING FOR MORE YOGA ACTIONS, REGISTER FOR —
a 1-1/2 hour drop-in Zoom class — $21
or
a 10-class Zoom session — $200
SUNDAYS @ 11am – 12:30pm CST

email [email protected] to arrange payment and receive your Zoom link.