One of my great life lessons, in realizing the benefits of keeping both feet on the ground, is that balance requires stability (strength) and agility (flexibility).  Life deals us any number of events — tsunami, divorce, childbirth, falling in love — necessitating able responses.  Without a solid foundation from which to act, our performance is likely to fall short on both the survival and self-actualizing scales.
So how do we survive and thrive at the same time?  By moving beyond the instant gratification of pleasure seeking and pain avoidance.
Not so long ago, I suggested to a client struggling with fear and depression that she might want to consider "doing the work of entering the space behind the face."  In other words, I suggested that understanding why she presented the world with a façade rather than her authentic self could lead her to greater health and happiness.  Herein lies the paradox.  The journey of knowing ourselves and being known, standing naked in the world, is equally exhilarating and frightening.  And — there are no quick fixes.  Intimacy (in-to-me-see) takes time as does building any stable, solid relationship.  We must "slow down to speed up" our personal development.  However, the reality of impatience and need drive many to opt for the "easier" solution of wearing a mask to shield our wounds.
Doing the work of shedding the mask is about healing ourselves, without which we have little or no compassion for others.  Have you ever noticed yourself while in a bad state — angry, depressed?  There is no room for self-compassion let alone caring thoughts for others.  Choosing to heal old wounds is the entrance requirement for traveling through the dark night of the soul, which often shows up in the form of a mid-life crisis.  When we deny ourselves these healing opportunities, we become ill — emotionally, physically, spiritually, intellectually and/or within our relationships.  Prolonged avoidance of this pain, coupled with seeking pleasure to distract from it, is the recipe for substance abuse and addiction.
If we intend to stand on our own two feet, one in survival and one in self-actualizing, we need strong and flexible support.  As a first step, becoming aware of who we are fortifies us with greater knowledge and confidence.  In practicing the belief that "All knowledge is self-knowledge," I learned to trust my inner experiences as early warning signs of what Life is offering up in the moment.  Grounding ourselves in the solidness of our body, our planet and our present moment provides us with "glimpses of the future" from which we make better choices for today.   In order for us to receive these intuitions, we require inner calm — slowing down our pace — to align with the seasons and cycles of Life.
In recognition of how important it is to be aligned with Life, I wrote the following poem after a Relax & Recharge meditation.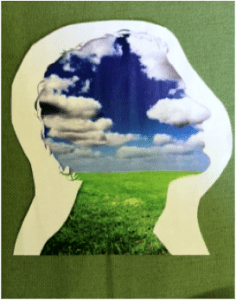 When Clouds Get In My Way
I am but one Earthly creature completing the whole.
Born of Earth's elements,
what I see outside, I see in me.
Particles of carbon, nitrogen, phosphorus
form clouds along the edges of my mind.
A mental storm threatens the freedom of stillness.
What a great challenge . . .
to not know
to empty my mind of doubt and worry,
to trust my process and Life's flow.
16 February 2011
What clouds your mind and senses from intuiting your truth?  If you wear a mask, what would it take for you to remove it and stand naked/authentic in the world?