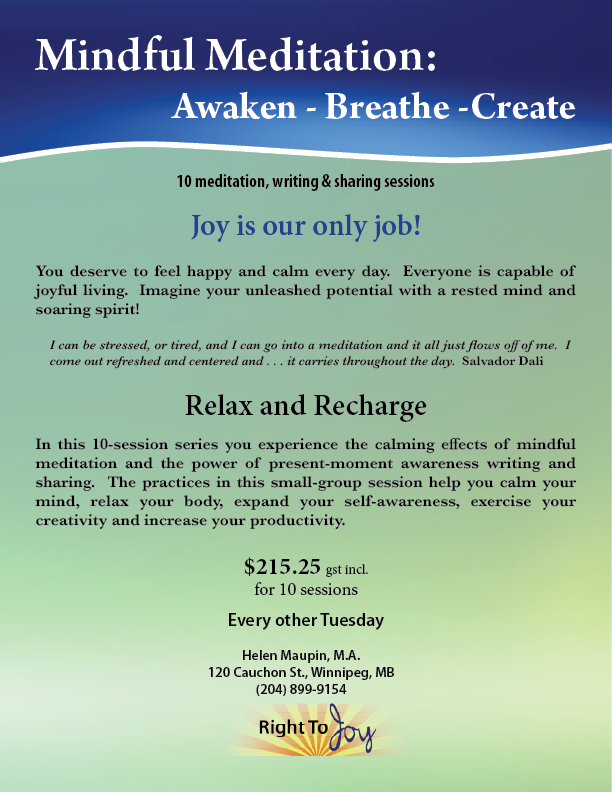 Create a stress-free and joy-inspired daily life!
Mindful Meditation:  Awake – Breathe – Create is a 10-session present moment awareness meditation, writing and sharing series. This program is for individuals and organizations seeking to enhance performance and harmony. Research continually shows that increased concentration, calm and balance — all products of meditation and higher self-awareness — greatly impact well-being, creativity and productivity.
A practical approach for those who are:
1) over-stimulated — anxious, manic, hyper-active
2) under-stimulated — lonely, bored, depressed
3) wanting greater awareness and creative expression
You will experience the calming effects of mindful meditation and the power of present-moment awareness writing and sharing.  Your mind will calm, your body relax. You will exercise your creativity and increase your productivity.
10 sessions (2 hrs/session)    
Maximum 10 people/session.    
Price:  $215.25 gst incl.
To register, please e-transfer and confirm via email ([email protected]).
When:     Every 2nd Tuesday (starting Sept 21, 2021   2:45 – 4:45 pm)
at 120 Cauchon Street, Winnipeg, MB
If you have any questions on this, or any other program,
please do not hesitate to contact me via email or telephone (204) 899-9154.