You can recognize a true Warrior. They shine from within. They don't have to do anything to prove their power or their worth. They simply are that. Just like Mars shining in the evening sky. Constance Habash
The Warrior archetype occurs across most cultures' references. Roman mythology named the red planet, Mars, as the God of War. The Greeks called this planet/star Aries. In yoga mythology, Virabhadra — meaning distinguished hero — embodies the warrior qualities of empowerment, courage, clarity and non-attachment. In practising Virabhadrasana I, II and III, it is these qualities we bring to bear in our life.
The true strength of the Warrior is her/his capacity to win the inner battle. In essence, our life-long or spiritual journey is about overcoming the distractions of our body, our emotions and our thoughts. The real battle for every human being is the one going on inside, meaning … are you responding to each of life's events with truth and wisdom?
As we come to realize the benefits of the three Warrior poses, our inner battles fade away leaving us with the understanding that we are all the same; we are all one. This is our deep inner truth and authentic self.
Ease yourself courageously into Virabhadrasana III by practising the following Yoga Actions in each of the asanas demonstrated below. Remember to allow yourself a few minutes at the beginning of your practice to sit quietly with a long spine. In your choice of seated pose, find your breath and the Yoga Actions.
YOGA ACTIONS:
1. Draw the back face of the sacrum down to the sit bones and into the heels.
2. Lift the inner ankles to the inner knees to the inner trochanters.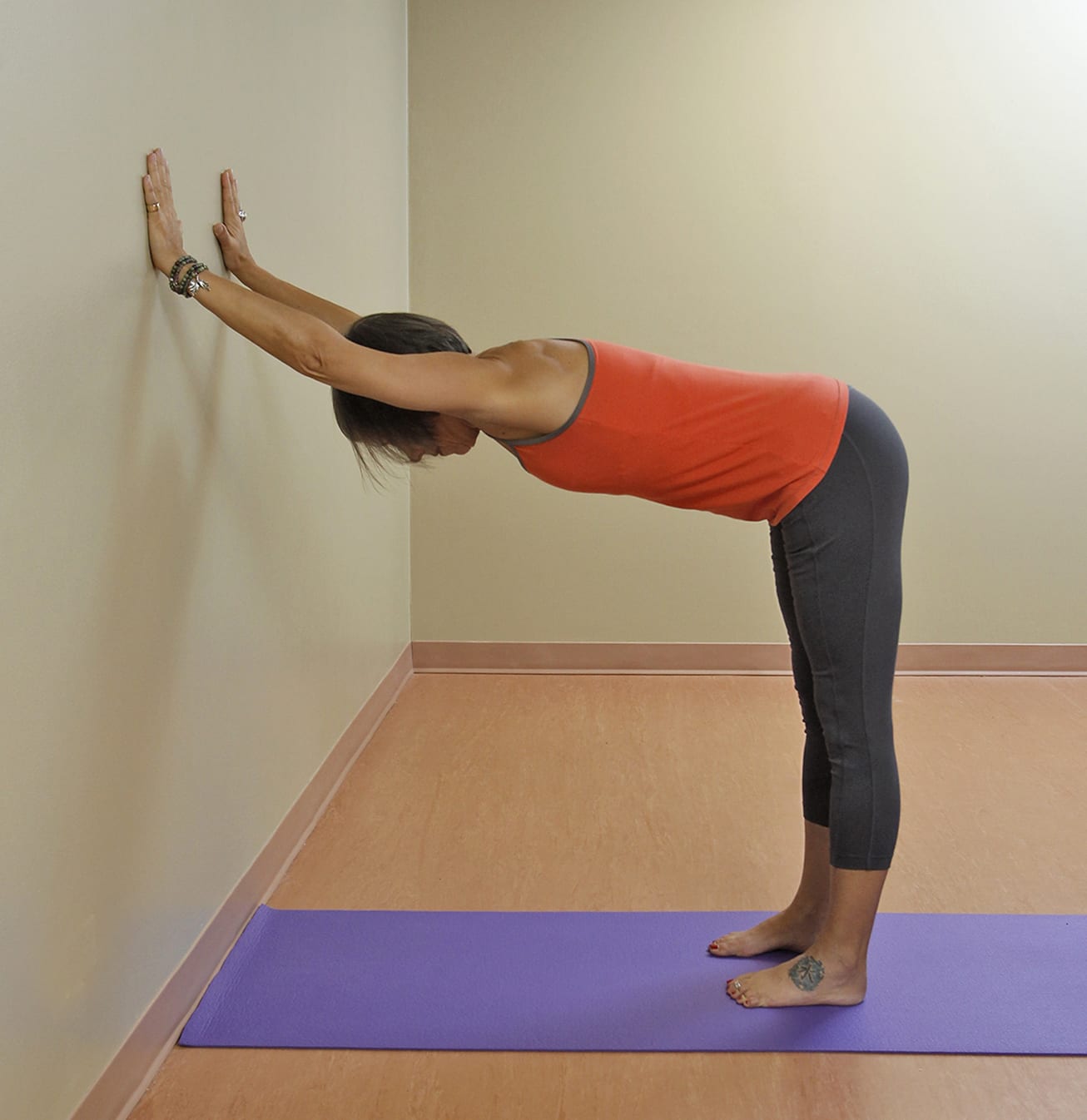 WALL STRETCH 10 Breaths
– begin with hands into the wall at shoulder height, then step back into the right angle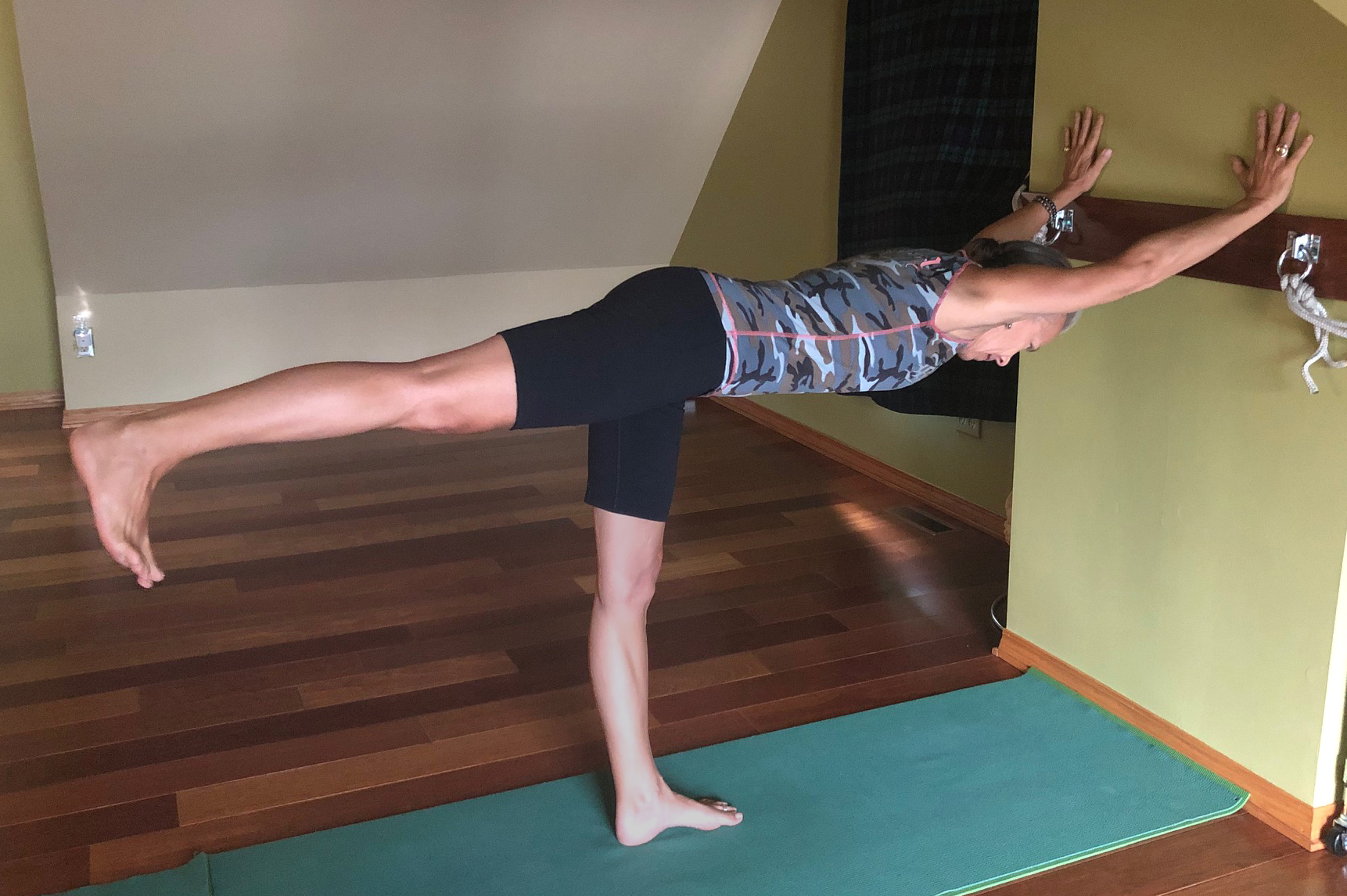 EKA PADA WALL STRETCH 10 Breaths each
– begin with hands at chest height, then step back into right angle
– raise R (right) leg & press out R heel
– maintain inner body weight on inner trochanter (NOT outer hip)
– repeat on L leg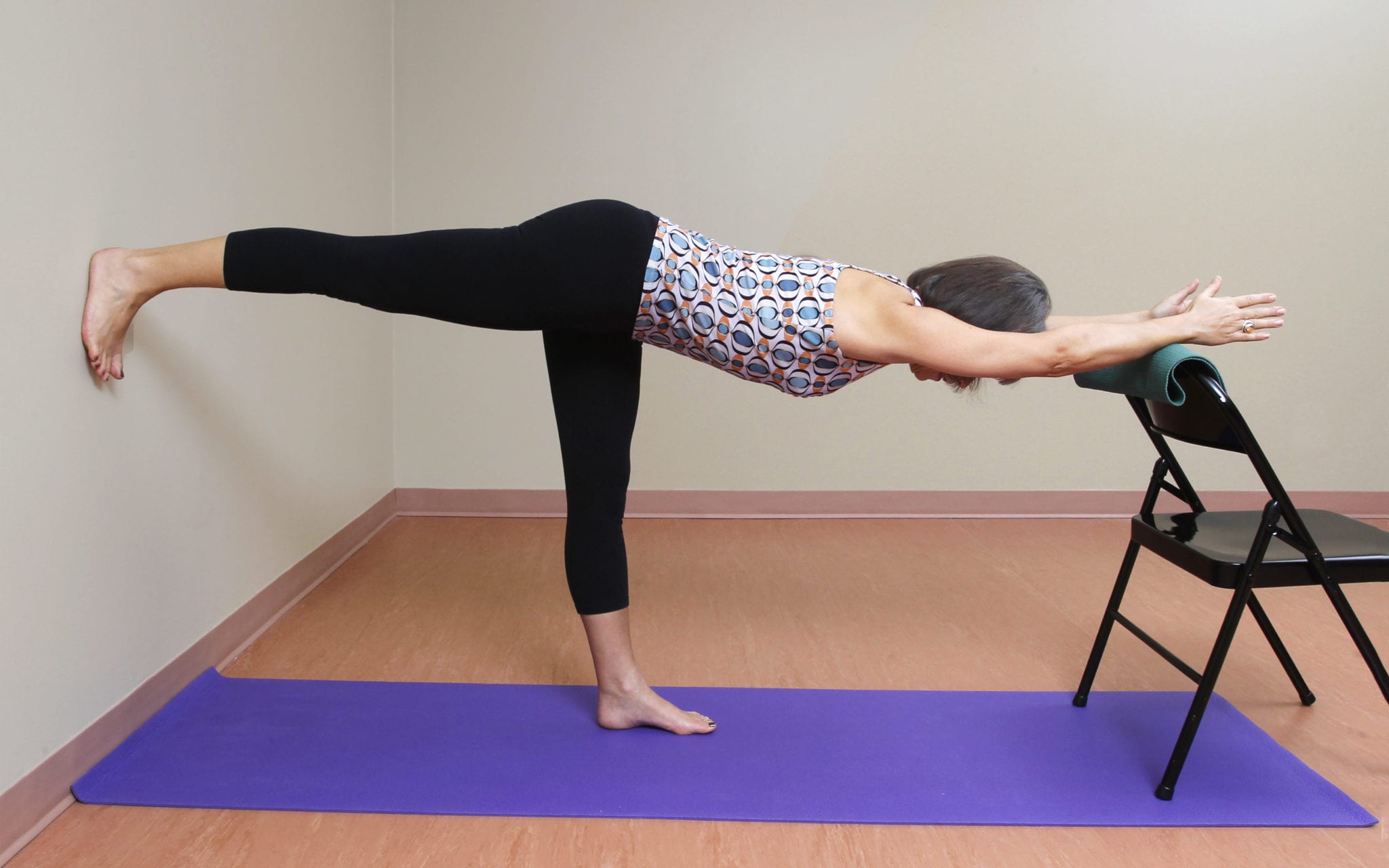 SALAMBA VIRABHADRASANA III 10 Breaths ea
1) stand one leg-length away from wall, place chair at far end of mat
– on EXH, bend forward releasing wrists to chair back
– raise R leg & press foot into wall, keep pelvis level
– repeat on L leg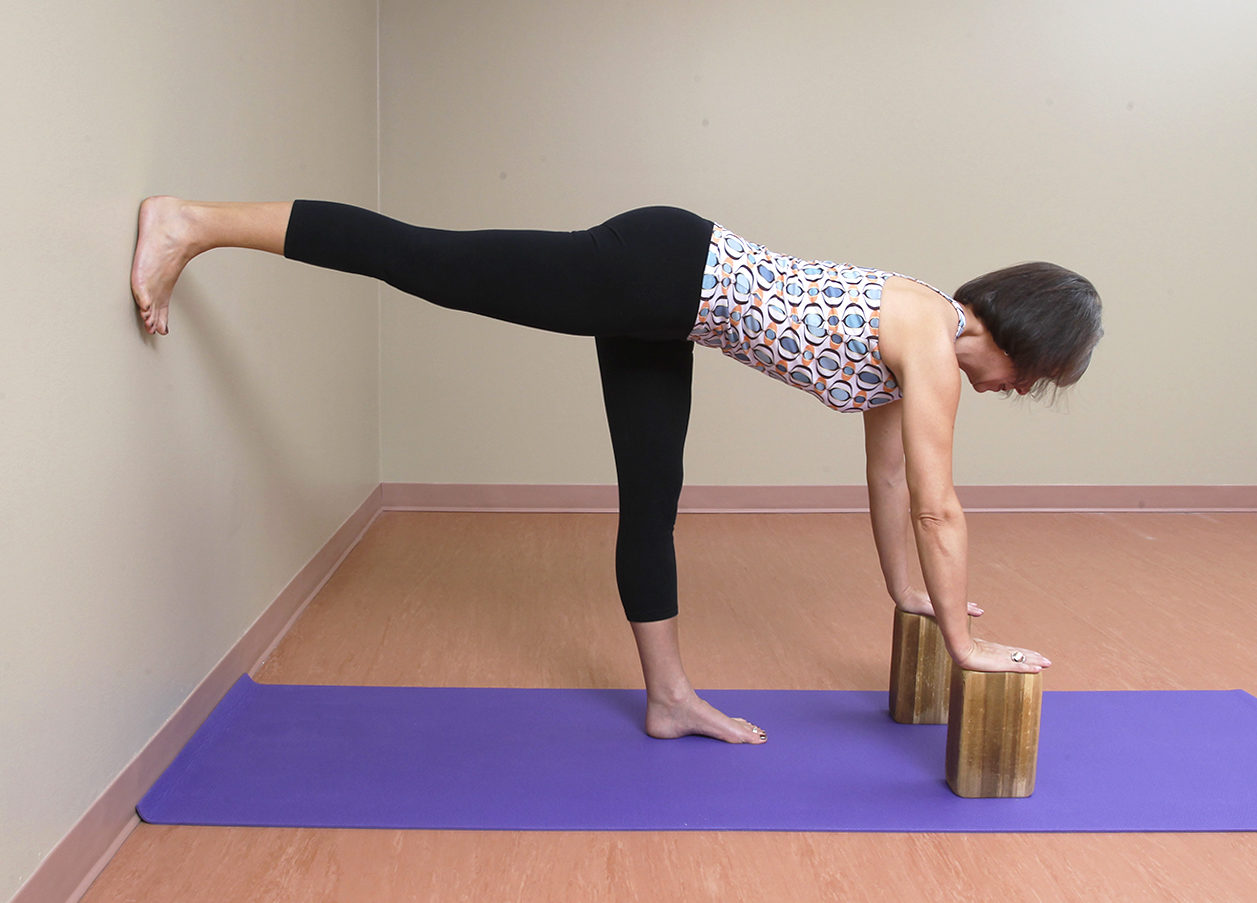 2) replace chair with two blocks under shoulders 5-10 Breaths ea
– place hands on blocks, arms straight
– on EXH, raise R leg & press foot into wall, raise L arm
3) raise both arms
– repeat on L leg & R arm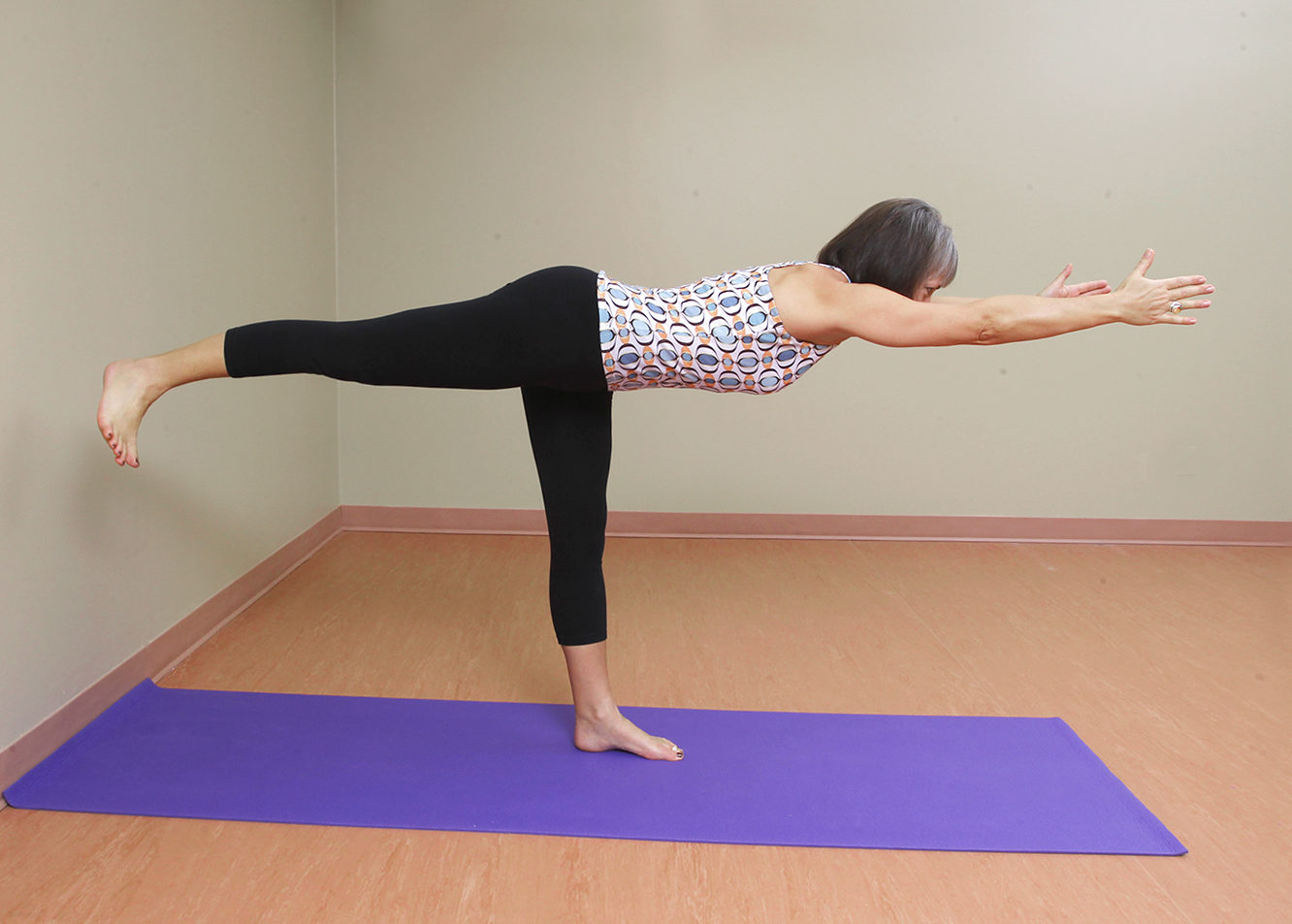 VIRABHADRASANA III 10 Breaths ea
– full unsupported pose OR repeat previous pose
– maintain inner body weight on inner trochanter (NOT outer hip)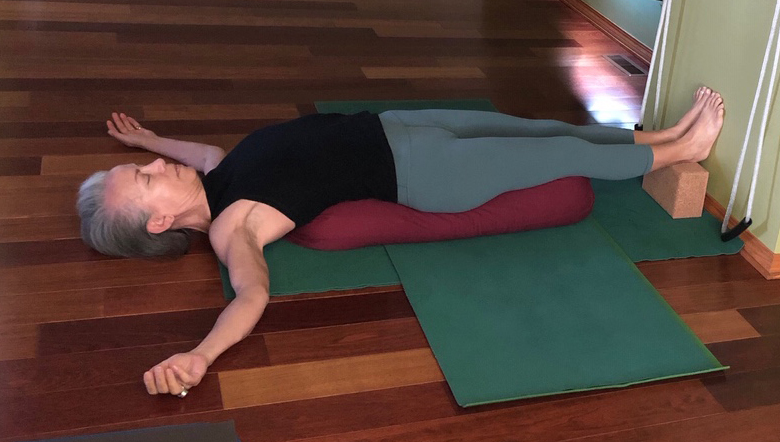 SALAMBA SETU BANDHA SARVANGASANA 5 minutes
– belt mid-thighs if legs tend to roll outward
– end of bolster into back of thoracic-lumbar joint


SAVASANA (Corpse Pose) 5-10 minutes
– sandbag or bolster on front torso
– release lumbar spine toward floor
May your hero within courageously leap into the present moment's unknown territory.