As children, our curiosity tends to overtake our fear and we relish turning ourselves upside down or over backward in order to explore new experiences. As we age, if we are not watchful, our fear can overtake our curiosity and we may find ourselves turning away from new experiences in favour of the familiar. The consequences of such action stiffen our body as well as our attitudes toward life. In particular, this stiffening is evidenced in the spine of most new yoga practitioners. They are unable to easily bend either forward or backward. Both of these movements are necessary for healthy living.
Today, we are going to consider a backbend that opens our entire front body — Urdhva Dhanuranasana (UD). UD requires both strength and flexibility, which leads me to two questions I instruct teacher trainees to answer when designing their class sequences — In order to practice this sequence or pose, what needs to be opened and what needs to be strengthened? Because of both requirements, UD is often practiced toward the end of a class. However, if you are a long-time practitioner and UD is a regular pose for you (2 to 3 times a week), then moving it into the first half of your practice where you have more energy can be quite invigorating.
… with backbends, you have to be cautiously bold. Not carelessly bold. You have to descend to the dictation of the spine. You cannot command from the brain to do the poses. As you play with a child, guarding the child from injuries, similarly you have to play in backbends, guarding your spine. B.K.S. Iyengar
Regardless of your current capacity to do the pose, it is always helpful to warm up your body before pressing up into this heart-opening asana. You will notice in the sequence below several poses are practices in order to open your wrists, upper chest and back, shoulders, as well as hips and thighs. When the body is readied for UD, there is a much greater chance you will feel confident and mentally able rather than fearful and vulnerable.
Make it your practice to begin by sitting quietly in Virasana, Sukhasana or Siddhasana in order to withdraw your physical senses (sight, sound, smell, taste, touch) from the outer world into your inner experience (Pratyahara). Initially focus on your breath (both the inhales and exhales) to settle your body and mind, and then shift your awareness to practicing the Yoga Actions below. Take your practice of these actions into each pose that follows.
YOGA ACTIONS:
1. Expand across the top edges of both shoulder blades into the outer shoulders and down the arms into the four points of the hands.
2. Lift the public bone toward the navel.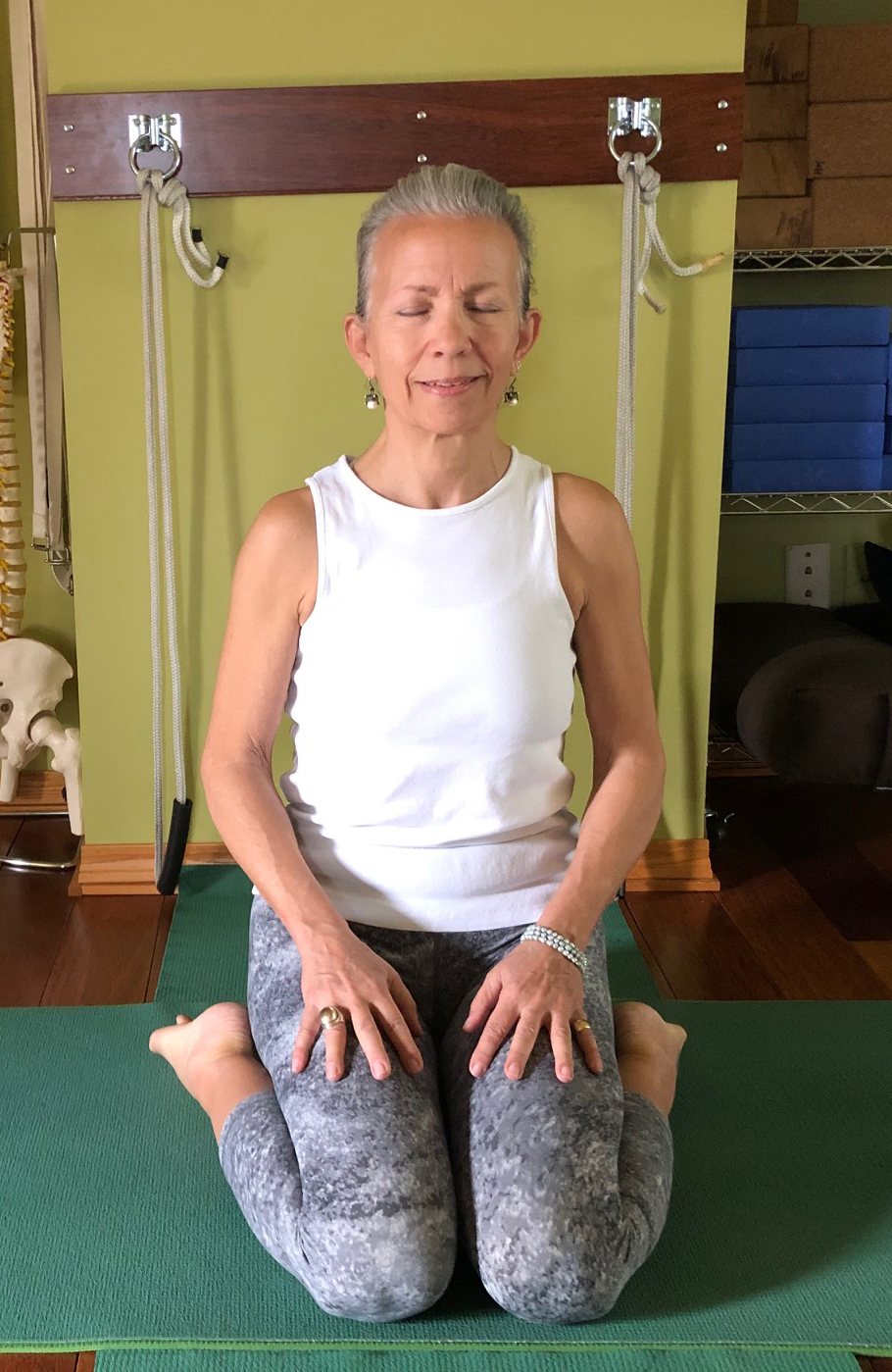 VIRASANA (Hero Pose) 3-5 minutes
– focus on your breath & then practice the Yoga Actions provided for this sequence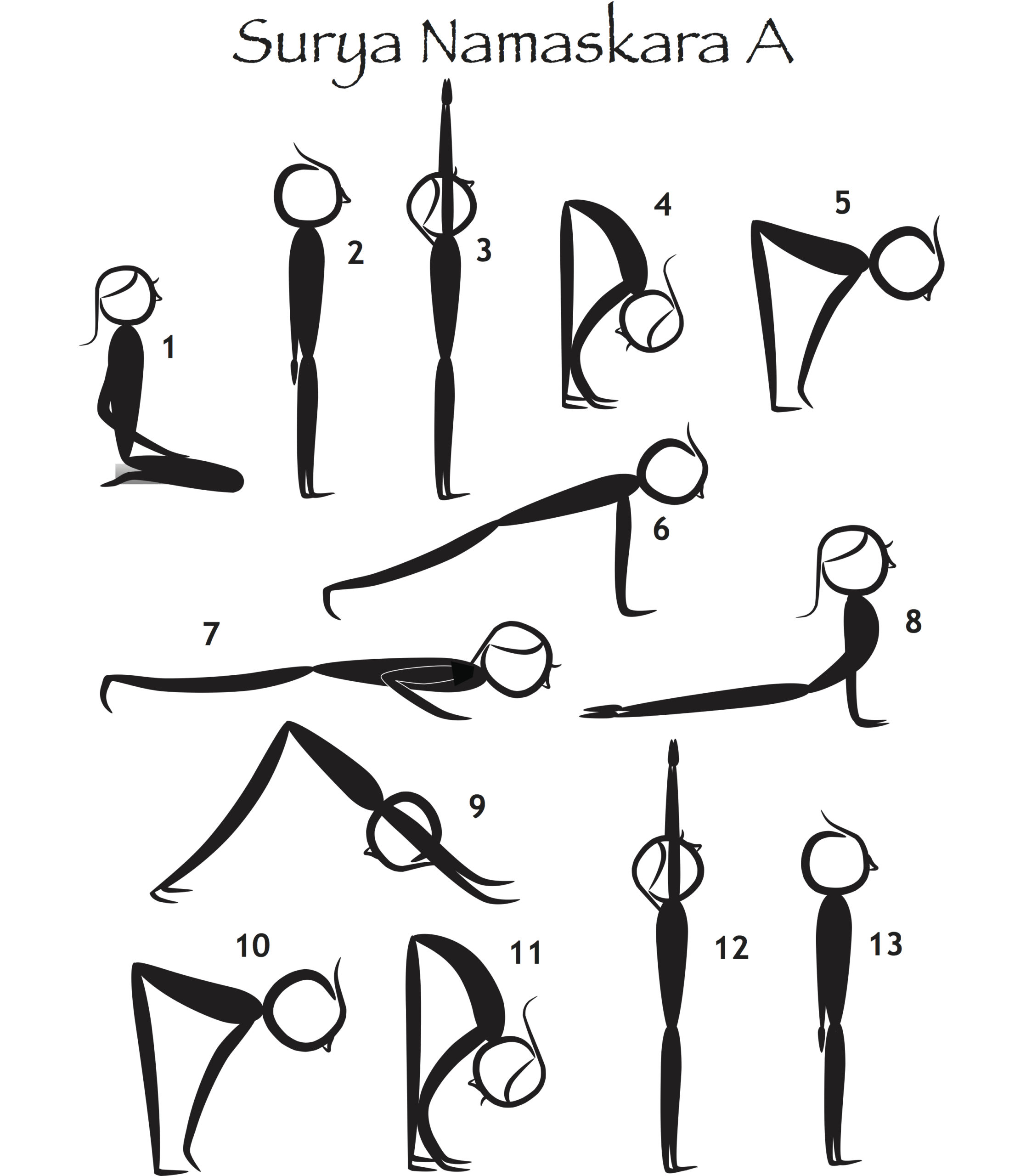 SURYA NAMASKARA A (Sun Salutations) 1 round
– initiate a gentle, slow Ujjayi Breath
– INHALE to lengthen the spine; EXHALE to move into the pose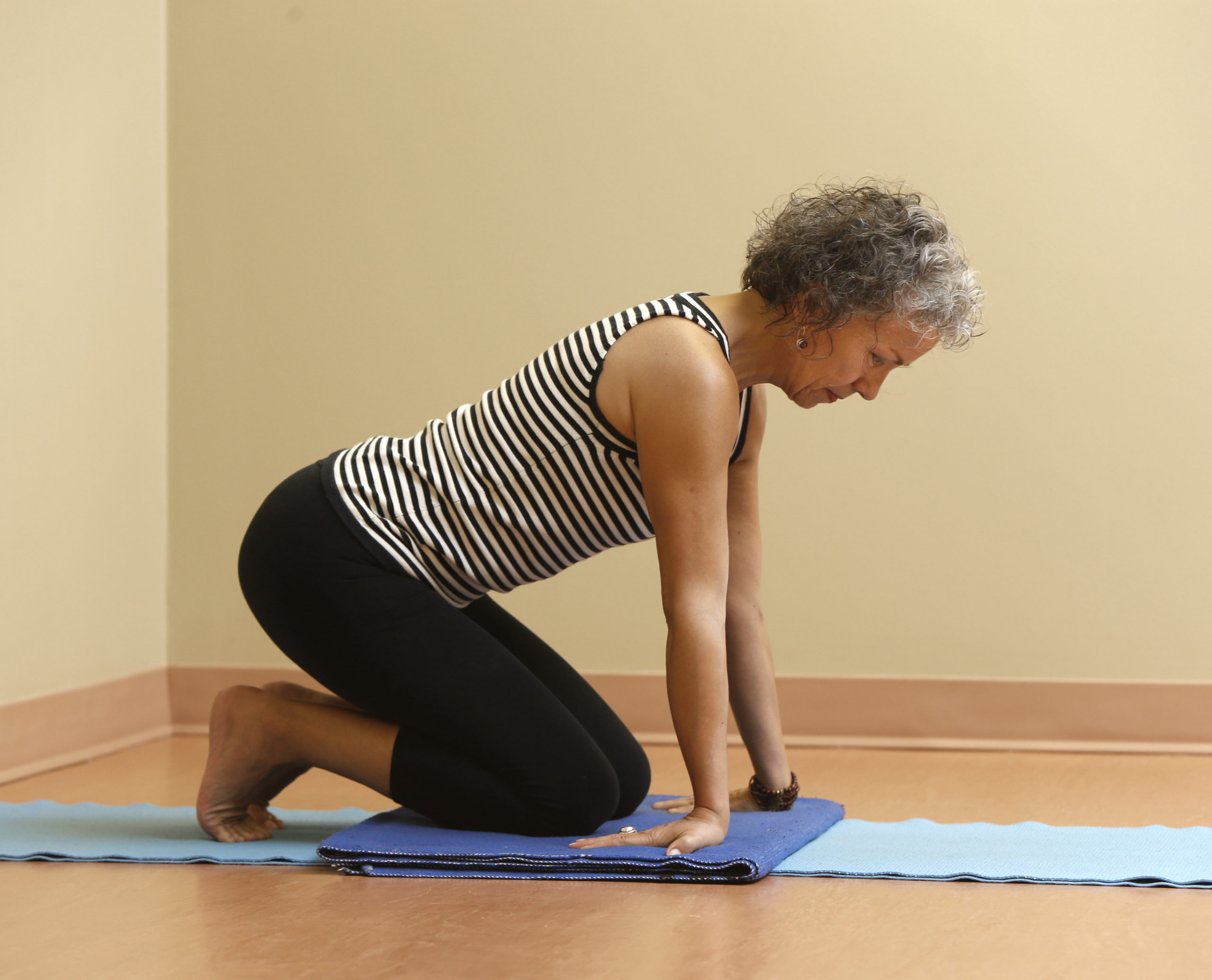 GOASANA (Wrist opener) 10-20 Breaths
– fingers point back to toes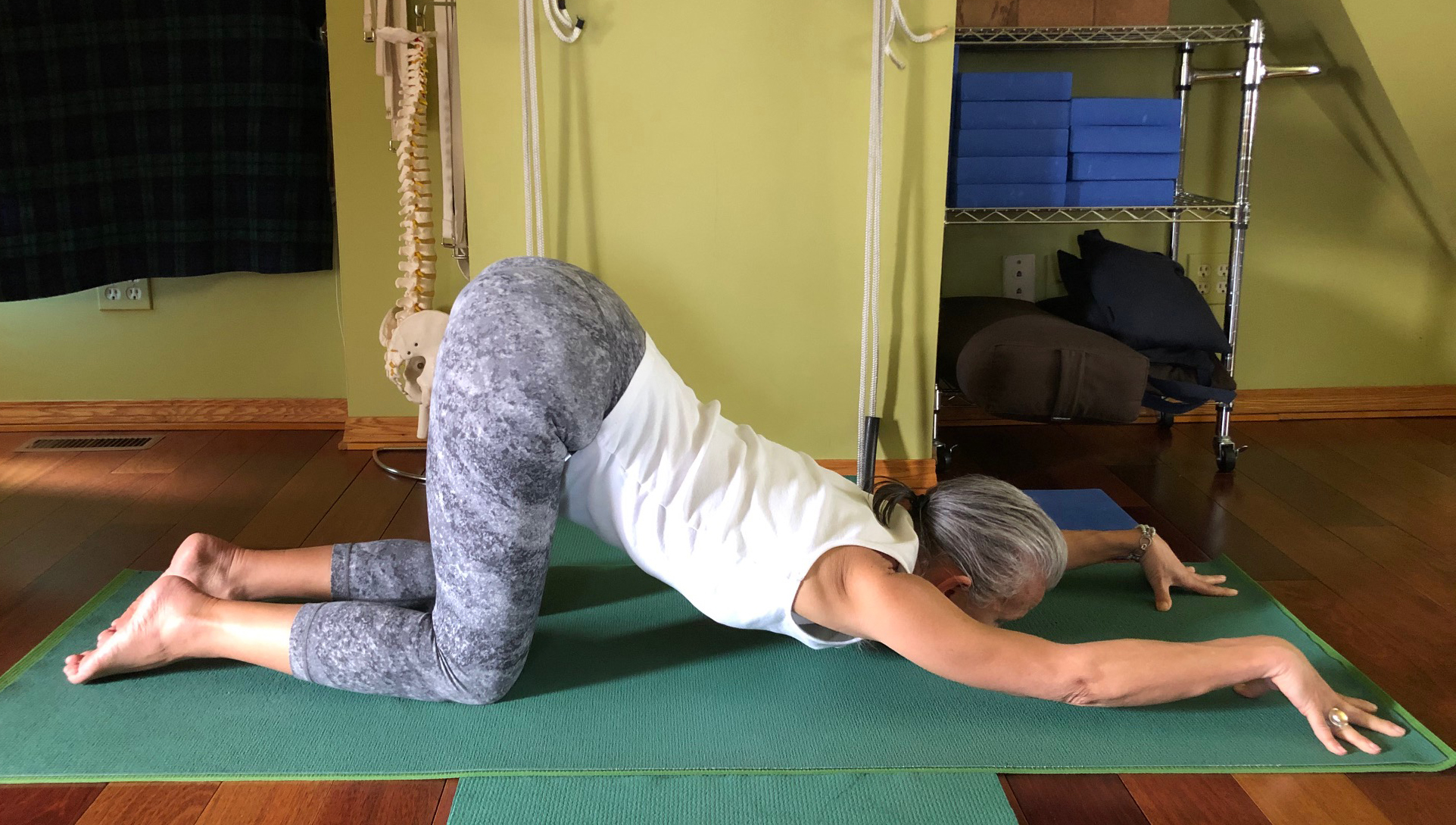 UTTANA SHISHOSANA (Extended Puppy Pose) 5-10 Breaths
– breast bone moves to floor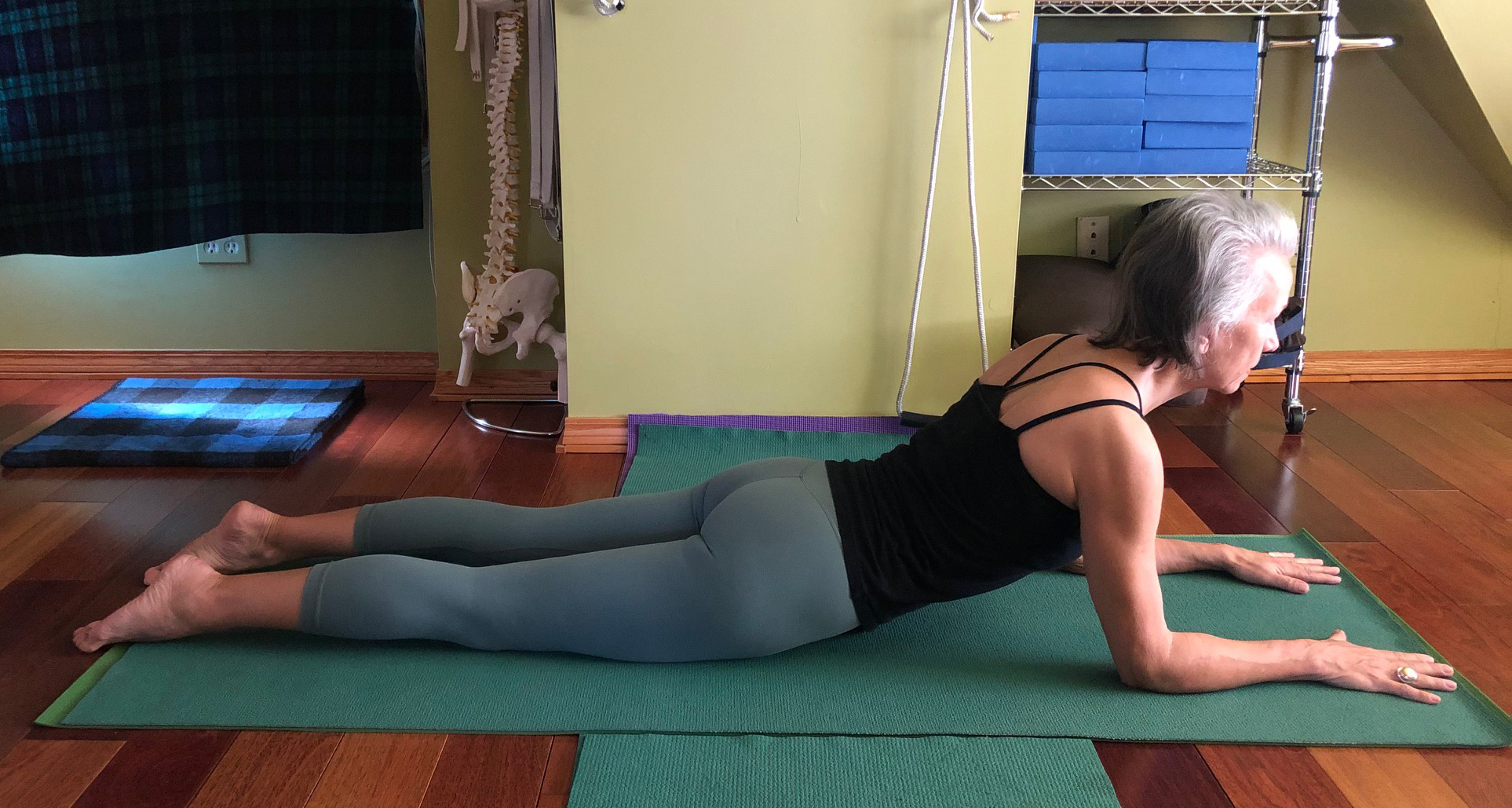 SALAMBA BHUJANGASANA (Sphinx) 5-10 Bs to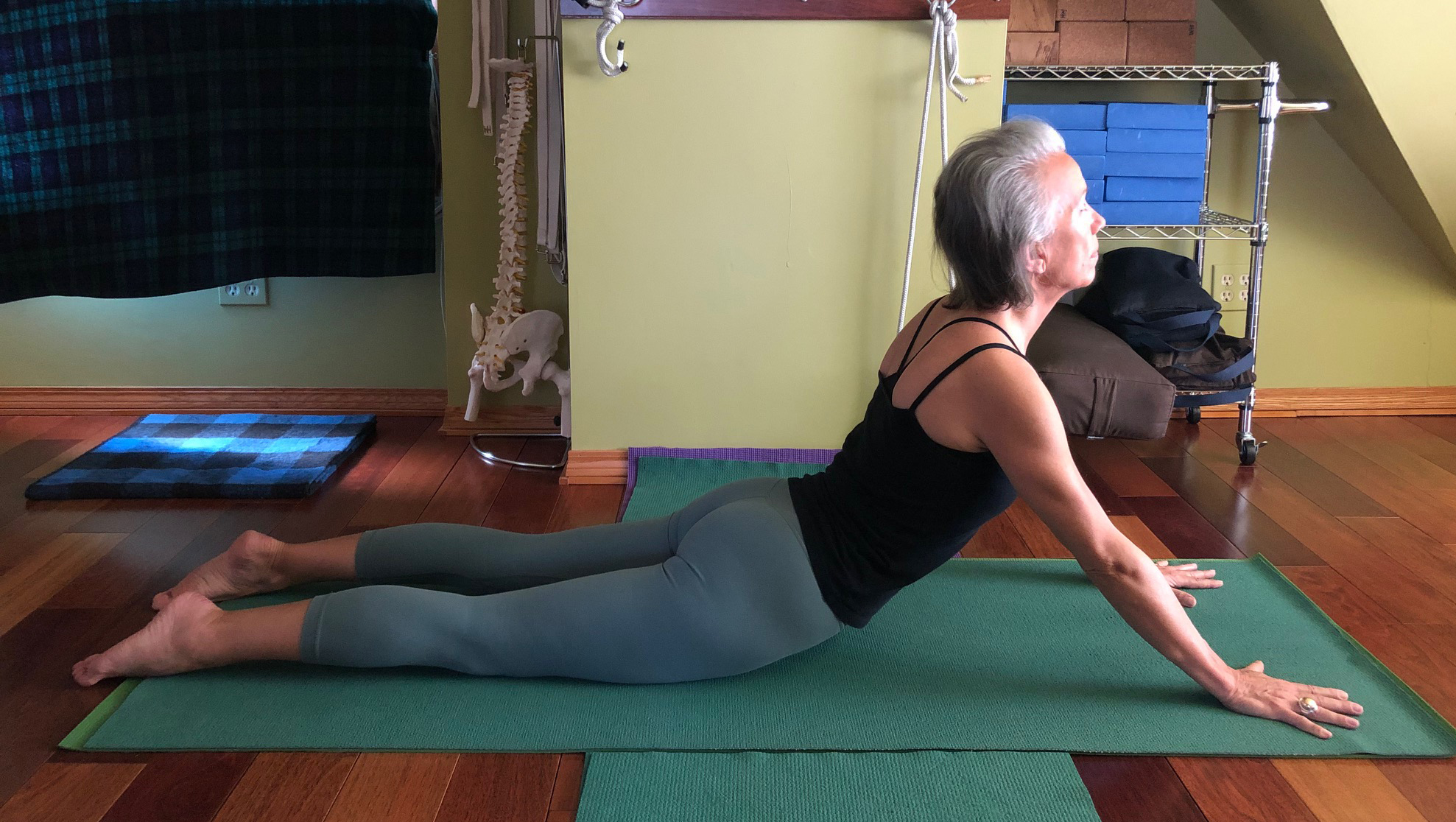 BHUJANGASANA (Cobra) 5-10 Bs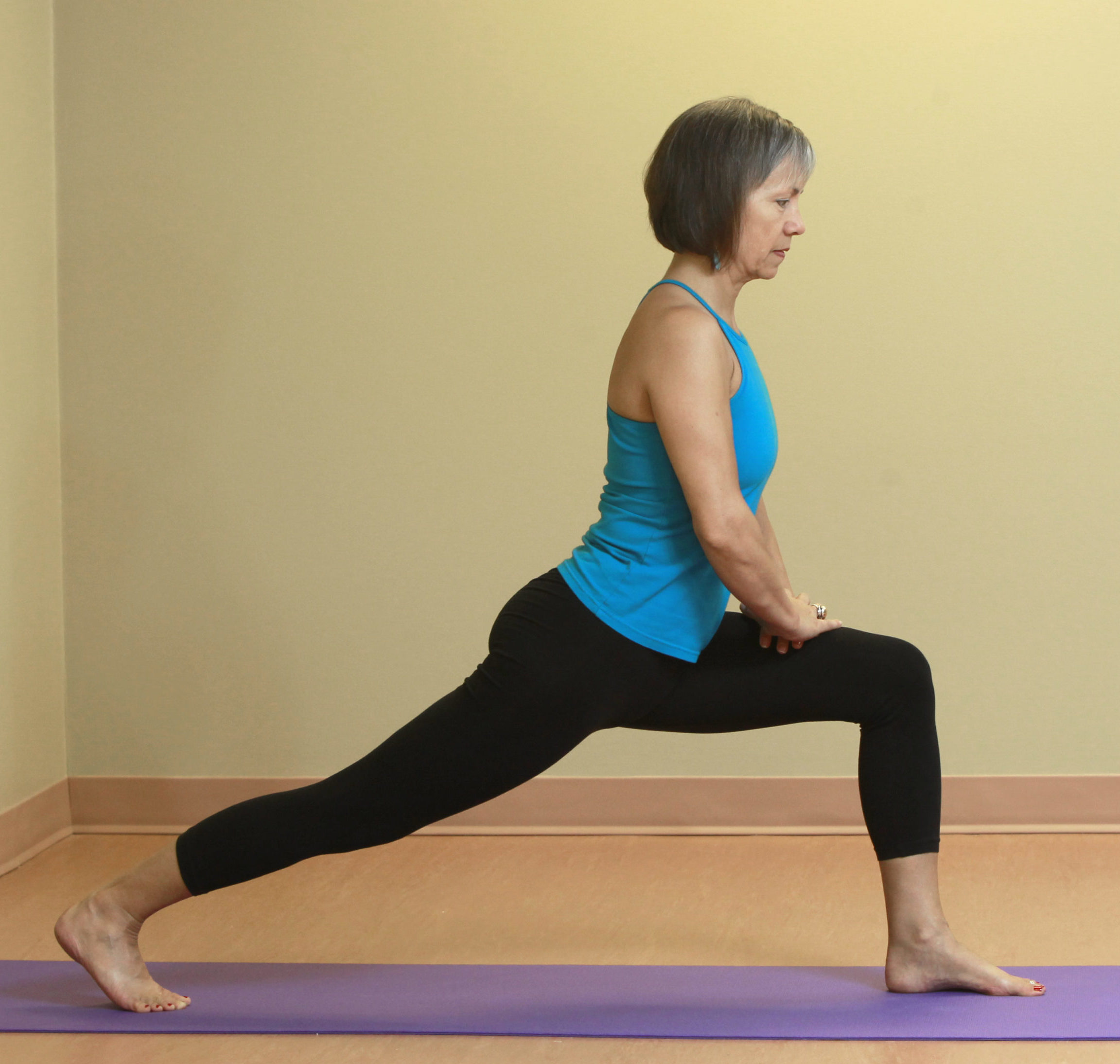 ASHATA CHANDRASANA (Hi Lunge) 5 Bs
– repeat to other side
to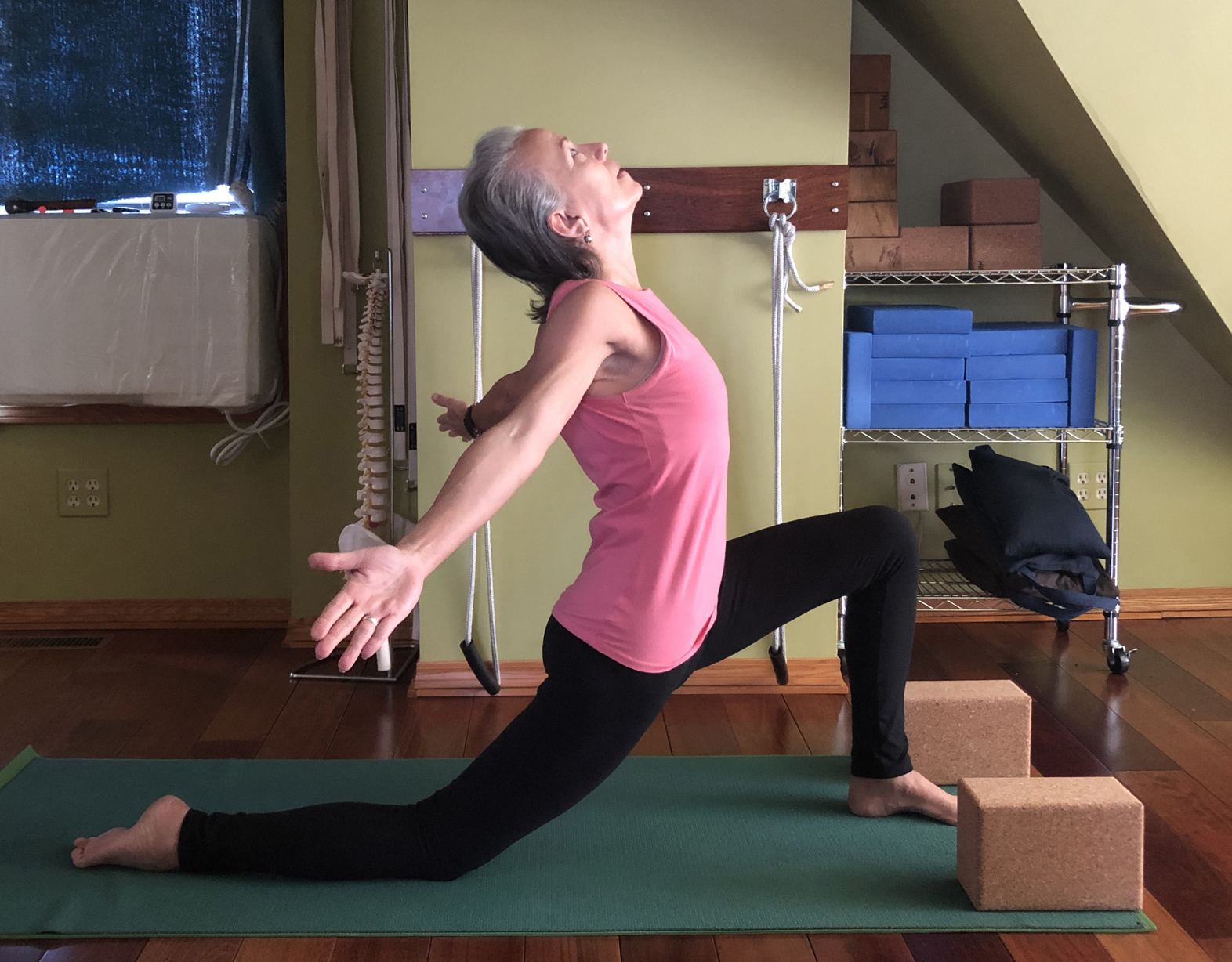 ANJANEYASANA (Lo Lunge) 5 Bs
– repeat to other side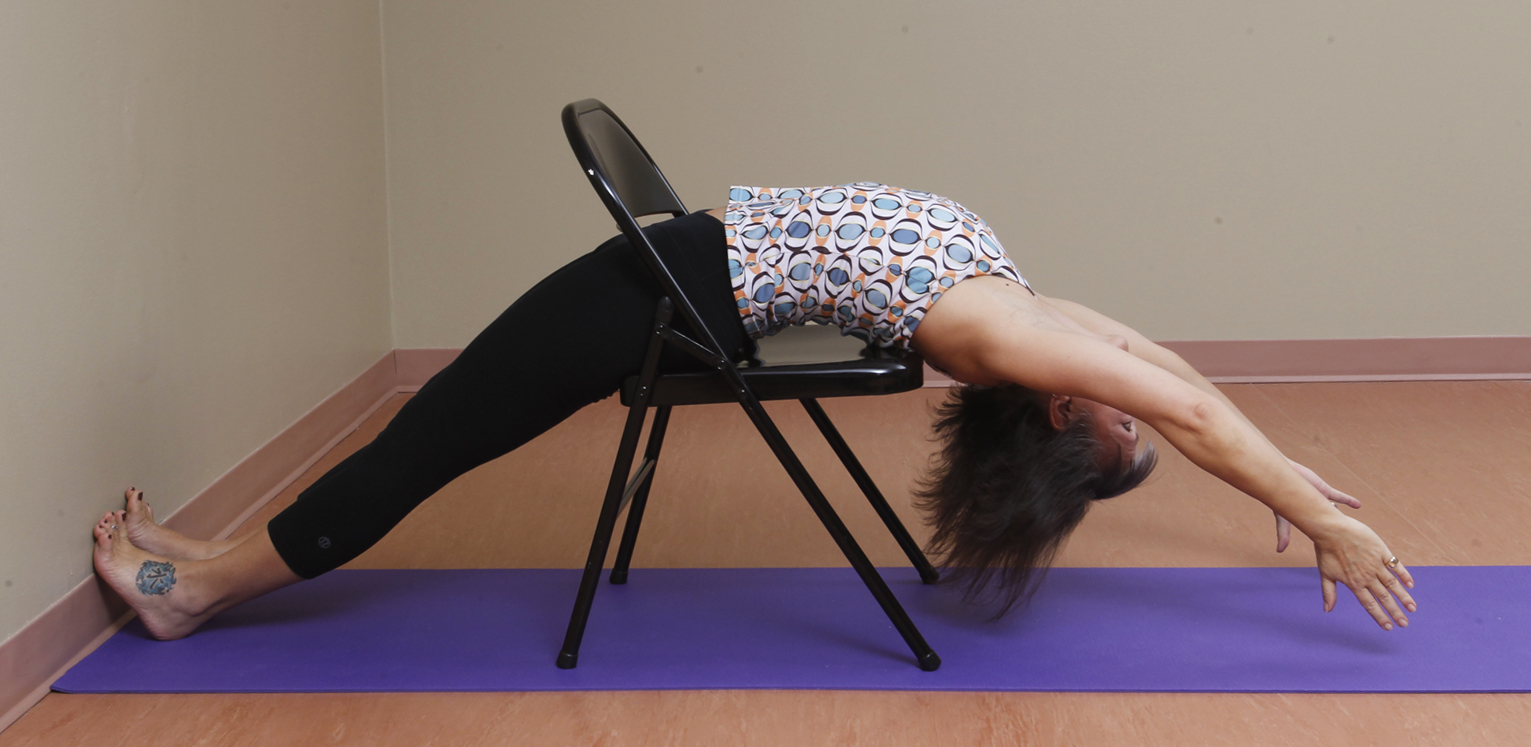 BACK EXTENSION THROUGH CHAIR 3-5 minutes
– place block under head if neck feels compressed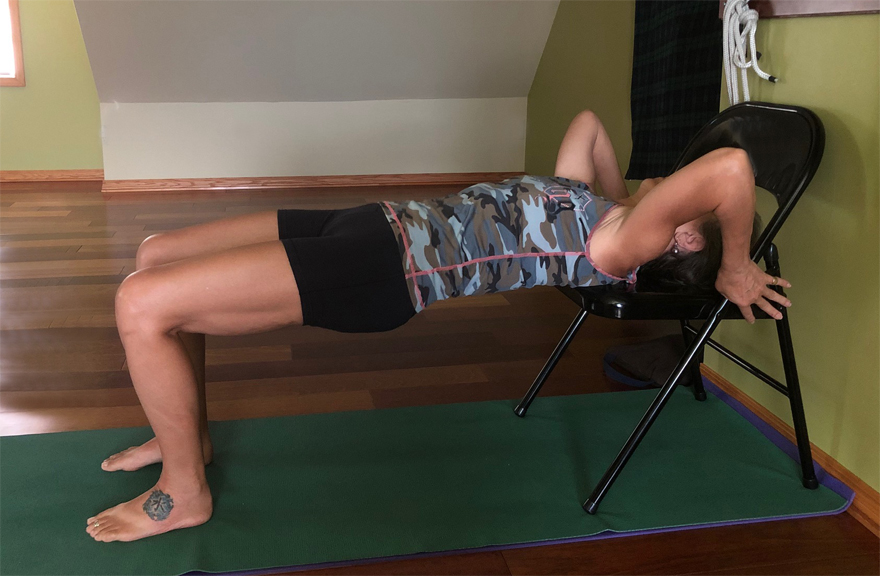 CHAIR URDHVA DHANURASANA PREP
– hands on chair joints to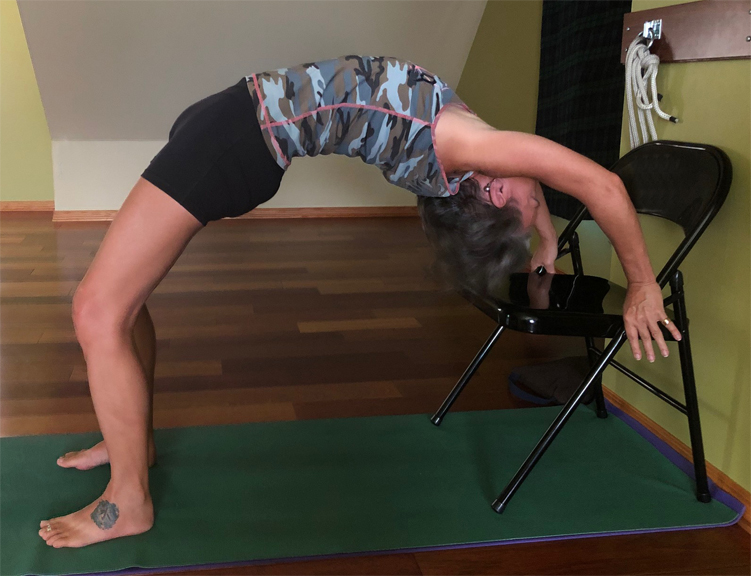 CHAIR URDHVA DHANURASANA 1-3 reps
– press into webs of thumb & index fingers to lift upper back & head off chair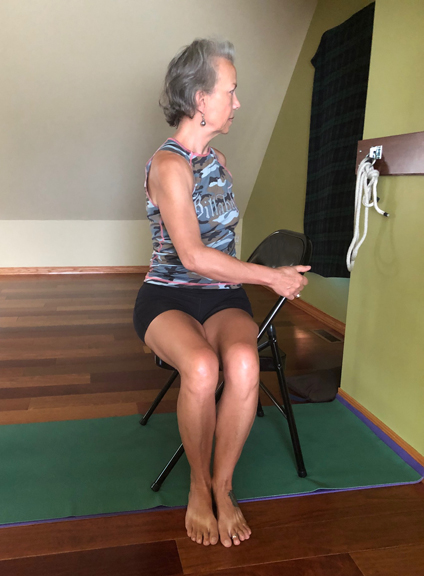 SEATED CHAIR TWIST 5-10 Bs ea
– repeat to other side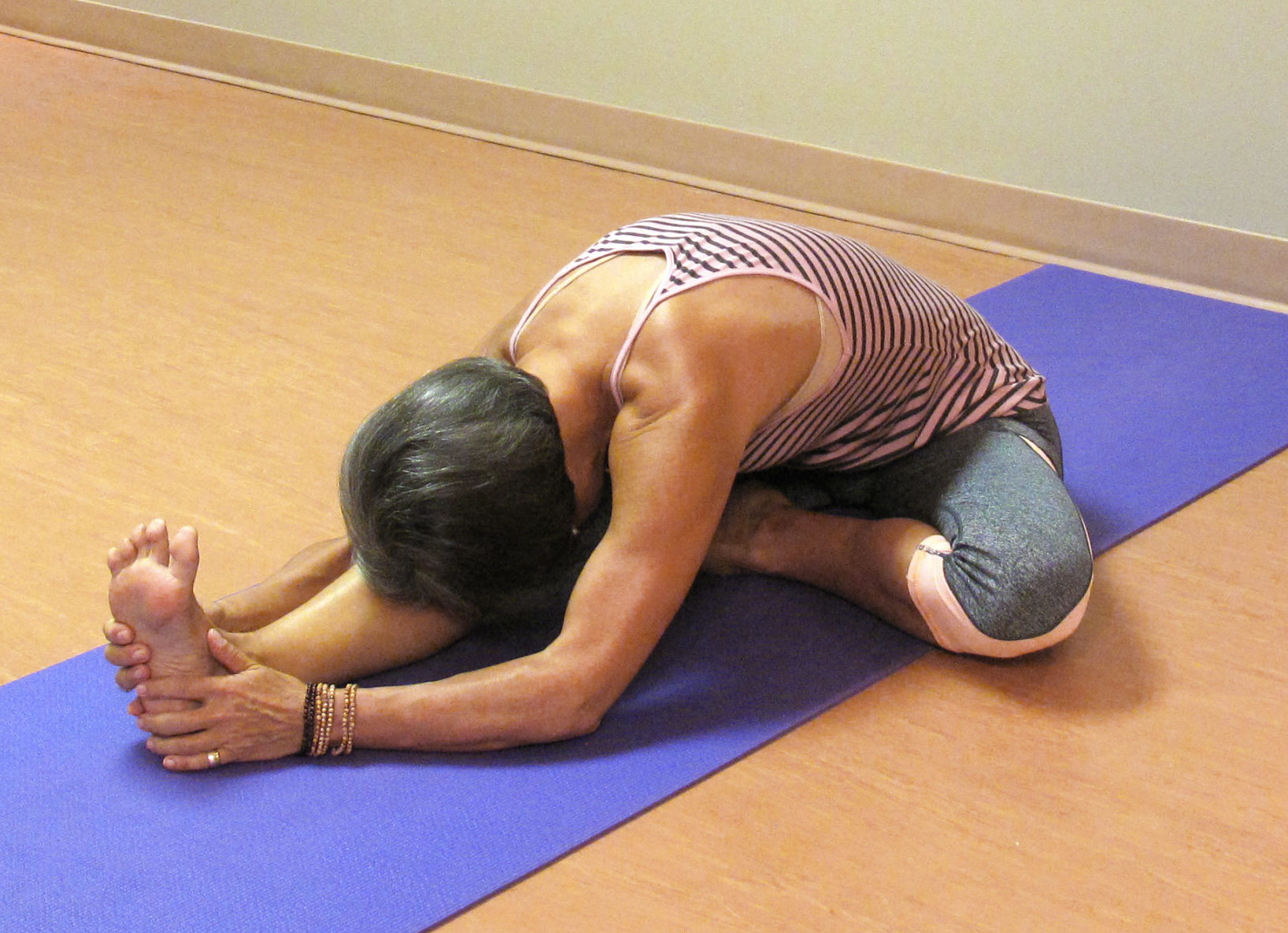 JANU SIRSASANA (Head to Knee Forward Fold) 5-10 Bs ea
– sole of foot into inner thigh
– repeat to other side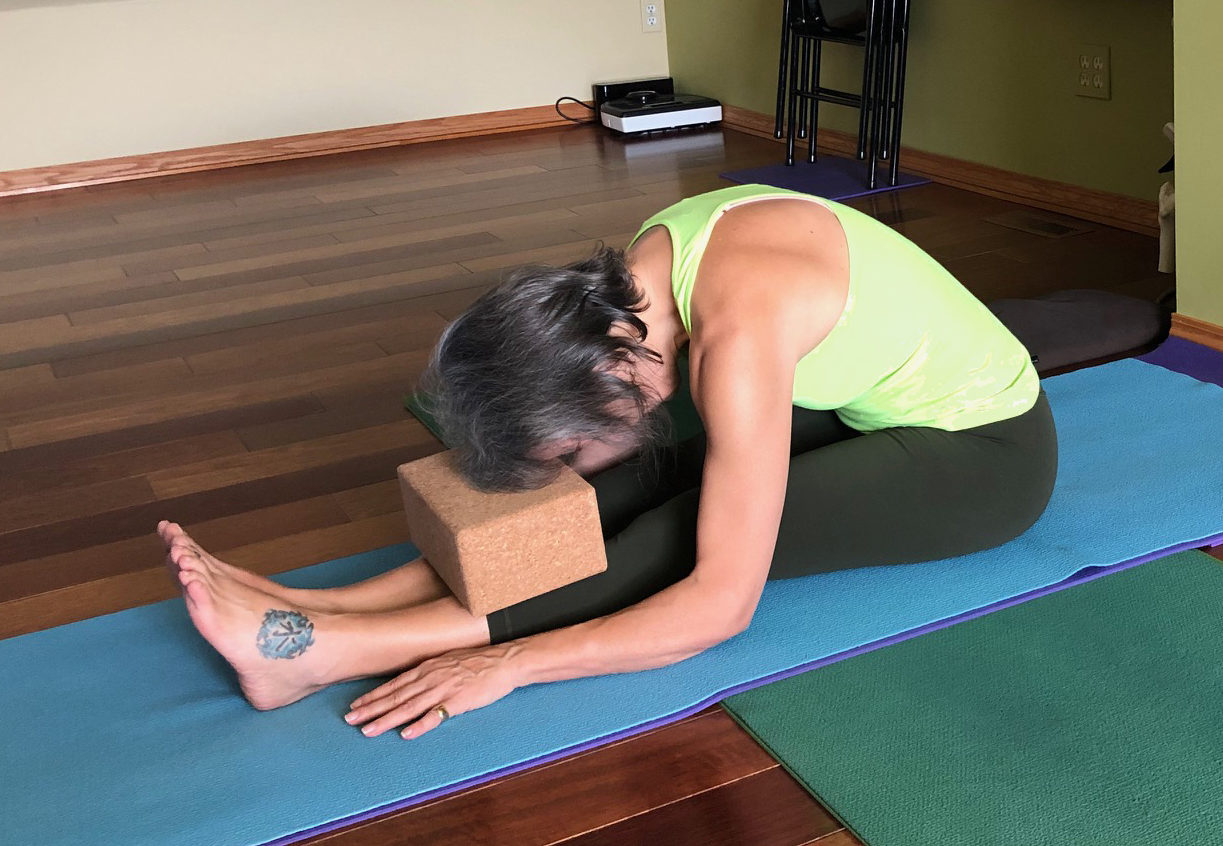 SALAMBA PASCHIMOTTANASANA (Supported Forward Fold) 10-20 Bs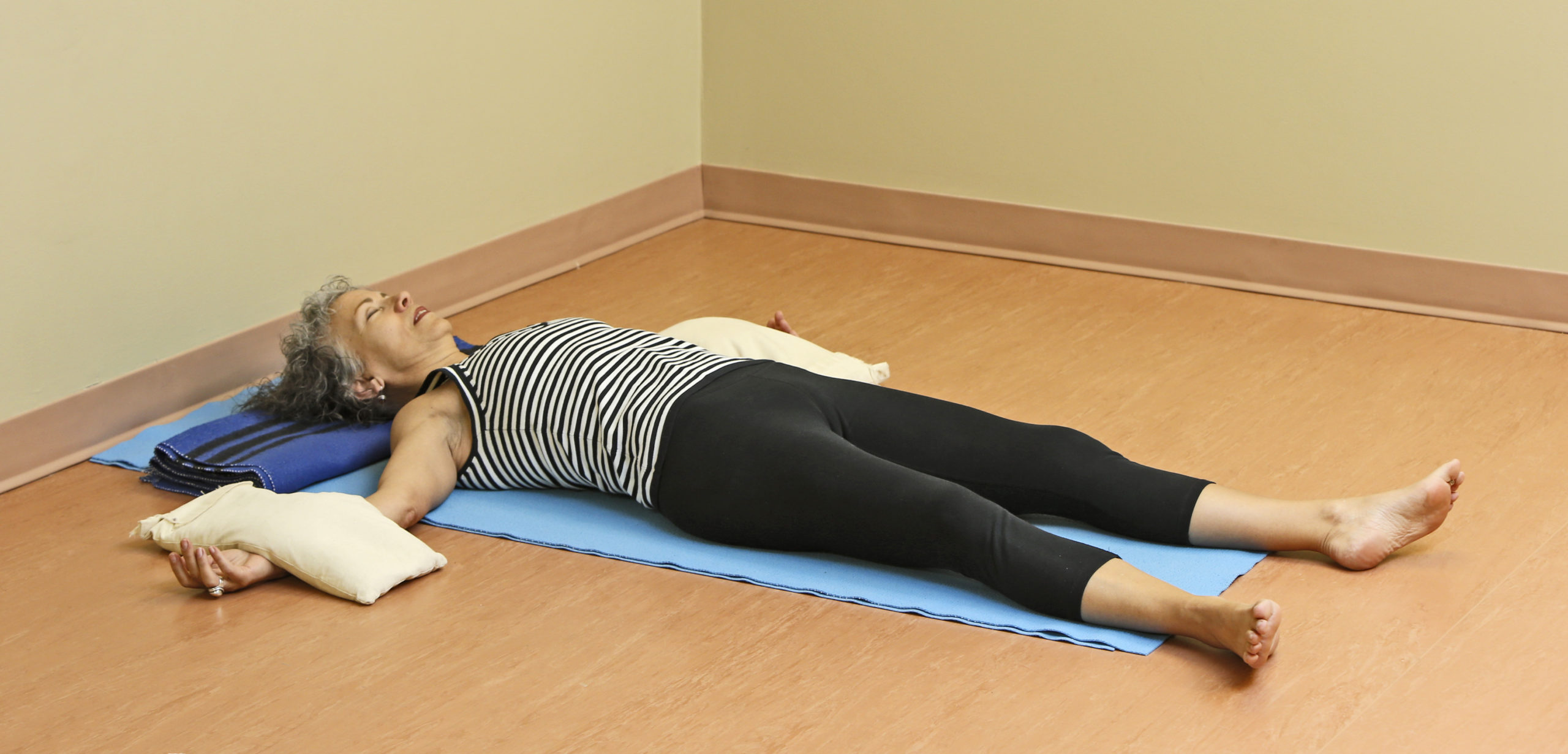 SAVASANA (Corpse) 5-10 minutes
– sandbags or weights on wrists
May loving kindness flow from your open heart to all beings. Namaste.