Big Muscles, Big Responsibility
Did you know that quadriceps means "four heads"? This term of reference includes the four front thigh muscles that join at the quadriceps tendon to attach onto the kneecap. Quadriceps are some of the largest muscles in the body. You may have noticed their girth in marathon runners and weightlifters.
Our quadriceps have a tremendous capacity for strengthening our legs; however, yoga teaches us the importance of balancing length with strength, and we know that the rounder a muscle becomes, the less flexible it is. Like any muscle, our quads get tight from overuse (excessive weight training, climbing, cycling and jogging) or underuse (too much sitting, lack of exercise or knee injury).
In our body, big muscles carry big responsibility, and our quads are needed for almost every movement we undertake. Long and strong quads relieve joint stiffness in both the knees and the hips and are therefore crucial in maintaining our structural stability. Short quads limit our ability to bend and straighten our knees, as well as contributing to lower-back pain. We encourage you to practise poses that emphasize these muscles at least three times a week. To build length as well as strength within each pose, use long holds and multiple repetitions. A good rule of thumb is to strengthen the quads with standing poses and lengthen them with lunges and back bends.
As with any muscle, in order to stretch we must first release their gripping.
HERE ARE THREE WAYS TO FIND RELEASE:
1. Bring your breath into the areas of gripping, which helps relax the muscles.
2. Take your awareness into the tight areas and "see" or feel the muscles release.
3. Use props to support your limbs during the lengthier holds (3 to 5 minutes) needed for muscles to release.
ACTION: Release and lengthen the quad muscles from the top of the leg to the knee. For more advanced practitioners, lengthen down from the inner groin to the outer knee and up from the inner knee to the outer hip.
LOW LUNGE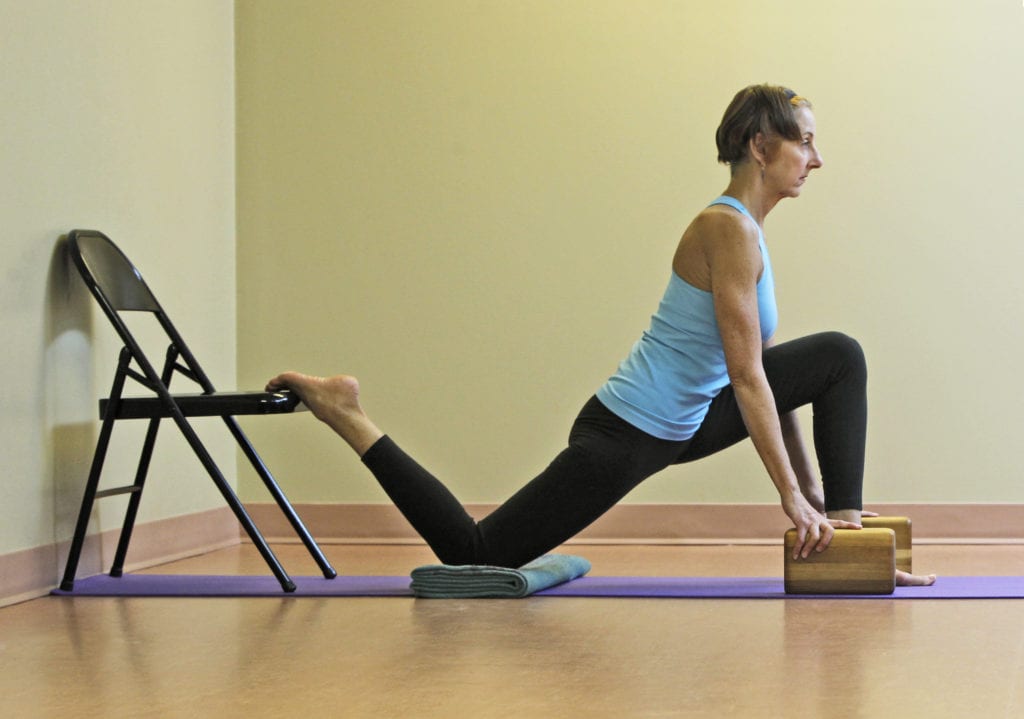 From a standing position, bend your right leg and place the foot on the chair seat while taking the right knee to the floor. Support the knee as needed. Walk your left foot as far forward as your groin and quad muscles will comfortably allow. Find the action in the quad muscles of the back leg. As the quads release, move both hips forward equally.
Note: You do not need yoga props in order to practise. A folded/rolled blanket or a piece of clothing will work under the knees. Use books instead of blocks.
QUAD STRETCH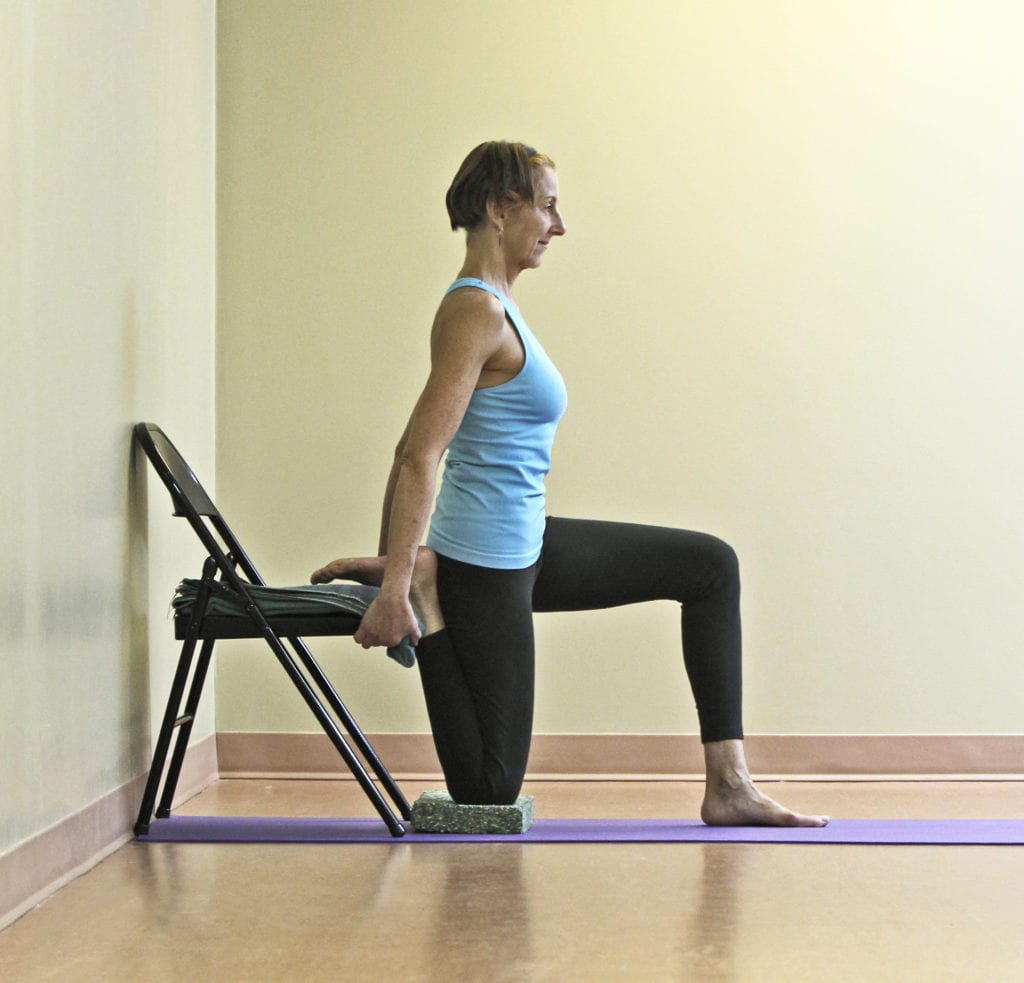 From the previous pose, walk your left foot in toward the chair as you lift your torso upright. Hold on to the chair and find the action in the right quad muscles. If the above position is too extreme, walk in as far as possible and continue to use the blocks for hand support.
Note: It doesn't matter how close you move your buttocks to the chair. The intention is to stretch the front of the leg, and the "sweet spot" will be different for everybody.
PURVOTTANASANA  (Upward-facing plank pose)
Sit on the front edge of the chair seat. Place your hands on the seat behind your hips with fingers pointing forward. Have your ankles positioned under your knees. On an inhalation, swing your hips up while you straighten your legs and arms. Find the action in both legs. Hold for five to 10 breaths. To come out of the pose, bend the elbows and knees, and sit back down on the chair.
Note:  Repetitions build endurance and strength, so if you are able, do two more Purvottanasana pushups.
By: Helen Maupin, Candace Propp and Stacy Schroder.  Winnipeggers Helen Maupin (www.righttojoy.com) and Candace Propp (www.natureofcontentment.com) are authors of the Creating Space: Yoga Actions book series. For more information, refer to Creating Space: Yoga Actions for Legs & Knees. Candace and Helen are certified teachers through Yoga Centre Winnipeg. For yoga teacher training with them and Stacy Schroder go to www.sereneyogastudio.com.
WANT 6 DOWNLOADABLE TRANSFORMATION TOOLS TO USE HOWEVER YOU LIKE?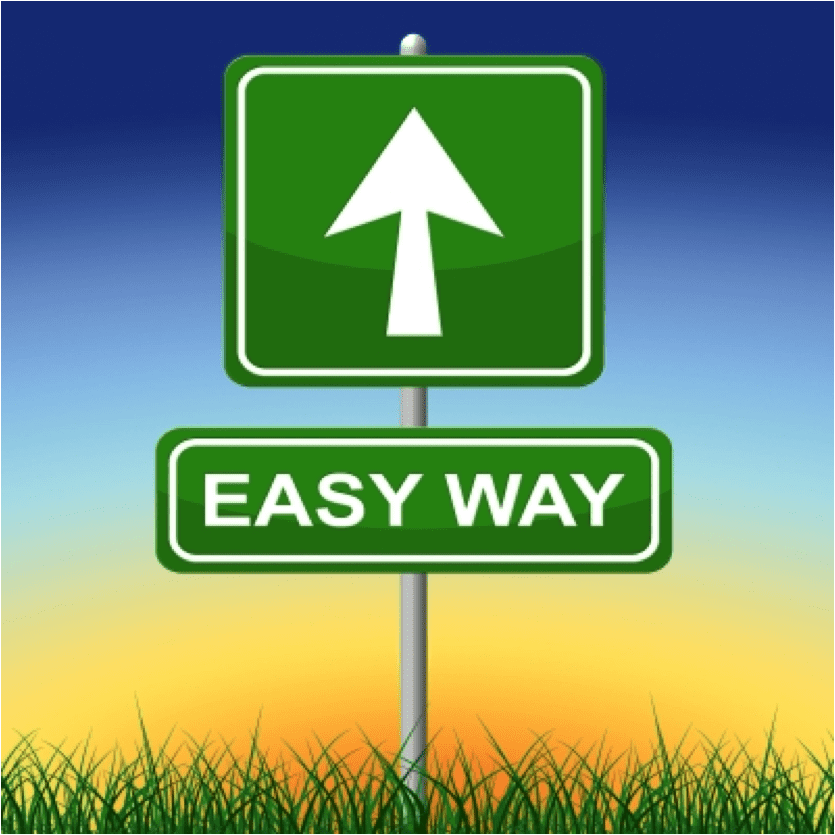 Changing a bad habit? Trying to lose weight? Quit smoking?
Not feeling Joy in your life? Tired of your job?
Whatever you're working on, good tools can make the difference between a constant struggle or finally seeing a light at the end of the tunnel.
Change is simple, but not easy. However, it's easier with the right tools.
To help get you started down your path to Joy! I've brought together six of my favourite transformation tools for you to download and use for absolutely free.
– Helen Maupin