With the persistence of COVID 19, so much of our daily experience asks us for patience and compassion. In addition, if you discover yourself becoming even more sedentary or only bending your spine forward, finding ways to flex your spine and musculature in the opposite direction is a must. Some form of backbend every day is necessary to counterbalance our excessive forward folding. B.K.S. Iyengar strongly encouraged the use of daily backbends to cure both depression and heart conditions (mind and body therapy).
If these are still not good enough reasons to bend yourself over backwards, then consider the following list of other equally wonderful benefits.
Improves posture — from hunched to aligned and straight.
Rolls shoulders back and chest up —f rom shallow to deep breathing.
Strengthens spine and back — from back tension and aches to pain-free.
Stimulates and frees the heart chakra — from blocked energy to free-flowing.
Breaks through our comfort zone — from fear to deep trust.

Use the following Yoga Actions to focus your awareness and take you into your depths. Practise these actions in a seated posture for a few minutes and then apply them in each of the following poses.
YOGA ACTIONS:
Connect the Right sit bone to the Right heel bone (down the back of the leg). Do the same on the Left side.
Consciously move the front of the thighs toward the back of the legs.
Soften the front low ribs toward the spine.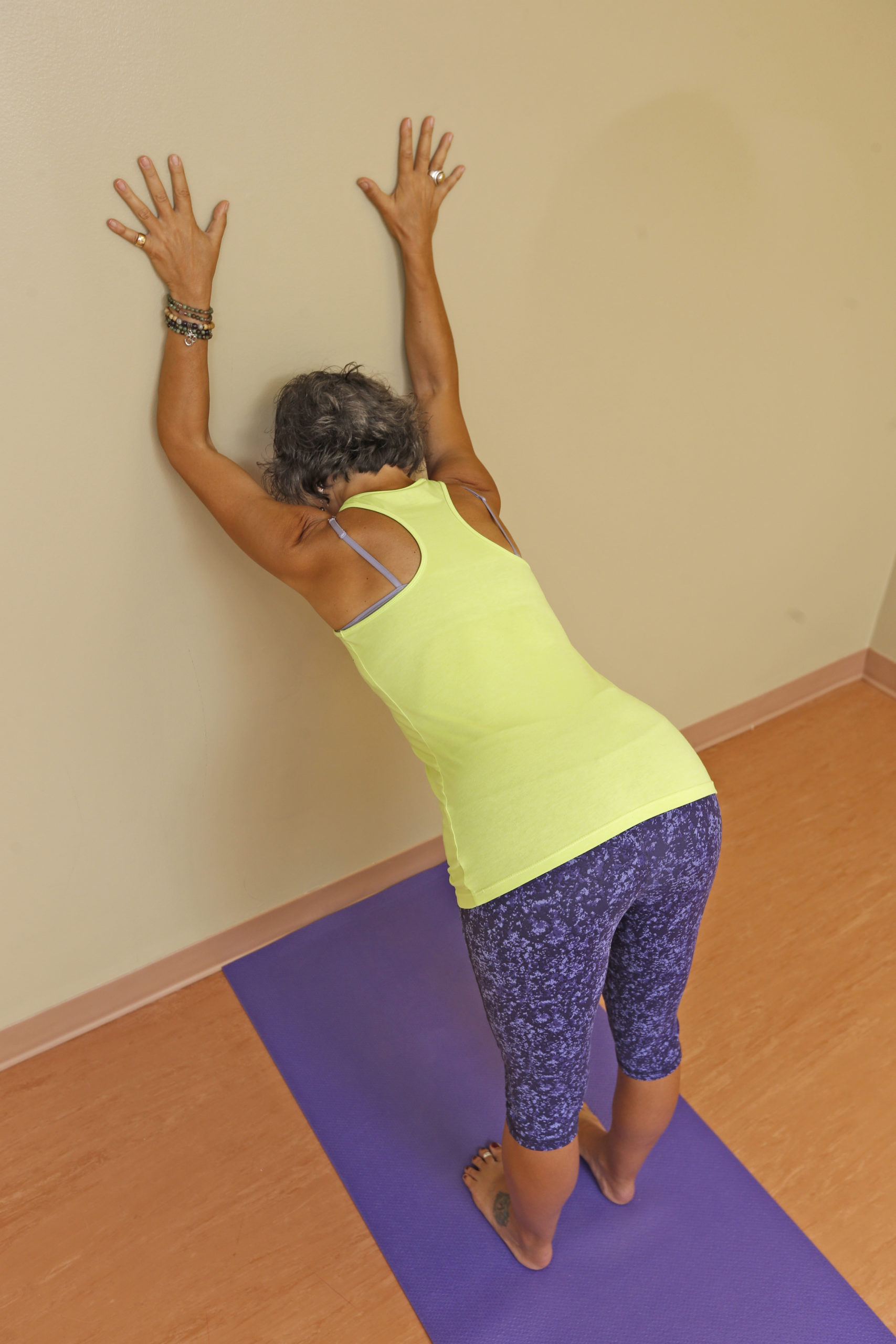 PINCHA WALL STRETCH 10 – 15 Breaths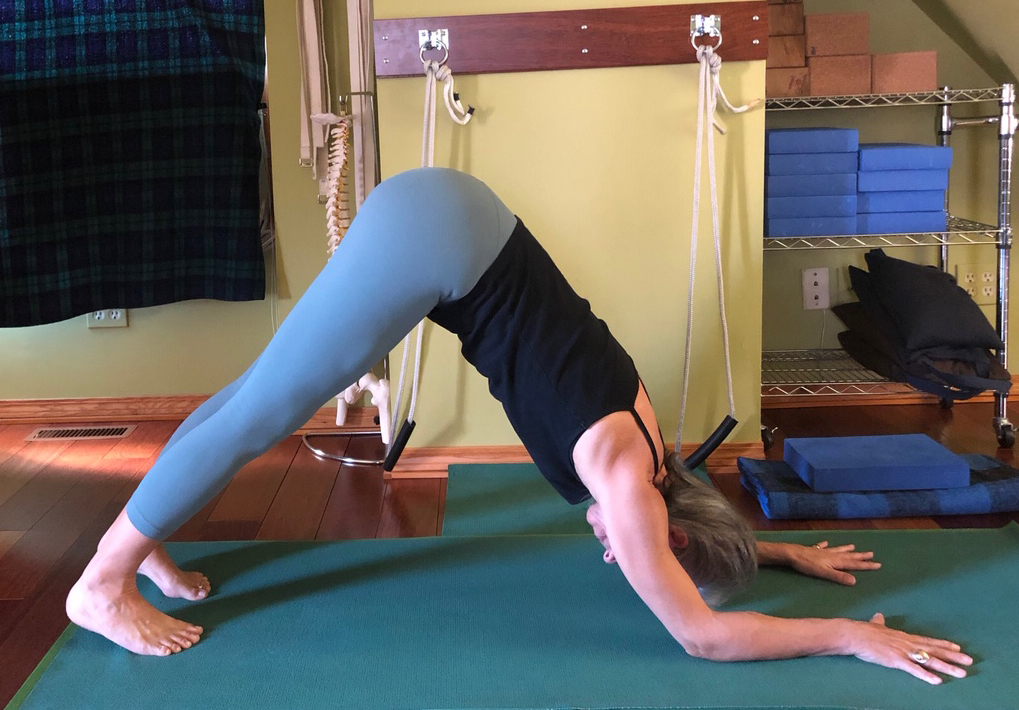 PINCHA ADHO MUKHA SVANASANA (Pinch Down Dog) 10 – 15 Bs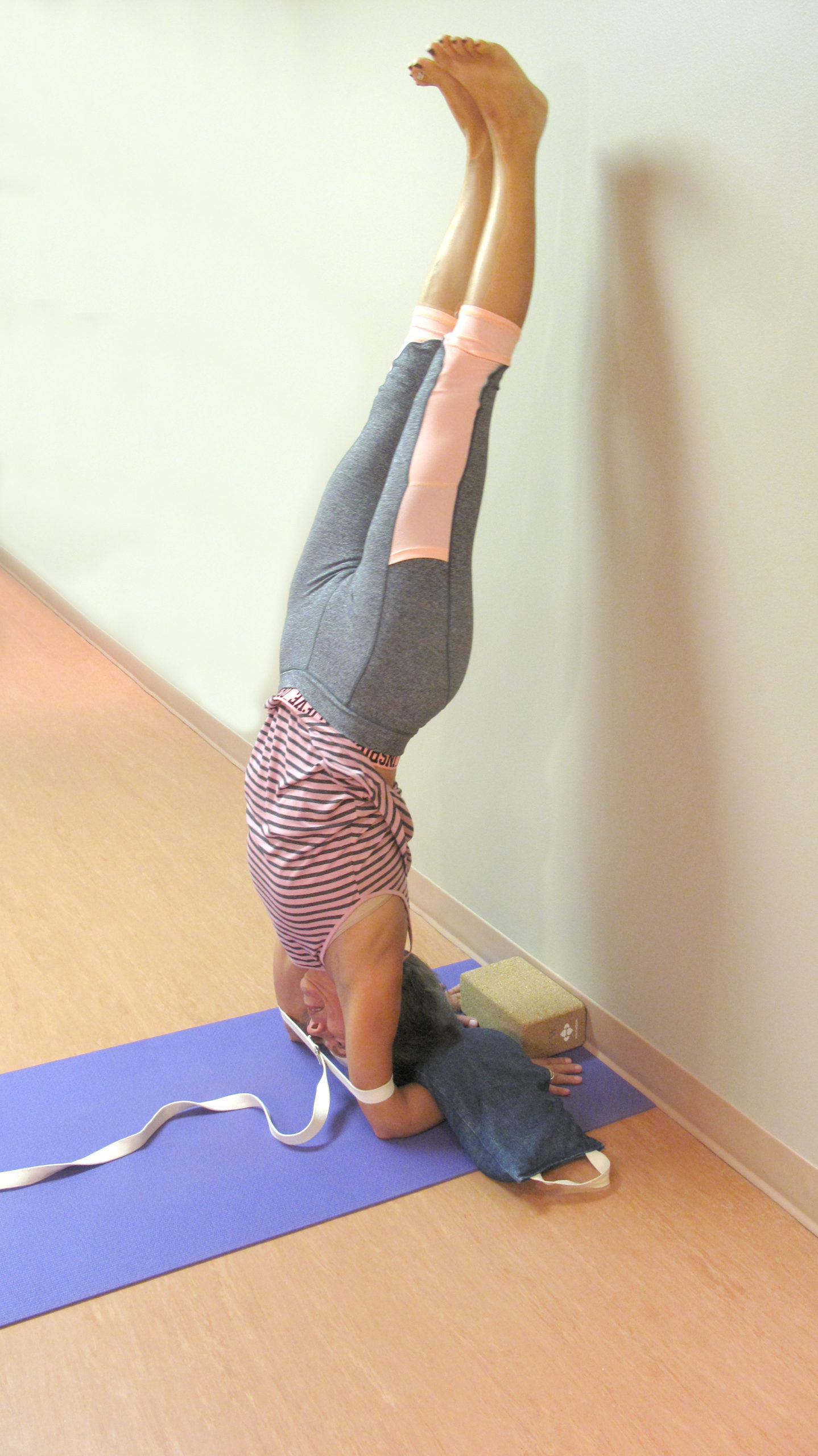 PINCHA MAYURASANA (Forearm Stand) 2 REPS @ 10 Bs ea
– belt upper arms just above elbow
– place foam or block between thumbs
– weights on forearms help ground the pose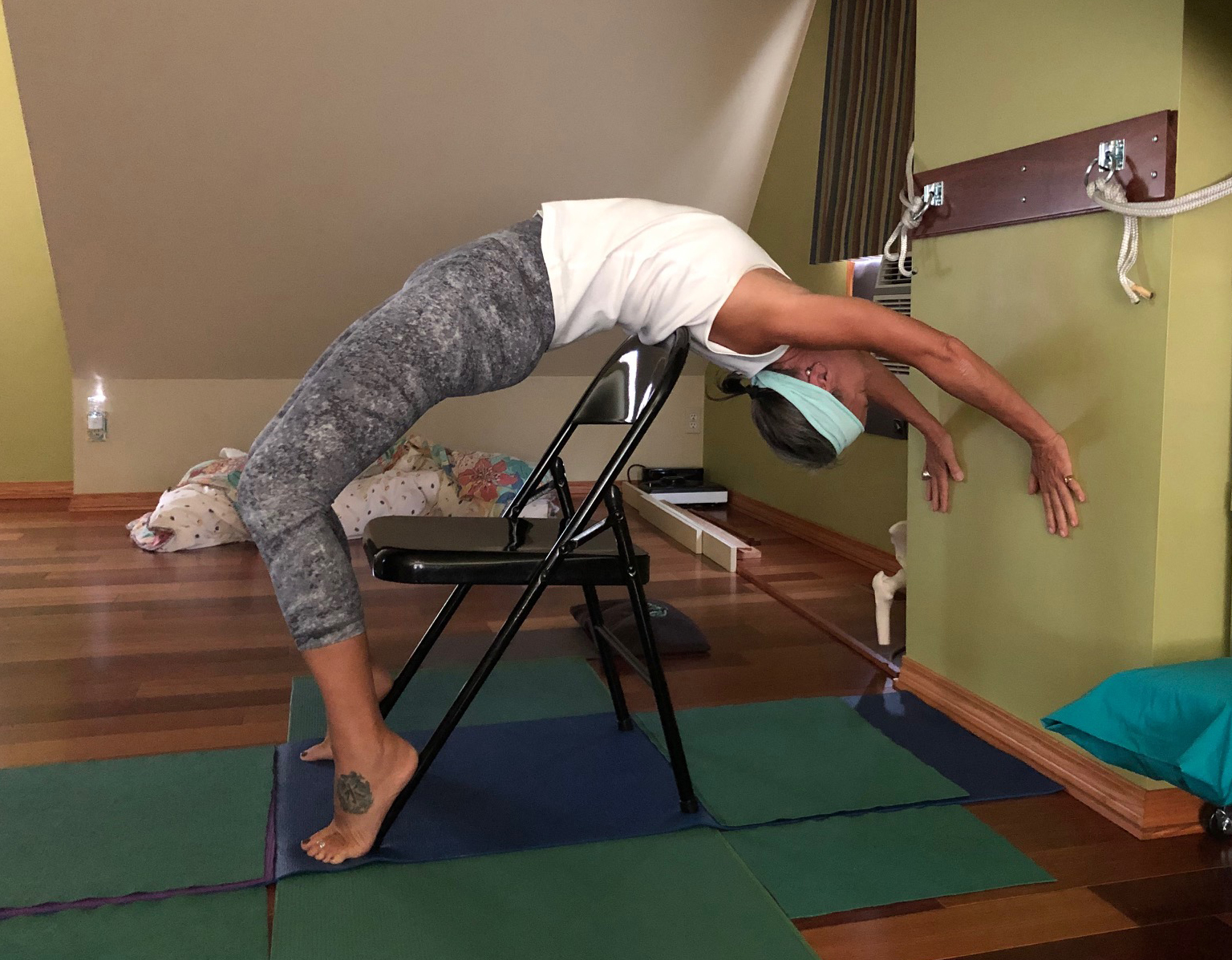 SALAMBA URDHVA DHANURASANA (Supported Backbend) 10 – 20 Bs
– far enough away from wall so arms can straighten
– toes on mat, toe mounds and heels press into chair legs
– upper thoracic (just below C7) rests on chair back
– hands walk down wall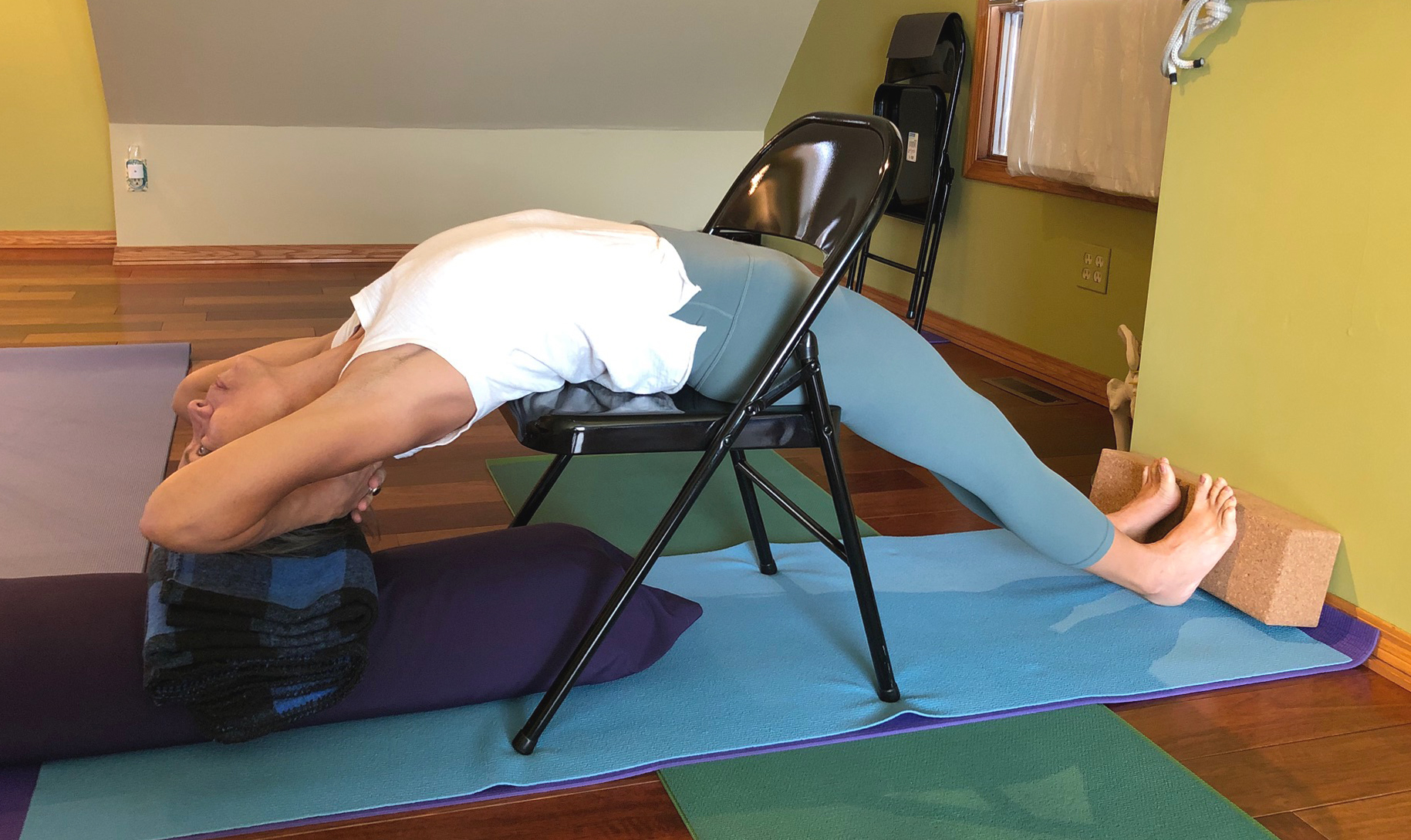 SALAMBA VIPARITA DANDASANA (Supported Backbend) 30 – 40 Bs
– feet or blocks into wall; tailbone through back of chair
– crown of head & Sirsasana arms rest on bolster & blankets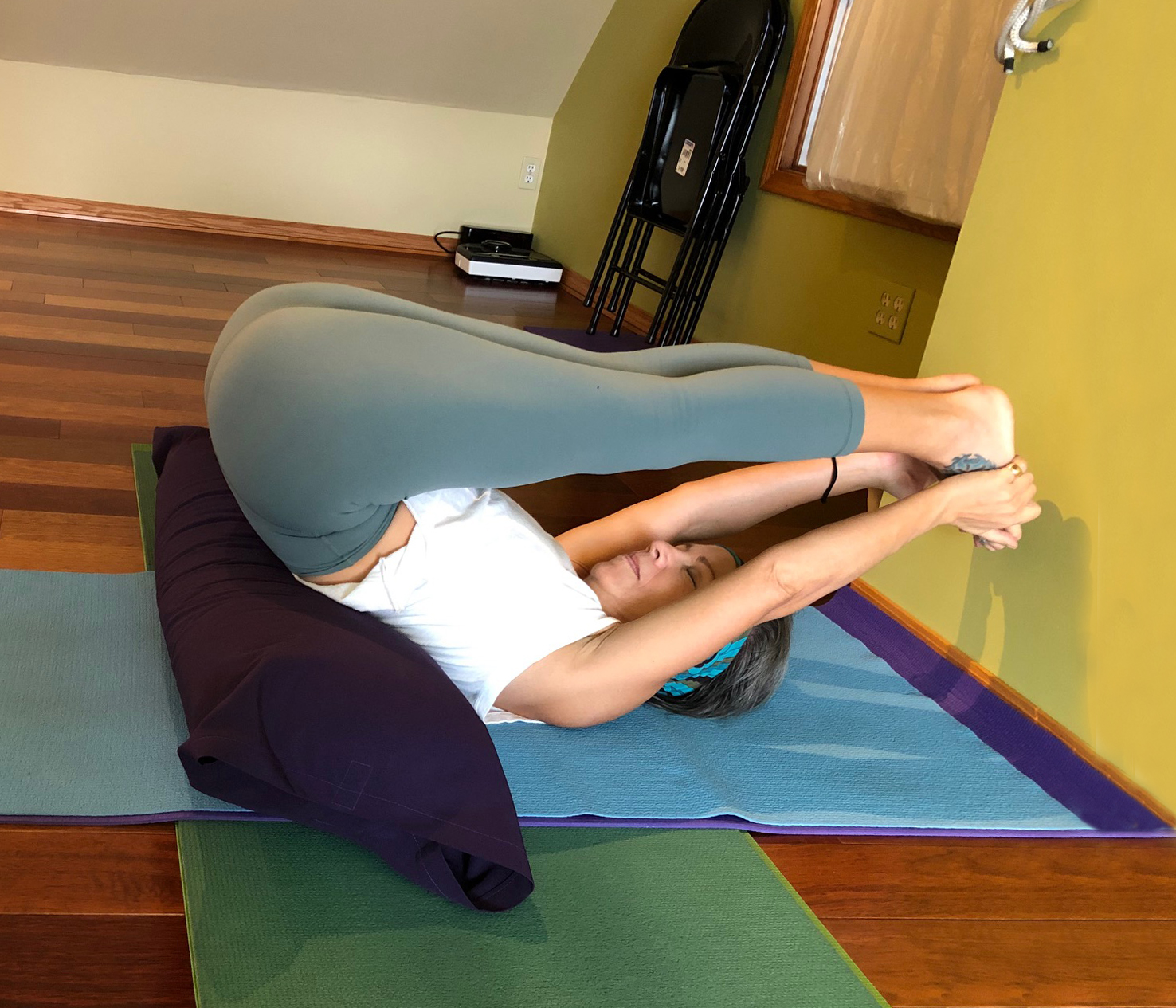 URDHVA MUKHA PASCHIMOTTANASANA II (Supine Intense Stretch) 30 Bs
– place bolster or blankets under back waist
– if space exists, toes release toward floor (don't pull on legs)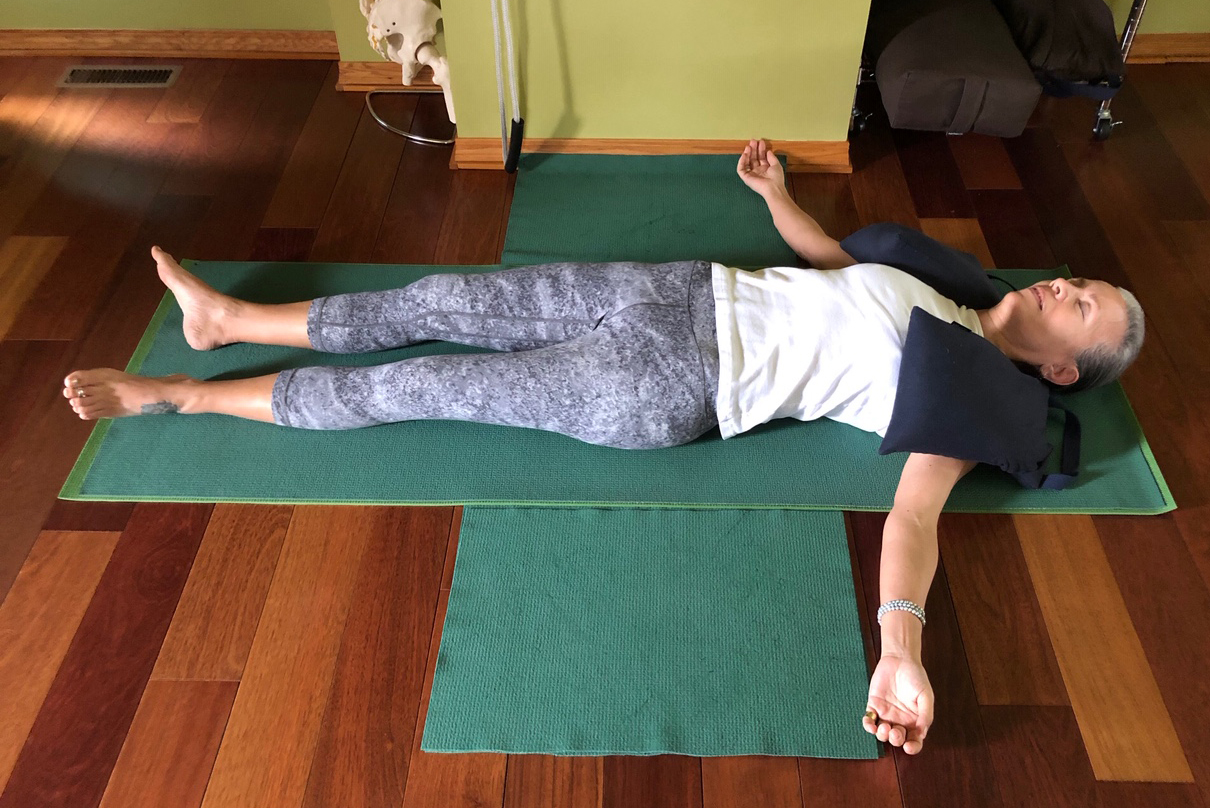 SAVASANA (Corpse) 5 – 10 minutes
– sandbags or weights on front shoulders to enable back shoulders to release to mat
May your heart release its fears and sing its truth to you. Namaste.