It is that time of year again when we find ourselves developing a set of personal and professional goals for 2014.  Whether it is organizations requesting services for strategic planning or individuals desiring coaching support, December and January bring forth from my clients the wish for renewal and reinvention.  However good our intentions, most of us know that intentions require more than a goal to motivate and mobilize transformation. Have you ever wondered why so many organizations' strategic plans end up gathering dust on the shelf rather than energizing their people to achieve their desired future states?  At least two reasons come to mind —
1.  Focusing on the negative (weaknesses and threats) drains people's energy.
Where traditional strategic planning focuses on yesterday's problems, weaknesses, and threats, strength-based strategizing reframes negative or deficit-based questions into positive, future-oriented questions.  In essence, the search is for what the organization wants to create more of rather than trying to eliminate what it doesn't want.  Problems are not ignored; they are reframed as opportunities.  As an example, instead of analyzing the reasons for declining service utilization, analyze and leverage the elements that support client retention (more of what you want to create).
2.   Neglecting to redesign existing processes, systems and structures to support the realization of new strategies.
The ever-present adage comes to mind, "We can't solve today's challenges with yesterday's solutions."  I quit designing and facilitating strategic planning SWOTs (internal Strengths & Weaknesses; external Opportunities and Threats) over a decade ago for the simple reason that the real intent of a strategy exercise is to actively redirect an organization's attention and energy not just to create and document a plan of action.  In essence, it amounts to the difference between designing the new systems and structures necessary to achieve redirection versus meeting the goal of developing a plan.
When I am approached to facilitate strategic planning, I spend a considerable amount of time ensuring clients understand this point.  If they focus attention on producing a strategic plan, they will produce a short-term result.  On the other hand, if they focus on designing the processes, systems and structures necessary to move forward their new directions, they are committing to long-term success. As an entrepreneur or employee, which type of success do you want to witness in your organization?  Systems-based thinking and designing is not about hitting a target.  It's about sticking to a process, not missing steps, designing the supporting foundation and releasing the need for immediate results.  Below is my design process (6Cs) for enabling clients' strategy sessions to —
structure strategic conversations around their positive core (strengths)
energize and value the best in people and organizations by exploring new potentials, strengths and opportunities
foster collaboration among stakeholders and discover best practices from their collective wisdom
systematize agility, resiliency and creativity (stability and innovation)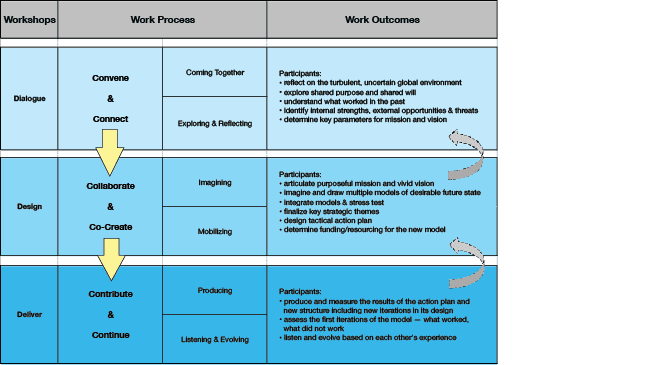 What's the difference between goals and systems?  On a very practical level, James Clear differentiates accordingly —
If you're a coach, your goal is to win a championship.  Your system is what your team does at practice each day.
If you're a writer, your goal is to write a book.  Your system is the writing schedule that you follow each week.
If you're a runner, your goal is to run a marathon.  Your system is your training schedule for the next six months.
If you're an entrepreneur, your goal is to build a million dollar business.  Your system is your sales and marketing process.
When all of your hard work is focused primarily on a goal (loose 10 pounds by the end of January), nothing remains to continue your motivation once you achieve it.  However, when we focus on the practice (process or system) instead of the performance (goal), we can end the repetitive habit of continually putting back on that 10 pounds.  Furthermore, we are operating in the present moment and improving our performance at the same time. What system can you design for yourself that will move you step-by-step toward your desired future state? To learn more about this, you might want to read Sociotechnical Systems Design For Adaptive Enterprises.