I feel very blessed today — fatigued but blessed.  I returned home from several days of creative collaboration with six cherished friends.  We did not start out this way.  In fact, we learned to grow our trust and respect with each shared connection and commitment.  I am delighted to participate in a circle where discovery and learning are not doled out by a senior — or self-proclaimed guru.
With wonder, and a deep sense of fulfillment, I witnessed each participant contributing her/his gifts while learning and leaping forward gratis of the gifts received from others.  No one individual has the complete answer.  Each is prepared to follow the sometimes circuitous route of another until all arrive at clarity.  This is humanity at its finest.  I am both pleased and proud to know this possibility.  I maintain that the people I am looking for are looking for me.  In this particular circle, we have certainly found each other.
Our shared discoveries require us to travel deep into the terrain of the unknown where intuition rather than logic prevails and where I am most confident and energized.
The Seer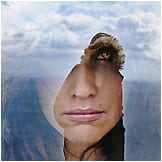 As I travel along this path of knowing,
without data,
I am able to see more clearly.
It isn't really seeing . . . rather,
I catch a glimpse of what is yet to unfold.
Some way of knowing the truth enters me,
a dream emerges, an idea percolates,
or in the writing, it is birthed.
Then, I am like a child on a new adventure.
Seeing this way is like peaking through a keyhole.
The view is limited.  I can't glimpse everything,
just enough to capture my imagination.
I do love the element of surprise, without it
Adventure would be misnamed.
Yet, I cherish the certainty of knowing
I am headed in the right direction.
What strengthens my sight — propels me forward —
is always a sense of adventure.
Something that triggers my curiosity,
teaches me more about who I am
drawing me deeper into the murky wisdom of Life's mysteries.
November 2011
Without the aid of logic or factual data, what do you know to be true?  Are you willing to act on that knowledge?