When the fruit is ripe, it drops from the tree by itself. . . . [I]t falls—not because it has been forced to fall, or has made the effort to jump, but because the tree has recognized its ripeness and simply let it go.  Osho
These wise words are a metaphor for our own personal ripeness and readiness to share our inner riches with the outer world.  Our preparation and effort has already occurred and, like the tree, all that is required of us is to relax and be willing to receive what emerges.  Of course, to sit in the stillness of ripening long enough for our juices to be sweetened, and thus even more desirable, requires patience and trust.
I find myself in exactly this place with my online business, Right To Joy.  Six months have passed since we launched the website, followed by a flurry of activity to populate it, strategize relevant content and market via social networks.  Now, I feel we have reached a plateau—a waiting "room" of sorts where we have time and space to look around, see what our ripened creativity brought forth and taste the fruits of our labour.
This waiting to see and trusting that truth, beauty and goodness are forthcoming resembles a mini death.  We are dying to the past six months in order to make room for the next steps along our journey.  When I first sensed this passage, I wrote the following poem.
The Fruits of My Labour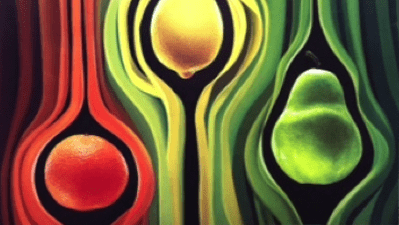 I rest, suspended in the darkness of not knowing
quietly buffered from urgency and the rush of results.
There is a path out of this darkness,
and tho' I am fully formed, ripe with anticipation,
Nothing moves.
Quietness fills my senses.
Like ripened unpicked fruit, I wait for hands
to reach out and pluck the essence of my labour.
08 March 2011
What passage do you sense yourself navigating today?  And what inner riches is it time for you to share with the world?