Organizational designs that facilitate variety, change and speed
are sources of competitive advantage.    Jay Galbraith, 1995
 Organization design —  the reshaping of organization structure and roles — attempts to effectively align structure, processes, rewards, employee skills (including mind sets) and customer needs with business strategy.  The complexity of integrating these various demands has resulted in decentralized organization designs, which allow —
•  more people to be involved in the decision making processes, and
•  the decisions to be made directly where the work is occurring.
Without this increase in participation and autonomy, the variety, change and speed, necessary for competitive advantage is not achieved.
Those of us who aid organizations in collaboratively redesigning structures, roles and coordinating systems that align with stakeholders' needs and business strategies are faced with asking these questions — "What are the organization contexts within which we find ourselves designing?" and "What organization elements need to be designed?"
Over the past several years, Socio-Technical Systems Roundtable (STS-RT) members have collaborated virtually and face-to-face as they researched and applied new models of organization design for the 21st century.  A first step for this community was to understand the circumstances within which we are designing.  What we discovered was the emergence of not one, but three different organization design contexts:
•  Hierarchically-integrated decentralized organization
•  Value realization network
•  Social eco-system
At an annual learning event in New Orleans, the STS-RT's Integration Team (Doug Austrom, Don de Guerre, Bob Laliberte, Helen Maupin, Bernard Mohr and Carolyn Ordowich) will 'stress test', within this community, the forms, functioning and design principles of these new contexts.  At that time, the STS community will also consider what organization elements need to be designed within each context.  Illustrated below, by design context, are these design elements.
Hierarchically-integrated Decentralized Organization
Design Elements:
•  Core work process
•  Continuous improvement processes
•  Mechanisms for innovation
•  Support, information and compliance systems
•  Management processes and structure
•  Strategy formulation processes
•  Organizational renewal processes
•  Customer experience processes
The Integration Team refers to these design elements as the hands and head of design given that thoughtful consideration for effective workflow operations is the intent.  Here is an unanswered question we have for the STS community and you —  "Is it 'shareholder value' or 'consumer value' that lies at the centre of this illustration?"
Value Realization Network
Design Elements:
•  Purpose
•  Governance
•  Network member capabilities
•  Information capital
•  Working relationships
•  Leadership
When multiple entities within an industry come together and are bound by shared outcomes, what we design shifts to include not only hands and head but heart as well.  The heart elements of design focus on building the necessary relationship agreements required for all parties to realize mutual value from the network's output.
Social Eco-system
Design Elements:
•  Dialogue processes (allowing for eco-system agreement and local autonomy)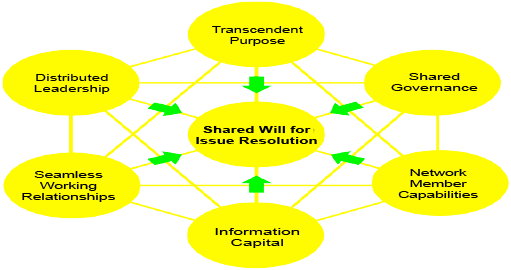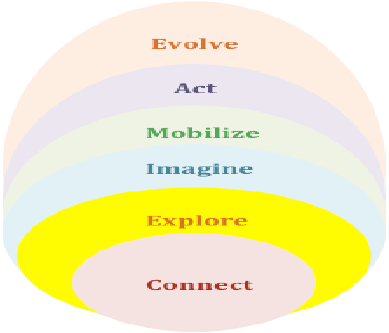 In a social eco-system, multiple entities within an environment are bound by their shared will to resolve a particular issue.  The design of dialogue processes for all parties to connect, explore, imagine, mobilize, act and evolve serves the purpose of building shared sense-making, shared appreciation, shared purpose and shared consciousness.  Those individuals and entities involved in a social eco-system are in essence opening their hearts for the purpose of the greater good rather than seeking mutual value.
What becomes visible across the three organization contexts is the increasing complexity and number of elements to be factored into the design processes.  What do you feel we have overlooked or is inaccurate?  I would appreciate hearing your feedback.
Sources:
Kates, A., and J. R. Galbraith, (2007), Designing Your Organization: Using the Star Model to Solve Five Critical Design Challenges. San Francisco:  Jossey-Bass, 2007.