Strategic planning is a coordination tool used to allocate resources and develop business strategies, goals and action plans that deliver on an enterprise's vision and value proposition.  Taking uninterrupted time to formulate strategies and a plan for organizational alignment has proven to optimize an enterprise's ability to survive (improve and stabilize) and thrive (innovate and adapt).
Globally, we operate in an environment where our interconnected, volatile, uncertain, complex and ambiguous circumstances necessitate rapid change of a revolutionary nature while simultaneously improving and stabilizing our core capacity.
Organizations need to both establish a stable foundation and, at the same time, reinvent themselves in the form of new offerings to solve new challenges.
Collaborative Strengths-based Strategizing is the energy-inducing vehicle for creating flexible, agile and resilient organizations and communities.  It involves structuring strategic conversations around an organization's positive core (strengths).  It energizes and values the best in people and organizations by asking questions that encourage exploration of new potentials, strengths and opportunities.  It fosters collaboration among stakeholders and enables discovery of best practices from collective wisdom while building resilience and creativity.
Where traditional strategic planning focuses on yesterday's problems, weaknesses, and threats, strength-based strategizing reframes negative or deficit-based questions into positive, future-oriented questions.  In essence, the search is for what the organization wants to create more of rather than trying to eliminate what it doesn't want.  Problems are not ignored; they are reframed as opportunities.  As an example, instead of analyzing the reasons for declining service utilization, we analyze and leverage the elements that support client retention (what we want to create more of).
Strategizing around Strengths:
energizes and engages stakeholders from strategy through to execution

extends service strengths and expands business opportunities

establishes collaboration, buy-in and accountability

discovers the elements enabling an organization to thrive and achieve its goals

engages a whole-system perspective and collective understanding of business goals

enables informed, aligned decisions supporting organizational survival and thriving
A strength-based approach to planning motivates stakeholders through to a plan's execution because people are contributing from their talents.  It also invites the whole system to participate thereby maximizing diversity and creativity in outcomes as well as expanding and retaining new knowledge within the organization and its community of clients.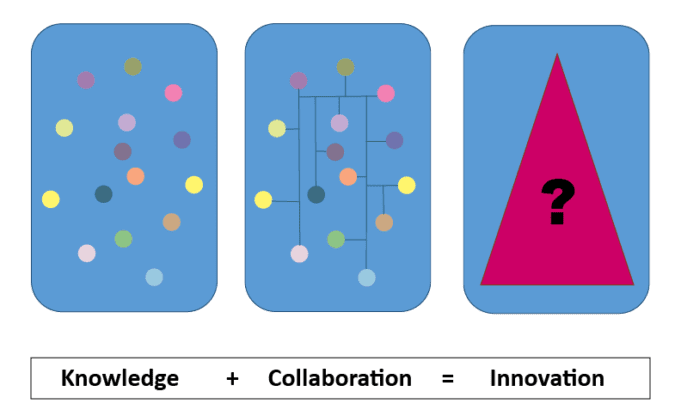 We all know that "many hands make work lighter" just as "many heads make work smarter."  Collaboration is the key to accessing creativity and to gaining commitment from those who will be affected by the planning process.  When our opinions are heard and we hear the opinions of others, we facilitate the learning journey that accompanies any planning initiative.  It is safe to say that Knowledge + Collaboration = Wisdom.  We need the perspective of many to inform decision making particularly when that decision making affects others.
Below is a simplified version of my collaborative strength-based strategic planning process.  Incorporated within its dialogue-design-delivery process are the basics of any organization's strategic plan —
identifying the mission statement (who you are)

creating a compelling vision (where you want to go)

developing core values and guiding principles (how you work together)

creating strategic goals and s.m.a.r.t.  objectives (what you need to do)

designing an action roadmap with timelines (how, when & who will do it)

designing a communication plan (who needs to be in the loop)

designing an implementation & monitoring plan (how we are doing)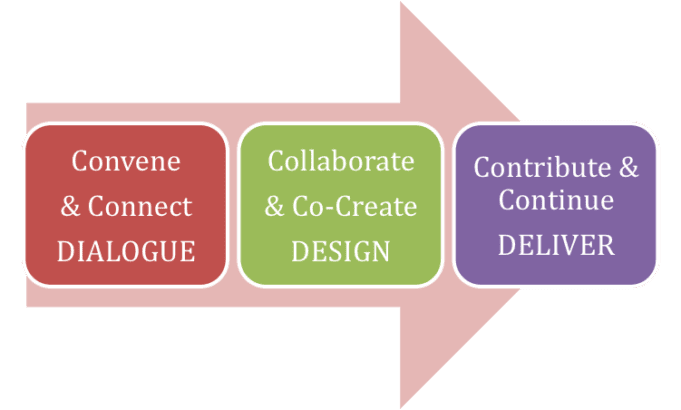 In today's socio-economic environment, the work of strategy execution optimizes existing business practices while simultaneously invents new ones.  To better serve their clients, this dual agenda has become every organization's juggling act.  This complexity further necessitates the design of new organizational structures that align with the coordination mechanisms.  For instance, coordinating mechanisms for optimizing existing business practices (efficiency standards, processes and procedures) are often facilitated by a hierarchical structure suited to scaling and standardizing.  On the other hand, coordinating mechanisms for innovating new practices and products (design & decision making in teams or networks and shared leadership) are facilitated by collaborative cultures and structures suited to consultation and creativity.
The real intent of a strategy exercise is to actively redirect an organization's attention and energy not just to create and document a plan of action.  In essence, it amounts to the difference between the long-term success from designing the new systems and structures necessary to achieve redirection versus meeting the short-term goal of developing a strategic plan.  Ask yourself, which type of success do you want to accomplish?