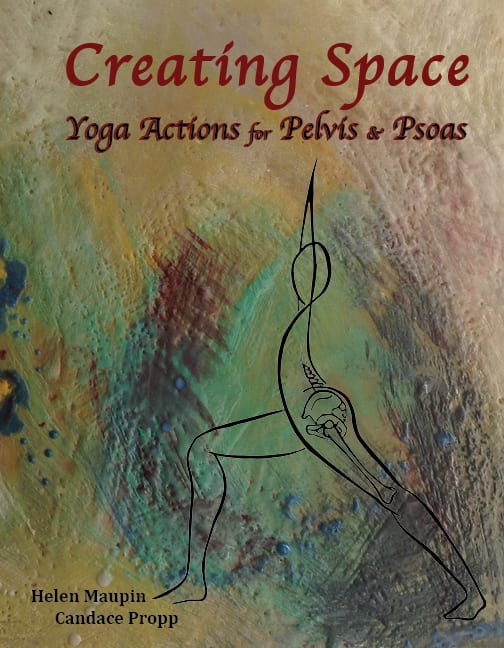 Not everyone can do all yoga poses, but everyone can do all yoga actions.
Yoga Actions for Pelvis & Psoas is the third in a five-volume series of e-books emphasizing actions in focused areas of our bodies — Feet & Ankles, Legs & Knees, Torso & Spine, Shoulders & Arms.  Within every volume, each action is displayed in a two-page layout.  The first page describes the action and visually demonstrates the experience through a Pre Pose.  The second page provides a five-pose Peak practice sequence to further expand your experience of the action. Finally, we follow each sequence with Post Poses to fully relax the body and integrate the asana experience.
We encourage you to read the action on the first page and then apply it with the Pre Pose.  If you do not immediately feel the action in your body, continue using it for the sequence (Peak Poses) on the facing page as well as the Plus Poses.  It may take two or three poses or a full practice sequence before you awaken the area of emphasis.  Additionally, you may wish to include poses that you know create greater opening for your own body.  Gaining awareness and accepting what is true for you are two rewards emerging from the many wonders of a yoga practice.  Yoga emphasizes whole-being wellness so continue to incorporate the actions from our previous books — for feet and ankles as well as legs and knees — that most suit your current needs.
Excerpt:
Awareness                        Acceptance                        Action
READ MORE
There is a point in our yoga practice where the joy of exploring the subtle energy pathways in the body overtakes our ego's need to find result or accomplishment in a perfect pose.  If this is not yet true for you and you compare your postures to those of others, fear not.  By maintaining your practice, the day will come when your awareness registers delight in the intimate relationship you are nurturing with your body.  This shared journey of discovery, between your awareness and the subtle sensations in your body, reveals the truth beneath their surface appearance.  Herein, lies the pathway to wisdom and enlightenment.
For the most part, what appears in our lives gets coloured by our judgments about pain and pleasure.  In seeking pleasure, we may find ourselves becoming overly attached to food, money, people, thrills, all of which distract us from the truth.  Similarly, in our avoidance of pain, we continually run away or resist rather than explore and resolve ourselves of the pain.  Fortunately, yoga provides us with ample opportunity to practice acceptance through releasing attachment and aversion.  As you experiment with the asana actions in this book, use your awareness to 'listen' to the sensations in your body.  Allow yourself to accept what arises without judgment.  See your bodily sensations as a voice of loving kindness guiding you to "right" action.  Focusing on these emerging sensations frees you from such patterned responses as — "I want to get my hand to the floor rather than use a block for support."  "I hate this posture because I am not very flexible or good at it."  "I love this posture because it is one of my strongest."
In asana as well as meditation, this single-pointed awareness or concentration on an object (sensation, body part, candle flame, deity, etc.) is the beginning experience of samadhi — purity and truth.  In Patanjali's Yoga Sutras, we are told that concentration on a single object allows us the potential to pass through four stages of samadhi — examination, discrimination, joyful peace and simple awareness of individuality.  In other words, through the act of our concentration, we penetrate the outer appearance of an object and come to know its true inner nature.  From this state of samadhi, where the veil of appearances has been lifted, we see the truth and easily engage in "right" action rather than conditioned reaction.
As always yoga works to balance stability with ease.  In the Pelvis & Psoas actions, you are building the stable physical container (pelvic bowl) necessary to allow the subtle breath body to easily create internal space.  Creating space in our physical body allows us to see through our thoughts, memories, emotions and desires into our essential nature.
Herein lies the journey into the joy of yoga.  Seed your awareness with single-pointed concentration on each Pelvis & Psoas action and experience moment-by-moment awakening to your true nature.
We gratefully welcome you into our journey and community.
Namaste,
Helen & Candace
COLLAPSE
Reviews:
Larry Isacoff

wrote:
I counted 64 Yoga books on my last visit to the bookstore. That didn't include specialized books on Yoga diets, lifestyles and meditation. What sets this book apart from the crowd is its clear, straightforward and accessible approach to the principles of Yoga Asana. The hips are exciting, dynamic and challenging. This book clarifies and demonstrates the fundamentals of hip movement and the magic of the Psoas muscle. Helen and Candace are wonderful teachers and they infuse this book with their experience and passion. Yoga Actions for Pelvis and Psoas is a terrific tool for my own practice and is bursting with actions and themes I can bring to my students. Work at your own pace and learn to occupy the postures with intelligence. It is not the posture, but the way you inhabit the posture that is important. Practice with love and joy.
Kathy Pankratz

wrote:
Readers of Candace and Helen's first two books have come to expect a high-quality practice and instructional manual from these two experienced yoga teachers and dedicated yoga practitioners. This, their latest collaboration, does not disappoint. They continue to offer thoughtful sequences and clear written instructions supported by beautiful photos and helpful video clips. The principles presented throughout give the yoga teacher a great resource for class planning. The individual lessons offer the yoga students, wherever they are in their journey, seemingly endless opportunities to explore the process of practicing yoga asana.

Wonderful work Helen and Candace! Your readers will thoroughly enjoy this volume while they eagerly await your next offering.