Not everyone can do all yoga poses, but everyone can do all yoga actions.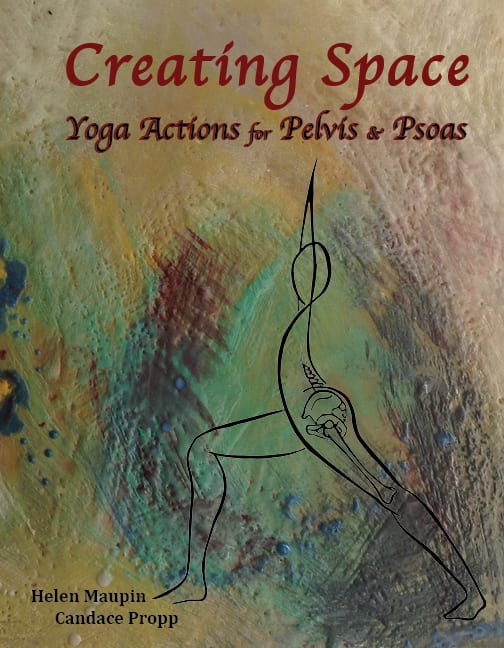 Yoga Actions for Pelvis & Psoas is the third in a five-volume series of e-books emphasizing actions in focused areas of our bodies — Feet & Ankles, Legs & Knees, Torso & Spine, Shoulders & Arms.  Within every volume, each action is displayed in a two-page layout.  The first page describes the action and visually demonstrates the experience through a Pre Pose.  The second page provides a five-pose Peak practice sequence to further expand your experience of the action.  Finally, we follow each sequence with Post Poses to fully relax the body and integrate the asana experience.
As always yoga works to balance stability with ease.  In the Pelvis & Psoas actions, you are building the stable physical container (pelvic bowl) necessary to allow the subtle breath body to easily create internal space.  Creating space in our physical body allows us to see through our thoughts, memories, emotions and desires into our essential nature.
"Readers of Candace and Helen's first two books have come to expect a high-quality practice and instructional manual from these two experienced yoga teachers and dedicated yoga practitioners.  This, their latest collaboration, does not disappoint. They continue to offer thoughtful sequences and clear written instructions supported by beautiful photos and helpful video clips. The principles presented throughout give the yoga teacher a great resource for class planning.  The individual lessons offer the yoga students, wherever they are in their journey, seemingly endless opportunities to explore the process of practicing yoga asana.
Wonderful work Helen and Candace!  Your readers will thoroughly enjoy this volume while they eagerly await your next offering."     Kathy Pankratz
"I counted 64 Yoga books on my last visit to the bookstore.  That didn't include specialized books on Yoga diets, lifestyles and meditation.  What sets this book apart from the crowd is it's clear, straightforward and accessible approach to the principles of Yoga Asana.  The hips are exciting, dynamic and challenging.  This book clarifies and demonstrates the fundamentals of hip movement and the magic of the Psoas muscle.  Helen and Candace are wonderful teachers and they infuse this book with their experience and passion.  Yoga Actions for Pelvis and Psoas is a terrific tool for my own practice and is bursting with actions and themes I can bring to my students.  Work at your own pace and learn to occupy the postures with intelligence.  It is not the posture, but the way you inhabit the posture that is important.  Practice with love and joy."     Larry Isacoff
Don't own an iPad or MacBook Computer?
Also available as an 8.5 x 10 inch soft cover edition (159 pps)!
WINNIPEG Buyers                       26.25 (gst incl.)
Available for purchase & pick-up @ the following locations:
120 Cauchon Street    ([email protected])
82 Harbison Ave. West    ([email protected])
Serene Yoga    474 St. Mary's Road
CALGARY Buyers                       26.25 (gst incl.)
Available for purchase & pick-up @ 
CANADIAN Buyers                     Soft cover edition at Create Space.com
INTERNATIONAL Buyers         Soft cover edition available on Amazon.com or
                                                                            Amazon.eu