Not everyone can do all yoga poses,
but everyone can do all yoga actions.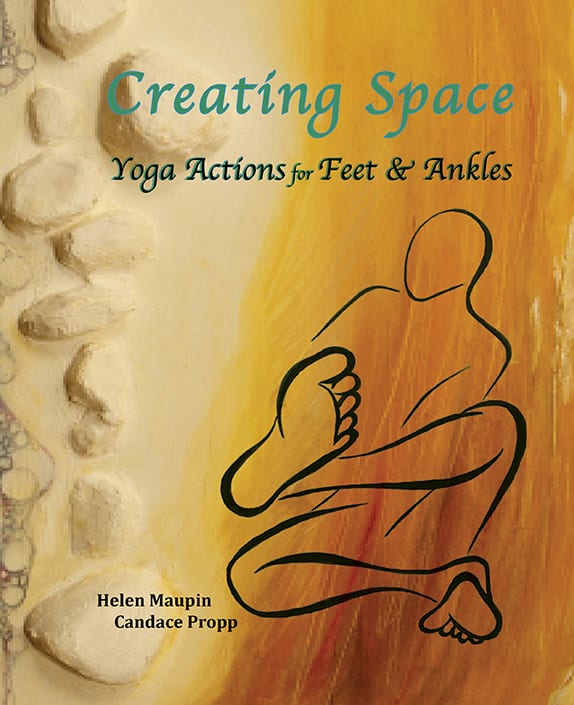 If you are reading these words, then like us, your intuition drew you to discover the transformational gifts inherent in the practice of yoga.  Several years ago, when yoga was not a mainstream wellness offering, a friend suggested to family members that we had joined a cult.  At the time, Western fear of Eastern philosophies was rampant.  Today, many on this planet are empowered through yoga's teachings to face fear and connect to the confident, creative loving being within each of us.
Yoga Actions for Feet & Ankles is the first in a six-volume series of e-books emphasizing primary actions for such areas in our bodies as — Legs and Knees, Pelvis and Psoas (Hips and Groins), Spine and Rib Cage, Arms and Shoulders, and Yoga Actions Glossary.  Within every volume, each action is displayed in a two-page layout with the first page describing the action and visually demonstrating the experience through a Pre Pose and a five-pose Peak sequence to further expand your experience.  Finally, we follow each sequence with Plus Poses to further develop the action and Post Poses to fully relax the body and integrate the asana experience.
Whether in your home, office or wherever you and your computer travel, we invite you to join us on our transformational journey into the joy of yoga.  May this connection between us seed even greater compassion and spread peace, love and joy around the world.       Namaste, Helen & Candace
"Candace and Helen have combined their talents to produce a book that is both challenging and methodical — a rare treat. Their own personal practices shine through with the inclusion of beautiful and simple photographic illustrations. As an ebook it is a helpful and convenient resource that both yaga practitioners and teachers will want to return to often for guidance."   Jan Debenham
"Candace and Helen have put together a yoga book that is both comprehensive and inviting. The clear photos and an easy to use format allow readers to experience detailed instructions in a simple way. Students with a curiosity to explore the subtle and profound depths of yoga will love this book."    Shauna Ellerby
"Creating Space:  Yoga Actions for Feet & Ankles is a treasure chest filled with a bounty of focused yoga actions. The book has a playful sense that inspires yoga practitioners to explore how each pose feels using different actions. Candace and Helen's loving dedication to their yoga practice and to the niyama of svadhyaya, self-study, is reflected in the book's carefully chosen instructions, the fluid sequencing and the beautiful images. As such, as a yoga teacher's reference, it provides a unique practitioner's resource to traditional yoga actions, breath instruction and asana propping."    Patty Lacosse
Don't own an iPad or MacBook Computer?
Also available as an 8.5 x 10 inch soft cover edition (152 pps)!
WINNIPEG Buyers                       26.25 (gst incl.)
Available for purchase & pick-up @ the following locations:
120 Cauchon Street    ([email protected])
82 Harbison Ave. West    ([email protected])
Serene Yoga    474 St. Mary's Road
CANADIAN Buyers                     Soft cover edition at Create Space.com
INTERNATIONAL Buyers         Soft cover edition available on Amazon.com or
                                                                            Amazon.eu